After two decades, new digs
SHA celebrates launch of $6M building renovation campaign
By Jessica Ullian
| | |
| --- | --- |
| | |
| | President ad interim Aram V. Chobanian and Dean James Stamas announced the public phase of the School of Hospitality's fundraising campaign at an anniversary celebration on November 18. Photo by Frank Curran |
| | |
In his nine years at the School of Hospitality Administration, Dean James Stamas has led the institution to some significant achievements — enrollment has grown steadily, many graduating students find industry jobs, and SHA is thriving since becoming its own school within Boston University. Now, Stamas and other University officials have turned their attention to more concrete matters — the brick, plaster, and other materials that will become the school's new home in 2006.
In celebration of the 20th anniversary of the first SHA graduating class, Stamas and President ad interim Aram V. Chobanian have launched the public phase of a $6 million campaign to acquire and renovate a University-leased building at 928 Commonwealth Ave. The structure, centrally located across the street from the new John Hancock Student Village, would be the first entirely dedicated to the school, and at 27,000 square feet, will offer significantly more room and resources than the space SHA presently occupies at 808 Commonwealth Ave.
"It's a great building," Stamas says. "It'll increase the amount of space that we have by almost two-and-a-half times. Currently, our offices are inadequate, we have too few classrooms, and we don't have enough support facilities for our students."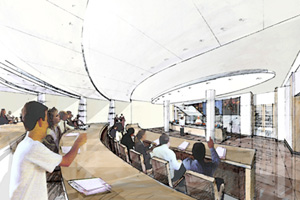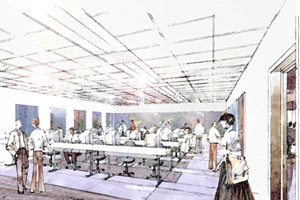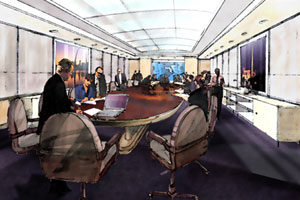 The new SHA building, designed by Boston architectural firm Elkus/Manfredi, will have an amphitheater (top), classrooms (middle), and interview/conference rooms (bottom). Images courtesy of Elkus/Manfredi

SHA, which originally was founded as a program within BU's Metropolitan College, became a school within the past decade. It is well known for its rigorous balance of academics and work requirements: students earn more than one-third of their required credit hours in the College of Arts and Sciences and also complete two 400-hour professional internships or work experiences — plus an international component of the curriculum — in the course of their studies. As a result, last year the majority of graduates found industry jobs at restaurants, hotels, and even universities before graduation. Enrollment is increasing — currently there are approximately 290 students at the school, and Stamas says the number will rise by 25 students each year, to a maximum of 400. "It's become a most successful school, when you imagine what has been achieved in 10 years," Chobanian says.
As the school expands, however, the need for a new home has become critical — in its current space, SHA has too few faculty offices, no interview rooms for recruiters, and not enough classrooms. "This is the best city in the world to learn the hotel industry," says Irma Mann, an adjunct professor of marketing and a member of SHA's advisory board. "Having our school look as good as our students is something we really need."
The building at 928 Commonwealth, currently occupied by the Agganis Arena's management company, is expected to realize that ambition. Expanded classrooms and new offices are a priority, but the move will also allow the school to have its own library, computer lab, and alumni office for the first time. The early renderings for the three-story structure, designed by Boston architectural firm Elkus/Manfredi, also include a reception area, a wine center, an auditorium, a food-service lab, and a career services office. And the central location, directly across from the Student Village, is ideal.
The change of venue, Stamas says, is an important part of the school's growth in an industry where appearances matter.
"It'll be space that is consistent, from an image point of view, with what we're preparing students for," he says. "In the hospitality industry, the hotel industry, and the restaurant industry, image matters, and we'll finally have a physical facility that matches expectations."
Stamas' enthusiasm is matched by faculty, students, and alumni, all of whom are pleased that the school's appearance will better reflect its excellence. "It's going to be fabulous," says Stanley Buchin, an SHA associate professor. "It will make a big difference to our students, particularly."
Amanda Greene (SHA'00), currently working in catering at the Boston Harbor Hotel, agrees. "It'll represent the quality of our school in a better light," she says.
The bulk of the anticipated $6 million will be used for acquisition and renovations, with the remaining $1.5 million going to build the school's academic resources, such as faculty and programming, Stamas says. Reflecting SHA's impact and reputation in Boston and across the country, donations have come from a variety of sources, including major local and national corporate contributors, as well as individuals.
With nearly $3 million raised to date, Stamas hopes the new building will be ready to welcome the growing population of students and faculty as early as January 2006.
"We had a dream," Mann says. "Our dream was to create a school as good as any hospitality school could be. And that's what we're doing here."