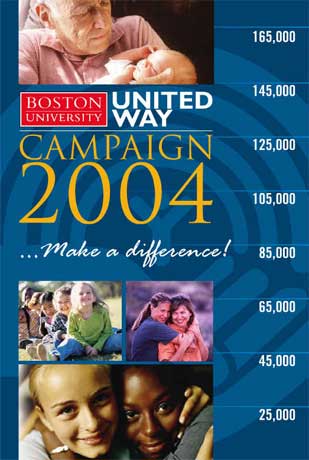 Audrey May, a corporate support representative from WBUR's underwriting department, won a pair of varsity level premium seats for the January 15 BU-BC hockey game at the new Agganis Arena in the second drawing of BU's 2004 United Way campaign on October 22.
The annual United Way fund drive began October 1. Participants who contribute $75 or more ($1.45 a week) are eligible to win incentive prizes, which are being raffled off at drawings every Friday through November 12 and at the University Holiday Party on December 16. The prizes include a $200 gift certificate to Barnes & Noble, a dinner cruise for two aboard the Spirit of Boston, four first-balcony seats for BU Night at the Pops in May, four tickets to the May 21, 2005, all-University buffet celebration, $200 worth of Terrier Convenience Points, a weekend getaway for two at the Hotel Commonwealth, and a travel package for two to any location in the continental United States.
As of October 22, Boston University employees had contributed more than $112,900 to the United Way Campaign, representing 68 percent of BU's $165,000 campaign goal. For more information on giving to the United Way, call 617-358-UWAY, or visit www.uwmb.org.