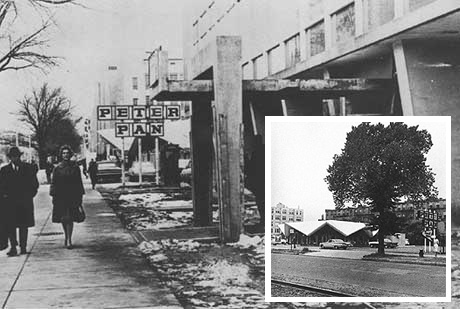 The Peter Pan restaurant, with its whimsical roof design and varied menu, has been replaced by a Burger King. Photo from the 1968 Hub yearbook; smaller photo by BU Photo Services.

Before the George Sherman Union's Food Court offered students a little bit of everything, and before Commonwealth Avenue restaurants began to represent a gastronomic United Nations, the lunch fare for area workers and BU students at local eateries was pretty basic: hamburger joints, diners, and ice cream shops. In the 1950s and '60s, students who weren't in the mood for one of the BU cafeterias might have stopped in at the Hayes Bickford, across from the Armory, the Howard Johnson's, near the BU Bridge, Peter Pan, next to the School of Nursing, the Tom Thumb, on Cummington Street, or any of a half dozen similar eateries along the Charles River Campus.
Howard Johnson's, with its 28 flavors of ice cream and easy-to-spot orange roof, was located in front of the old home of Sargent College, now the BU Academy. Photo by BU Photo Services. Advertisement from the 1958 Hub yearbook.