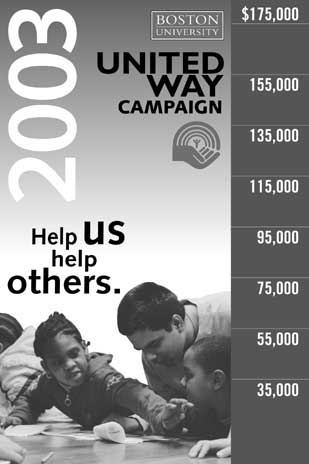 Steven Lambkin, assistant director of Mail Services, won a dinner cruise for two aboard the Spirit of Boston in the third drawing of BU's 2003 United Way campaign on October 31. "I was delighted to receive this," Lambkin says. "My wife and I are looking forward to taking a cruise in the spring. A small contribution to United Way reflects the true spirit of Boston." Lambkin, who runs bulk mail, has played an integral role in facilitating the United Way campaign for many years. "There are a lot of other people on campus involved in United Way," he says, "but it does fall to Mail Services — and bulk mail in particular — to prepare the campaign packet for distribution."

In the same drawing, George Snowdon, Medical Campus director of personnel, won a $200 gift certificate to Barnes & Noble at BU. "I feel very fortunate to have won this," says Snowdon. "We're probably going to go down to the BU bookstore in December and spend the gift certificate on Christmas presents. I think it's great that the University gives us the opportunity to participate in the United Way. I designate my contributions to a community agency in Watertown, where I live, and it's a nice to know exactly where the money goes."

The annual United Way fund drive began on October 1. Participants who contribute $75 or more ($1.45 a week) are eligible to win incentive prizes, which are being raffled off at drawings every Friday through November 14 and at the University holiday party on December 18. The remaining prizes include four first balcony seats for the BU Night at the Pops in May, four tickets to the Commencement and Reunion Weekend all-University buffet celebration, three weekend getaways for two at a Marriott hotel, and a travel package for two anywhere in the continental United States.

As of October 31, Boston University employees had contributed more than $120,500 to the United Way, representing 68.9 percent of BU's $175,000 campaign goal. For information on giving to the United Way, call 617-358-UWAY.