Salvadoran vice president visits SSW
Social workers often hear of the world's problems from their immigrant clients, many of whom are refugees of war and natural disasters or whose wages in America support relatives back in their native land. During an eight-day trip to El Salvador last May, students, alumni, and faculty from BU's School of Social Work saw firsthand the poverty that many of their clients have tried to escape. They also observed hopeful signs of change in the Central American country, including some innovative social programs.

On July 19, Salvadoran Vice President Carlos Quintanilla Schmidt repaid the visit when he met with the study-tour participants at SSW. He described his country's strategies for economic progress following the 13-year-long civil war that ended in 1992, Hurricane Mitch in 1998, and two devastating earthquakes in early 2001. The BU stop was part of the vice president's first official visit to the Boston area, where thousands of Salvadoran emigrants live.

SSW has sponsored student trips to Europe for several years, particularly Denmark, but this was the first time it offered a Central American itinerary. "The purpose of our travel program is to understand social welfare systems and social justice issues in other parts of the world, and to put things in a global perspective," says Kay Jones, an SSW clinical associate professor and director of the Refugee and Immigrant Training Program, who led the Salvadoran tour. "This was a very powerful, very educational trip." - H.G.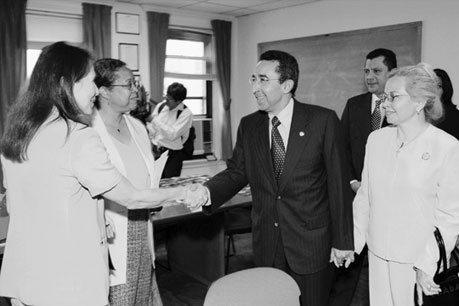 At a School of Social Work reception in Conant Lounge in July, Salvadoran Vice President Carlos Quintanilla Schmidt and his wife, Alejandra de Quintanilla, greet SSW Clinical Associate Professor Kay Jones (left), and SSW Dean Wilma Peebles-Wilkins. Photo by Kalman Zabarsky