A Bar is born
Long after Letterman's visit, Hirsch's alter ego has hung around
By Eric McHenry
At 6'4", 210 lbs., Michael Hirsch was already a big man on campus. But on November 1, 1996, David Letterman turned the description into a title.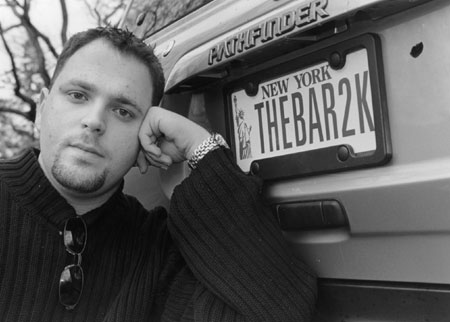 Hirsch today, with customized tags.
---
In a sketch that is by now almost legendary among Late Show fans, Letterman yanked the CAS freshman from his room, fitted him with Armani threads, a theme song, and an improbable nickname -- "The Bar," and turned him loose on the town. The segment's appearance on "Late Show Boston," an episode taped before a BU audience in the Tsai Center, transformed Hirsch into an instant local celebrity. And its lasting popularity has helped him retain a bit of that status throughout his four years at the University.
"It's definitely stuck with me," says Hirsch, now a CAS senior majoring in sociology. "I was a teen tour counselor over the summer and my kids called me Bar. I just got a new car in October and my license plates say THEBAR2K. When Letterman had his surgery, I got e-mails from people asking me if he was all right -- as if I were the contact person or something."
Hirsch's former roommate, Rod Campbell (ENG'00), says that even his small supporting role in the vignette has given him an enduring second identity.
"He's 'The Bar' and I'm 'The Bar's roommate,'" says Campbell. "I was back home in Idaho once, looking through books in a store. And someone was off to the side, just kind of looking at me sideways. Finally he came up to me and said, 'Are you The Bar's roommate?' And thought, My God, I'm clear across the country and people are recognizing me."
The segment, widely regarded as one of the funniest in Late Show history, has been rebroadcast several times -- once as part of a clip-show featuring memorable moments from previous episodes. Its premise is vintage Letterman: rescue a freshman from awkwardness and anonymity; turn him into a B.M.O.C.
Letterman and his production team chose Hirsch at random from the Freshman Record. At about midday on a Friday in mid-October, they descended upon his room in Warren Towers.
Hirsch, in glasses and a backward baseball cap, opened the door expecting to find a UPS courier: Letterman's people had placed a decoy call to the room beforehand. Finding himself, instead, face-to-face with a famous talk-show host and a camera crew, he was a bit dumbfounded.
"It took me so long to figure out what was going on," says Hirsch. "I just knew who he was, and I figured my best bet was to say, 'Okay,' and go along with whatever he said."
At first Letterman engages in some characteristic fun-poking. He finds the dormitory digs to be full of easy marks -- the collection of empty soda cans lining the wall, the fact that Campbell is still in bed. Then he begins detailing his plan.
The Bar in his Armani duds, November 1996.
---
"Do you have a nickname now?" he asks Hirsch.
"Not really."
"Hirsch. Hirsch. Do people call you Hershey?"
"Sometimes."
"Hershey, like the candy bar?"
"Yeah."
"The Bar," Letterman says, sensing that he's onto something. He turns to Campbell: "Try it, call him The Bar."
"Hey look, it's The Bar," says Campbell, who is doubly disoriented.
"I woke up, sat up, and there was Dave Letterman," he recalls. "For a while I couldn't do anything but sit there and scratch my head: Okay, am I still dreaming?"
The action then jumps to Newbury Street, where Letterman and Hirsch are seen emerging from the Armani store. Hirsch now sports a tailored suit (actually an oversized suit pinned to fit him), slicked hair, and streamlined sunglasses. The transformation is well under way.
"I am The Bar," Hirsch says, with a just-making-sure-about-this tone.
Letterman nods. "You know what else you need?" he proposes. "Theme song."
Then the segment sheds its spontaneous feel and becomes a music video. To the beat of his new theme song, supplied by Paul Shaffer and the CBS Orchestra, the freshly made-over Hirsch strolls down Granby Street, turning heads. He lowers one of his sunglass lenses and gives the camera a cooler-than-thou look. He emerges from a chauffeur-driven limousine, looks left, looks right, then points at the camera. In the background, Shaffer sings lyrics like, "When he looks in the mirror, he thanks the lord above. He says, 'Look out, ladies. I'm ready for love.' He's The Bar."
As Hirsch settles into his new persona, Letterman begins putting him through various tasks worthy of a B.M.O.C. They wheel a dolly stacked with cases of beer out of a liquor store, only to turn around and wheel it back in when Letterman remembers Hirsch is a freshman.
They go unannounced to the dorm room of Meghan McGuire (COM'00), the "best-looking girl on campus," whom they find on the phone with her boyfriend.
"Hang up on that loser!" Letterman commands. Soon Hirsch and McGuire are walking arm in arm down Commonwealth Avenue, he in his suit and sunglasses, she in her pajamas.
As the segment nears its conclusion, Letterman informs Hirsch that there is one final thing he must do to solidify his B.M.O.C. status: "You have to do something to get people's attention." Suddenly, Hirsch is seen -- from a reasonable distance -- streaking across Nickerson Field. Asked if he'd been reluctant to go along with that particular stunt, Hirsch has a surprising answer.
"In all honesty, that wasn't me," he says. "That was the producer's brother. He was a Harvard med student. A lot of people don't know that, but they don't ask."
Hirsch has always been gregarious, a quality that served him well in the aftermath of the segment's airing. Returning to their room after an Allston party that night, he and Campbell found "about a hundred" messages on their answering machine.
"There were tons of people who suddenly wanted to be my friend," Hirsch says. "It was weird. Random people: 'Come to this party.' 'Come hang out with us.'"
The easygoing disposition that helped him slide comfortably into character as The Bar also helped him take the attention in stride. The attention, in turn, helped prepare him to take on other roles at BU, including Hillel president, Residence Hall Association secretary, and for the past two years, resident assistant.
"When you first get to BU," he says, "it's a little overwhelming, because there are so many people. After the show, I definitely felt more comfortable being an outgoing person."
Hirsch ended up taking the suit back to Armani and having it properly tailored. He still pulls it out for special occasions, he says. And he wears the sunglasses almost every day. They're a cool little accessory, a small but distinctive part of his identity -- like the story of the day David Letterman came to his door.