Smoking habit to kids: kick me
State's antismoking TV spots working as advertised
By David J. Craig
In an attempt to prevent youths from smoking, the state launched a television advertisement campaign in 1993 that is gritty and hard-hitting: one 30-second spot shows a woman speaking with a voice box as a result of cancer of the larynx.
The strategy is working, according to Michael Siegel, an assistant professor at the School of Public Health who recently published a report with researchers at the University of Massachusetts-Boston that found that youngsters exposed to the antismoking ads are less likely to pick up the habit than those who do not see the commercials. Moreover, another new study by the researchers concludes that cigarette company ads are equally powerful in winning over new smokers. Both studies are published in the March issue of the American Journal of Public Health.
"These studies show that advertising is the most powerful tool for reaching adolescents," says Siegel, who collaborated with Lois Biener, a senior research fellow at UMass-Boston, on both studies. "Because the tobacco companies are spending six million dollars per year advertising their product, I think it's important in the interest of public health that the Commonwealth continue to use the same aggressive techniques to try to stop kids from smoking."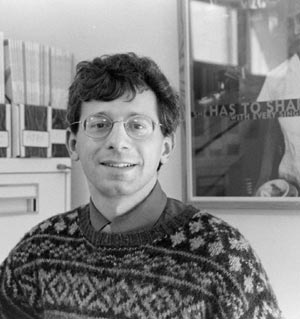 Michael Siegel, SPH assistant professor, released a pair of studies this month that found that teenagers are influenced strongly by antismoking commercials as well as by tobacco company advertisements.
---
Lori Fresina, director of government affairs for the American Cancer Society, believes that Siegel's study will "have a significant impact nationally" as several other states debate whether or not to launch similar programs. "This study has really given some ammunition to those fighting for tobacco-control programs," she says. "It's clearly validated that money for antismoking media campaigns is money well spent."
To test the effectiveness of the state's multimillion-dollar antismoking media campaign, researchers at the Center for Survey Research at UMass-Boston began tracking teenagers' smoking habits in 1994. Hired by the state, they polled 592 teens, ages 12 through 15, who had not yet smoked 100 cigarettes, and noted which youths reported having seen the state's antismoking ads. None of the subjects was an established smoker at the onset of the study, although almost 10 percent had experimented with cigarettes.
And in a 1997 follow-up survey, Siegel found that among the younger teens, ages 12 to 13 at the time of the initial survey, those who had been exposed to the state's ads (about 71 percent of the subjects) were half as likely to have become smokers than those who were unable to recall the ads. In total, the study found that 25 percent of the respondents had become regular smokers.
"The results were very surprising," says Siegel. "I wasn't surprised to see that the ads worked, but I was by the magnitude to which they worked. A fifty-percent reduction is a huge effect that you rarely see in a public health study. So the fact that the ads cut the smoking rate in half suggests that the advertising campaigns may be the single most effective measure in preventing smoking."
Among 14- and 15-year-olds, however, the ads had no significant effect on the number of subjects who became smokers. "That shows that it's much harder to change the attitudes of older kids," says Siegel. "You have to reach kids at a very early age, certainly before they reach early adolescence. By age 15, it may be too late."
Siegel's and Biener's second study, which also began in 1994, examined the effects of prosmoking advertising on smoking initiation among youths. It found that teens who own tobacco promotional items such as a gym bag or a hat were more than twice as likely to become habitual smokers than those who didn't have such items.
The release of the studies is considered timely as states now are trying to decide how to spend billions allocated under the 1998 tobacco settlement. The Massachusetts Department of Public Health spent $50 million on its antismoking campaign from 1993 to 1997; this year, about $17 million was devoted to the television ads. Governor Paul Cellucci's proposed budget, however, includes cutting the state's $54 million budget for tobacco control programs by about $10 million.
"If the Massachusetts legislature is serious about reducing youth smoking, it should increase funding for the antismoking advertising, not cut it," Siegel says. "If passed, Cellucci's cuts would be a real tragedy, because youth smoking is still a tremendous problem. I'm sure that public health advocates are going to be using this information to lobby legislators."
Fresina predicts that funding for the television ads should stay level next year. "I don't think Cellucci had the benefit of the new data when he released his budget," she says. "But we're making sure the legislators know about it. They worked hard to get that funding increased last year, so I don't think they're about to let it slip away now."
According to Siegel, the study on the state's ad campaign is the first longitudinal study to test the effectiveness of a mass media campaign aimed at preventing youths from smoking. The research, he says, helps explain why smoking rates among Massachusetts' 14- to 17-year-olds declined from 24.6 percent to 19.7 percent between 1993 and 1999. Nationally, smoking rates remain flat.
"A previous study done in California showed that using mass media was an effective way to get adults to stop smoking," says Siegel, "but nothing had been done to see if it could be used to prevent kids from starting to smoke." Studies on the subject previously were small, done in research settings, and provided conflicting results, Siegel says.
Siegel is now planning to examine which types of antismoking ads are most effective. "In other studies, we've asked subjects to tell us their impression of the different types of ads," he says. "And the ones that rate most highly are the ones that deal with the issue in a deeply emotional way, such as one where a 28-year-old woman discusses her lung transplant in front of her young daughter.
"The other ads that seem to be highly effective are the ones that directly challenge the legitimacy of the tobacco company's marketing," he continues, "such as the one where the brother of the Marlboro man reveals that his brother died of cancer."