Labyrinths create sanctuary one step at a time
By Brian Fitzgerald
Walking in labyrinths, through their intricate, winding paths, can help us "rediscover our souls," says Lauren Artress, an Episcopal priest at Grace Cathedral in San Francisco. The labyrinth there is a copy of one that has been at Chartres Cathedral in France since the Middle Ages.
Rev. Jep Streit delighted in walking the labyrinth at Grace Cathedral so much, three years ago he had one painted in the basement of the Episcopal Cathedral of St. Paul on Tremont Street, where he serves as dean.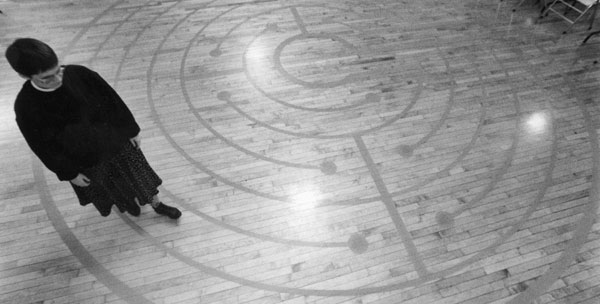 Walking the labyrinth at the Episcopal Cathedral of St. Paul in Boston is Rev. Sarah Eastman. These ancient designs are experiencing a renaissance. BU's Interfaith Action Group will visit the labyrinth on Monday, March 20, and a portable, canvas labyrinth will come to BU on March 30 and 31.
---
"Labyrinths are enjoying a resurgence in this country," says Michele Jankowski-Smith, director of the Office of the University Chaplain and leader of BU's Women's Interfaith Action Group. On Monday, March 20, her group will visit the labyrinth at St. Paul's, an event open to the BU community.
However, this month those in the BU community who are interested in this ancient art form don't necessarily have to go downtown to experience one. On Thursday, March 30, and Friday, March 31, a labyrinth will come to Boston University. As part of the School of Theology's annual Women and the Word conference, a large canvas labyrinth will be placed on the floor of Metcalf Hall.
Labyrinths are cropping up everywhere, from backyards to community centers. A 50-foot-wide labyrinth was painted on grass at Boston College last year and is repainted regularly (except in winter). The Congregational Church of West Medford, Mass., has an indoor labyrinth. The Public Labyrinth in Winchester, Mass., is made of rocks. Some are made from hedges.
The oldest positively dated labyrinth is from 1230 b.c. in King Nestor's Palace in Phylos, Greece. But labyrinthlike patterns have also been found on figurines in the Ukraine, carbon-dated from 18,000 to 15,000 b.c.
Why are labyrinths so popular now? Jankowski-Smith says that the labyrinth renaissance began with Artress' book, Walking a Sacred Path: Rediscovering the Labyrinth as a Spiritual Tool (Riverhead Books/ G.P. Putnam's Sons, 1995).
"Ever since the book came out, the labyrinth movement has been building gradually," says Jankowski-Smith. "I've never walked one, so I'm pretty excited about our trip. Traditionally, a lot of the labyrinth experiences have been within certain faith traditions, but part of the movement now is to make it an interfaith experience. We're hoping that people of all faiths come."
Streit, a former Episcopal chaplain at BU, says that labyrinths "are becoming popular as spiritual tools for people who don't see themselves as religious." Enthusiasts promote walking through labyrinths as a transformative spiritual experience. Unlike a maze, which has dead ends and false turns, a labyrinth has a single, winding path from the outer edge of a pattern to its center. "Something about a repetitive physical action quiets the thoughts running through your mind," says Streit. "You keep your eyes on the floor, and you go where it leads you."
Many find labyrinths a peaceful escape, a place to find order in a world of chaos. Conscious of every step and every breath taken, visitors often walk through with a particular question in mind -- and discover an answer. Some repeat a mantra. "Unlike activities such as rock climbing and martial arts, it requires little concentration, effort, or will," says Streit. "And there is no wrong way to walk it. Some people go fast, some go slow."
Patti Keeler, a labyrinth facilitator for Veriditas, the worldwide project devoted to reintroducing labyrinths, says that although labyrinths are part of Christian history, the concept predates Christianity. "All religious traditions have labyrinths in one form or another," she says. At Chartres Cathedral, the labyrinth, built between a.d. 1194 and 1220, stems from the early Christian tradition of making a pilgrimage to the Holy City of Jerusalem. But during the Middle Ages, when the Crusades made travel to Palestine unsafe, labyrinths were adopted by the Roman Catholic Church to offer Christians a way of fulfilling their sacred vows. Labyrinths were built in cathedrals in Rheims and Amiens as well.
Enthusiasts say that surrendering to a path allows the subconscious mind to emerge. "Because you're following a path, and you know that you're not going to get lost, the action allows other levels of awareness to bubble forth," says Keeler.
On Monday, March 20, from 6:15 to 7 p.m., Keeler will lead a labyrinth preparation workshop in the basement of Marsh Chapel. Participants will then travel by T to the labyrinth at the Episcopal Cathedral of St. Paul. A discussion will follow the labyrinth experience at 9 p.m. For more information, call 353-3560. Keeler will also lead a labyrinth workshop at Metcalf Hall on Thursday, March 30, from 2 to 2:45 p.m. For more information on this event, call 353-3075.