Jack Falla's backyard rink: a hot obsession becomes a cold reality -- and then a book
By Brian Fitzgerald
In March, many people's thoughts lightly turn to spring: the first crocuses, the upcoming Red Sox season, and even blossoming romance.
The season may be one of rebirth, but for Jack Falla, it is a time for death -- the inevitable end to another winter of backyard ice hockey. With a sharpened iron bar he stabs a 60-by-35-foot piece of plastic canvas and watches the water spill from the rink behind his house in Natick, Mass. "How sad," says his wife, Barbara, watching the lifeblood of the Bacon Street Omni drain into the already green grass.
Falla, a COM instructor who teaches courses in Sportswriting and Sports Communication, built the Omni in 1982. But it wasn't his first try at a backyard rink. As a boy in the 1960s, he let the garden hose run all night on his lawn and discovered an immutable law of suburban hydrodynamics: water seeking its own level will find it in your neighbor's yard.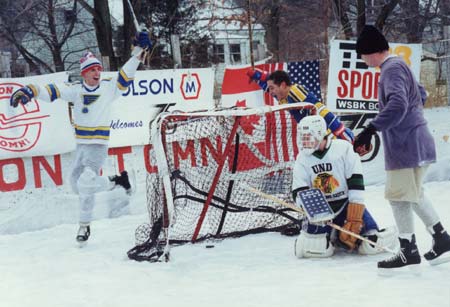 Brian Falla (left), son of COM Instructor Jack Falla, scores the winning goal in a recent Molson Cup tournament in the Bacon Street Omni, the Fallas' backyard hockey rink in Natick, Mass. The "Cup" is an empty aluminum beer keg with a Pee Wee hockey trophy mounted on top.
---
He didn't attempt to build a rink for another 20 years. But when Falla was an adult with a home and children, he decided it was time for his rink of dreams. And even then he didn't get it right the first time. But patience, determination, a $90 roll of clear plastic, and $300 worth of wood finally produced a winter mecca for neighborhood kids and adults.
A former Sports Illustrated staff writer, Falla is putting the finishing touches on a book entitled Home Ice: Reflections on Backyard Rinks and Frozen Ponds, which will be published in the fall by McGregor.
"In 1984, I wrote a cover story for Sports Illustrated on the Edmonton Oilers' winning their first Stanley Cup," says Falla. "In the same issue I also wrote an essay about the Bacon Street Omni, which was on the last page and wasn't even listed in the table of contents. Well, the Oilers article got a handful of letters. But the backyard rink story generated a lot of mail. That was the impetus for the book."
His initial 1982 construction project had only snowbanks to keep the water in. But warm weather melted the reservoir and sluiced much of the water into, of course, a neighbor's yard. "Boards," advised a friend. "Boards don't melt." In the manuscript, which Falla hopes to complete by the end of the month, he praises the patience and understanding of his wife. "Old towels, rags, a cut-up pup tent and pieces of wading pool liner served to fill the gaps between and under the boards," he writes. "I pulled out the clothespole, which was in the middle of the rink, and put it in the garage. ĆOnly until March,' I told Barbara."
A word of warning on backyard rinks: if you build one, the neighbors will come -- not to complain, but to play. Falla divided the afternoon after-school schedule into two 75-minute sessions, with hockey players and figure skaters alternating every other day for the coveted "first ice." Between sessions, Jack, the "human Zamboni," scraped the surface. But his project wasn't complete without a stereo speaker on the back porch, a giant Molson Golden Ale logo painted on the boards (with two coats of varnish so the puck marks could be wiped off), and a trophy for the annual Molson Cup tournament: an empty aluminum beer keg with one of Falla's brother's old Pee Wee hockey trophies mounted on top.
"In matters of personal recreation and casual sport," Falla writes, "I prefer to descend the ladder of sports evolution, moving away from organization and mass participation toward individuality and spontaneity." Indeed, there is something inherently appealing about backyard athletics, without coaches, referees, and uniforms. Last December when Falla read excerpts from the book to his students, several of them mentioned that they, too, had backyard rinks at one time. And this writer recalls once spraying a hose on the lawn the night before freezing weather was due. My parents were out that evening, but my brother fielded a phone call from a neighbor who reported seeing "someone sneaking around the yard with a flashlight."
Falla also writes about other rinks he's visited, including two in Ontario, and one in Duluth, Minn. One owner, Laverne Fryberger, "would have needed a seat belt to keep her in her chair when she talked about her rink," writes Falla. "In less than five minutes she was on her feet, demonstrating the proper way to walk across expensive oriental rugs while wearing hockey skates. ĆYou have to put the blade down flat like this,' she said, taking a succession of flat-footed steps that made her look rather like an ostrich. ĆIf you put the heel or toe down first, you'll cut the rug.'"
If only Falla had known this method sooner. In 18 years of skating, whenever he'd wanted to change cassettes on the living room stereo, he'd crawled through his house on hands and knees.
Falla also visited a 100-by-30-foot indoor backyard rink in Woburn, Mass. This monstrosity, with two-and-a-half miles of piping, full boards, curved corners, full ice markings, electric scoreboard, skate-sharpening machine, and an attached warming room with TV, VCR, microwave, refrigerator, stick rack, lunch counter, players' bench, bookshelves, and wall-to-wall carpeting, somehow seems to cross the line into semiprofessionalism.
"The Taj Mahal is all it was," says Falla laconically.