| | |
| --- | --- |
| Week of 28 January 2000 | Vol. III, No. 21 |

Feature Article

Hospital deregulation in Massachusetts a proven flop, prof says
By David J. Craig
About a decade ago, Massachusetts legislators freed hospitals from state regulation in the hopes of controlling costs and promoting competition between hospitals. More than 20 hospitals in the state closed as a result, and many others merged or eliminated staff in an attempt to survive.
Despite this, hospital costs in Massachusetts rose at more than twice the national rate in 1998 and additional cuts in services likely will result, according to a report released last month by Alan Sager, a School of Public Health professor, and his colleague, Deborah Socolar, an SPH research analyst.
"This is very troubling," says Sager, who has been tracking health-care costs with Socolar for more than a decade. "Closing hospitals and removing beds has not succeeded in slowing cost increases, and this jump is totally unprecedented. Hospital deregulation has been a disaster in every respect."
Sager's 13-page analysis, which is based on the latest American Hospital Association (AHA) statistics, shows that per capita hospital costs rose 7.6 percent in Massachusetts but only 3.2 percent nationally in 1998. Costs here were 42.3 percent above the U.S. average -- $1,678.10 per person vs. $1,179.60 -- up from 36.5 percent above the average in 1997.
Sager predicts that the escalating costs will lead to more cuts in nursing staff, more hospital closings, more mergers, and more calls for state aid to struggling hospitals. The number of acute-care hospital beds in Massachusetts could thereby shrink from the existing 14,000 to 12,000 by 2005, even as the state's population ages and will presumably need more care, according to the report.
Proponents of hospital deregulation say that financially weak hospitals should be left to close. But Sager, who favors government regulation of hospital spending and believes that competition between hospitals has been undermined by the mergers, argues that the state already has too few beds, as evidenced by recent reports that several Massachusetts hospitals are near capacity. While the state had 16 percent more beds per capita than the rest of the country 30 years ago, it now has just 86 percent of the national average, according to the report.
"This mode of operation, where some geniuses are allowed to fine-tune supply and demand with hospital beds, doesn't work if there's ever a serious emergency," Sager says. "We need a reserve."
The causes of the 1998 spike in costs in Massachusetts are elusive, according to Sager, although he cites some possible factors, such as increased advertising and more paperwork from increasingly complicated insurance procedures. What is apparent, he argues, is that hospital closings and consolidations, managed care pressures, and other forces that presumably should have held down costs are not doing the job.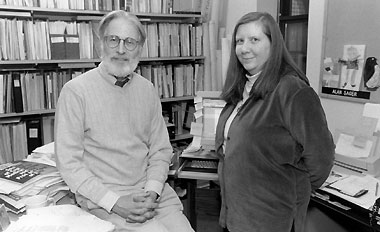 Alan Sager, a School of Public Health professor, and his colleague, Deborah Socolar, released a study last month that found that hospital costs in Massachusetts are 42.3 percent above the national average and rose in 1998 at a rate more than twice the national average. Photo by Vernon Doucette
---
Hospital costs have traditionally been higher in Massachusetts than in the rest of the country, and the difference has usually been explained by the fact that the state is home to so many medical schools and teaching hospitals. It also has 402 doctors per 100,000 people, compared to the national average of 245 doctors.

In fact, Robert Mechanic, senior vice president of the Massachusetts Hospital Association (MHA), says that a recent study by researchers associated with MHA concluded that Massachusetts' higher-than-average hospital costs are caused by factors out of hospitals' control, such as escalating costs of technology, labor, and pharmaceuticals.

"When you look at hospital costs on an apple to apple basis, Massachusetts hospitals are cost-effective," says Mechanic. "The cost of an average visit for a Medicare patient in a Massachusetts hospital is actually less than a visit to a similar hospital in another state. But the fact is that Massachusetts has more teaching hospitals and less rural hospitals than other states."

And in recent press reports, Andrew Dreyfus, executive vice president of the MHA, reportedly called not for bringing back government controls, but for more state and federal money to maintain quality of care.

But Sager says that the MHA's claim that more funds are needed is disingenuous. He and Socolar authored a more comprehensive study in 1991 that found that only one-third of Massachusetts hospital costs above the national average could be explained with "legitimate reasons," such as those cited by Mechanic.

"It's true that hospital revenues haven't kept up with spending, although the revenues in Massachusetts are increasing faster than the national average, too," says Sager. "But we don't need to throw more public money at the problem. Costs in this state are 42 percent above the national average, making Massachusetts hospitals the most expensive in the world. When is enough enough?"

Instead of boosting hospital revenues with state or federal money, Sager supports a bill now before the state legislature that would force all Massachusetts hospitals to contribute one-quarter of one percent of their revenue to a hospital stabilization fund, which would be used to keep open hospitals that are financially troubled but deemed by the state to be necessary and to be operating efficiently. He also supports setting a cap on hospital revenues and setting up a procedure by which the state could take control of a hospital's finances if necessary.

"Massachusetts hospitals want more tax money and they want more money to stabilize HMOs, yet they've denounced any effort to pass a receivership law for hospitals or to make them in any way more publicly accountable," Sager adds. "If receivership is good enough for HMOs, why isn't it good enough for hospitals?"