Departments



| | |
| --- | --- |
| Week of 21 January 2000 | Vol. III, No. 20 |

Feature Article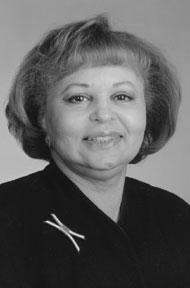 Irene Cornish
Photo by Vernon Doucette
---
New Chelsea school superintendent played key role in improvements

By Brian Fitzgerald

Improving the standardized test scores of Chelsea students, developing more after-school programs, and expanding educational facilities are the main goals of Irene Cornish, who was recently named superintendent of the city's public school system by the BU Management Team.

At the management team's monthly meeting on January 11, Doug Sears announced that he was stepping down as superintendent after almost five years to take a full-time position as an associate dean and professor at BU's School of Education. Cornish, the assistant superintendent for pupil personnel services, is scheduled to take the reins on February 1, although the management team will need to approve her contract.

BU has run Chelsea's schools for 11 years in a unique education reform partnership. During the University's stewardship, the downward trend in academic achievement in this densely populated, economically disadvantaged city northeast of Boston was first halted and then reversed. Last month, after the second year of the Massachusetts Comprehensive Assessment System (MCAS) exams, the city was among Massachusetts' most improved districts.

"I'm optimistic," says Cornish about her new job. "After the second round of the MCAS tests, I'm not ready to throw a party, because we're not at the state average yet. I think what we've done so far is quite an accomplishment in urban education. We're heading in the right direction. But the MCAS scores serve as a benchmark for us -- not something to tout."

Under Sears, the district has also seen a dramatic improvement in high school attendance, from 80 percent in the 1996-97 school year to nearly 90 percent last year. In the Boston University/Chelsea Partnership's latest report to the Massachusetts legislature, Sears also pointed to "encouraging progress" in academic achievement. "The more tangible measures of this progress have been the SAT, Iowa, and Advanced Placement test results," he wrote.

Last year, according to an analysis of MCAS scores by the Donahue Institute, a public policy think tank at the University of Massachusetts, the Chelsea schools were the state's most effective -- exceeding projections of what academic achievement would typically be, based on the district's demographics (income, parent education level, and percent of single-parent households). The city has some of the poorest students in the state and one of its largest non-English speaking populations. Instruction in the Chelsea schools now takes place in seven languages.

"There are a number of challenges in Chelsea," says Cornish, an attorney and former teacher. "I believe there is a need for an extended school day. There are many single-parent families in the city, and even for two-parent families, child care is an issue after school. There are many human service agencies in Chelsea, but there is a lot of duplication of effort. I would like to see people come together and not only eliminate that duplication, but also have the nucleus of everyone's effort be the schools and the schools' mission, which is quality education for the kids. I would like to see all the programs that take place both before school and after school emphasize and reinforce what's taking place during the school day. We need to keep the kids off the streets in a safe environment. And while we're keeping them safe, let's teach them something."

Sears leaves legacy of stability, steady progress in Chelsea

After nearly five years as superintendent of Chelsea's public schools, Doug Sears' accomplishments run the gamut: he exerted control over a $115 million project to build new schools, set and enforced high academic standards, brought the school district into compliance with federal and state law governing special education and language instruction, and was intolerant of patronage and corruption in a city that by the end of the 1980s had a reputation as a hotbed of bribery and graft.

But the deed of which Sears is most proud is the return of music education in the schools. "That's the one accomplishment that means the most to me," he says, "because music is so linked to human fulfillment and to academic achievement. It was necessary."

Bands and choruses had disappeared from the Chelsea schools in the 1980s. Sears says BU Chancellor John Silber's work to get a $2 million grant from the Annenberg Foundation was important in rebuilding the school system's art and music programs.

"And I hope that another enduring contribution of my time here is the simple principle that instructional time is sacred," he says. "We've made sure that the classroom is not for anything frivolous, anything that diverts teachers from real teaching." That meant taking a critical look at such popular -- but time-consuming -- activities as field trips and movies.

Chelsea School Committee Chairman Morrie Siegal says that Sears was first labeled an outsider by some, "but he earned the trust of the community. It became apparent to everyone that he has a real feeling for the kids in this city, is a tireless worker, and is passionate about his job."

Sears has been ubiquitous in the school district -- he could be seen riding the school buses and knocking on doors to ask parents about their children's truancy. "Doug will not be here daily any more," says Thomas Kingston, assistant superintendent for curriculum and instruction, "but his leadership will still be very much a part of the BU/Chelsea Partnership as chairman of the BU Management Team."

Jennifer Puccetti, principal of Chelsea's Clark Avenue School, says that Sears "always focused on the children, constantly reminded folks they're the reason we're here."

She also points out that a steady growth in enrollment over the years may necessitate the building of additional facilities. In the early 1990s, there were some 3,800 students in the school system. This number has swelled to more than 5,800.

Cornish, who lives in Chelsea, received her bachelor's degree in secondary education from the University of Connecticut, and her master's in French from Central Connecticut State University. She has also earned graduate credits in guidance, counseling, and secondary school administration. Cornish's first teaching job was in her hometown of Vernon, Conn. While working as assistant principal of Bloomfield (Conn.) High School, she attended the University of Connecticut School of Law at night. "I thought it was important to have legal training for a career in administration," she says. "But after studying for and passing the bar exam -- an ordeal second only to childbirth -- I took a leave of absence from Bloomfield High School and worked for a law firm and eventually became partner."

Cornish came to Chelsea in 1994, five years after BU accepted the invitation of the Chelsea School Committee to manage the troubled school system for 10 years. In 1997, the School Committee unanimously voted to extend the Boston University/ Chelsea Partnership to June 2003. "I didn't realize how much I missed being in education until I came back," she says.

"Irene Cornish has been very effective, especially in the oversight of special education," says BU Management Team member Manuel Monteiro, who is assistant vice president of personnel and affirmative action at BU. "She has a lot of management experience, and because of her legal training, she is focused and clear. She gets right to the point. And she has the support of the community because she has been responsive to the needs of the community."

Cornish is "a natural," says Thomas Kingston, assistant superintendent for curriculum and instruction. "She's wise in the ways of children, and she's particularly adept at working through the intricacies of law and bureaucracy." Sears adds that Cornish "is a staunch defender of the possibilities young people have for achievement. She sets high standards and enforces them. She doesn't put up with mediocrity."

Sears, a former assistant to the president at BU, will resume his position as chairman of the BU Management Team, replacing Edwin Delattre, who is dean of SED. Sears was the management team's chairman when he was named Chelsea school superintendent in 1995. In addition to his new duties at SED, he will remain president of A Different September Foundation, which solicits grants and gifts for the school district.

"Doug has been a wonderful person to work for," says Cornish. "He is an innovative thinker and a risk-taker, and that's exactly what the Chelsea school system has needed."