Departments



| | |
| --- | --- |
| Week of 21 January 2000 | Vol. III, No. 20 |

Feature Article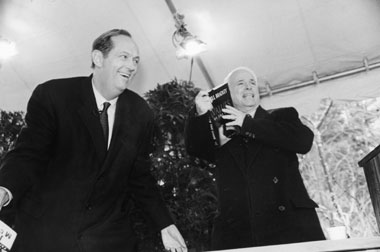 Bill Bradley and John McCain joke after debating in Claremont, N.H., on December 16. The photo was taken by Reba Saldanha (COM'01), a photojournalism major who competed with members of the national media to get shots of the presidential candidates.
---
Journalism students learn the politics of their trade covering N.H. primary

By David J. Craig

For years, Reba Saldanha dreamed of squeezing through packs of photographers to capture a riveting political photo for a major news-magazine. At a debate between Bill Bradley and John McCain in Claremont, N.H., last month, beneath a tent overflowing with experienced photographers and reporters, she finally got a taste of the big leagues.

"I knew that I'd have to fight to get shots, and I did," says Saldanha (COM'01). "I crawled to the podium on my hands and knees and wedged myself between a chair and another photographer. Some TV people even yelled at me because I bounced a flash off the top of the tent and messed up their lighting. But I got the shots."

Like dozens of COM students who will visit the Granite State during the next two weeks, Saldanha, a photojournalism major, jostled with other photographers on December 16 not because it was required for a course, but because she's eager to learn how photojournalists work and smart enough to take advantage of a rare opportunity: students being allowed into the debates.

Saldanha returned with close-up shots of Bradley and Gore for her portfolio as well as a conviction that she and photojournalism are a fit. "I loved how cutthroat it was," she says. "And I know I can get the job done, no matter what it takes."

Aspiring journalists at BU have covered the New Hampshire primaries since 1988, when COM Associate Professor John Robaton, director of photojournalism, initiated the program. This year, more students than ever are expected to visit New Hampshire. Beginning Wednesday, January 26, until Tuesday, February 1, the day of the New Hampshire primary, BU will provide daily transportation to and from New Hampshire.

The work of these photojournalism and print journalism majors will appear in Written in Granite, a special COM publication documenting the primary. Videos written, shot, and produced by broadcast journalism majors will be available on the project's Web site.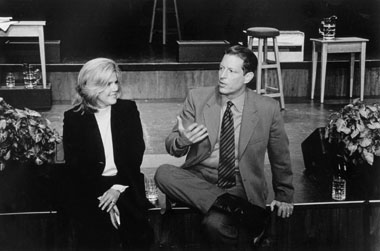 Lynne Sobel (COM'00), a photojournalism major, took this photo of Al Gore and his wife, Tipper (CAS'70), while Gore took questions from students following a debate with Bill Bradley at Dartmouth College October 28.
---
BU students also will be able to take advantage of the WCVB Channel 5 news bureau in Manchester, N.H., which is directed by James Thistle, a COM professor who also is director of broadcast journalism. There students can get up-to-the-minute updates regarding the candidates' schedules.

Faculty at COM say that the trip is a invaluable opportunity for journalism students to gain exposure to national politics. Presidential candidates are never more accessible than they are in the handshake-happy towns of rural New Hampshire, they say, while the media excitement surrounding debates and rallies lets students bump elbows with big-time journalists. Students often acquire press credentials to attend debates and can even ride the press buses transporting media between events.

"I'm sure it's intimidating," says Robaton. "It would intimidate me if I were a student. But once they get into it, it's addictive -- like any kind of journalism. They see how exciting it all can be, and on the other hand, how mundane and tedious some parts are, like when they're sitting around, waiting for things to happen."

At a debate between Al Gore and Bill Bradley at Dartmouth College last October, patience and tenacity paid off for Lynne Sobel (COM'00). Although she had signed up for the event a week earlier, she and dozens of other members of the media were turned away from the auditorium where the debate was held.

"The security we went through was absolutely ridiculous, and then they handed out press passes only to Associated Press and Reuters people," says Sobel, a photojournalism major. "So we sat in this big room watching a large screen TV, eating pizzas with everybody else, hoping they might come out afterwards. I sat next to George Stephanopoulos."

Two hours later, sitting on a bus waiting to leave, Sobel heard a member of Gore's staff say that the vice president was speaking with Dartmouth students in the auditorium after the debate. She hustled back into the auditorium, and despite poor lighting and little in the way of action from Gore, who sat cross-legged on a stage, she got her shots -- a combination of wide-angle photos showing the entire room and close-ups of Gore smiling and at times looking pensive.

"At first, I didn't have the confidence to know how close to Gore I could get," says Sobel. "But when I saw others going right up to him, I pushed up there a little. I'd never done a press conference or worked in a group of photographers, and every time I'm in a situation where I don't have much time, I seem to flub it. But when I was walking out, I thought, if this film comes out, I got it. I like that feeling."

Nancy Day, a COM associate professor of journalism and director of advanced journalism studies, hopes that kind of passion is reflected in the pages of Written in Granite, which she is coordinating. It will be published by March and will feature hard news, photography, editorials, and editorial cartoons. In 1996, the 20-page print publication won the National Society of Professional Journalists competition for best one-time publication.

"Students will be reporting on all the major events, but we're also assigning some enterprise stories," says Day. "We're going to be getting a story about what makes students want to become involved in politics. For that, our students will be interviewing students who are working for the candidates."

Possibly the most important lessons the journalism students learn in New Hampshire are the least exciting -- such as how to record notes on a notepad in a cold rain, how to keep informed about events schedules, and the finer points of professional etiquette. Saldanha, for one, now knows to use a flash in a pack only if it is absolutely necessary, and that other photographers can be as much help as they are sometimes a hindrance.

A photographer who yelled at her during the debate, a staffer at a Concord, N.H., daily newspaper, later apologized and chatted with her about her career plans. "He's someone I think I could call for advice," says Saldanha. "I've met a lot of photographers like that."
---
For more information, visit the Granite Web page at www.bu.edu/com/Granite/granite.html.