Departments



| | |
| --- | --- |
| Week of 21 January 2000 | Vol. III, No. 20 |

Feature Article

CGS Dean Brendan Gilbane to retire
By David J. Craig
Brendan Gilbane, dean of the College of General Studies, announced last week that he will retire September 1, after nearly 52 years at the University, 25 as dean. He says he wants to spend more time with his wife, Virginia, at their home in Wrentham, to travel, and to study European history, which is his passion.
"I struggled with becoming an administrator at first, even resisted it, but I think I adjusted well," says Gilbane, dean since 1974, making him BU's longest serving dean. "I have no regrets. I've enjoyed my time working with students and faculty here immensely. Maybe as time goes on, I'll realize what I've done."
According to BU Provost Dennis Berkey, Gilbane's service as dean has been integral to CGS's growth from a program primarily for World War II veterans to an established two-year liberal arts program. "Under Dean Gilbane's leadership, the College of General Studies has succeeded fully and consistently in its important goal of high-quality liberal arts education, in the context of a nurturing faculty strongly committed to the development and success of its students," Berkey says.
In the years that Gilbane has served as dean, the college that is now CGS experienced a marked improvement in the quality of its student body and faculty. The average freshman SAT score is 1134 this year, compared to 1000 10 years ago. About 75 percent of the college's graduates go on to receive bachelor degrees, about 60 percent at BU. "Our faculty has also been strengthened," Gilbane says. "When I became dean, not all faculty had advanced degrees. Now they do."
CGS offers a two-year program that provides students with a solid background in major subject areas such as history, English, mathematics, and science. All freshmen take the same 10 courses, which are taught using a team-teaching system that allows professors to coordinate the concepts that are reinforced in all subjects. The college enrolled 1,477 students last fall and employs 57 full-time faculty members.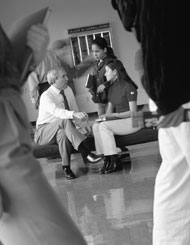 Brendan Gilbane, dean of the College of General Studies, will retire September 1 after more than 25 years as dean. Photo by Craig MacCormac
---
"Similar programs at other universities usually are adjunct programs with staff that come on loan from other departments," says Gilbane. "Our source of strength is that we have a faculty who can devote their full energy to teaching in this program."

Gilbane (COM'52) entered BU as an undergraduate in 1948, and upon graduation was offered a job teaching history at the Junior Division of the General College, which was created in 1949 to help World War II veterans become acclimated to academic life. The Junior Division separated from the General College and in 1952 became the Junior College of Boston University, later the College of Basic Studies, and in 1992, the College of General Studies.

Except for a short stint in Germany as an Army artillery sergeant during the Korean War, Gilbane has been at the college ever since his undergraduate days. He earned a master's degree and a Ph.D. in history from the Graduate School of Arts and Sciences while teaching, and "along the