| | |
| --- | --- |
| Week of 7 January 2000 | Vol. III, No. 18 |

Arts

Music in Petrograd no longer retrograde, say visiting BU musicians
By Judith Sandler
At a November concert in St. Petersburg's packed Small Philharmonic Hall -- a venue where Clara Schumann and Franz Liszt performed and where Mikhail Glinka conducted -- a good dose of not just the musicians, but the music as well, came from BU.
The occasion was a visit to Russia by ALEA III, the contemporary music ensemble in residence at Boston University, to participate in the Sound Ways Eleventh International New Music Festival. The group presented two programs that included a sampling of music by BU-affiliated composers. The reaction of the audience was, according to participants, somewhere between percussive and explosive.
"If Russian audiences really love you, they stamp their feet and clap in unison," says ALEA cellist Karen Kaderavek. "It's overwhelming. Like a drumbeat or a collective heartbeat, it sets up a vibration. It's very emotional feedback."
So, too, were the nine curtain calls that awarded clarinetist David Martins and his colleagues for their performance of Sergei Slonimsky's trio for clarinet, violin, and piano.
"It was so important for all of us to make this connection with our Russian colleagues," says Theodore Antoniou, ALEA III's music director, "to work with them and perform their music, and to bring to them our music."
"Our music" included four pieces by BU-affiliated composers: Ni bruit ni vitesse by Lukas Foss, pianist, conductor, and SFA professor of composition; Greeting by Bruce MacCombie, dean of the School for the Arts; Concerto Fantasia by Antoniou; and the piano concerto by Alex Kalogeras (SFA'88), composition teacher at Berklee and Harvard who was in charge of ALEA logistics for the trip. The concerto featured soloist Konstantinos Papadakis (SFA'00).
Between rehearsals and performances, the ALEA III musicians toured the city and sampled the rich cultural life of the most western-influenced of Russian cities. Although awed by the beauty of St. Petersburg -- Peter the Great's planned city of canals and bridges, regal Parisian-style buildings, and vast palaces painted pink and soft blues and greens -- the Boston visitors say they also found a city of stunning contrasts.
Culture on the cusp
The St. Petersburg Composers Union, a symbol of the country's great artistic heritage and a former palace where ALEA performed its first concert, is a building of exquisite wood paneling and plush carpets. The rehearsal room ALEA used was ringed with paintings and photographs of musical giants from Russia's past -- Tchaikovsky, Rimsky-Korsakov, Rachmaninoff, Prokofiev, Mussorgsky.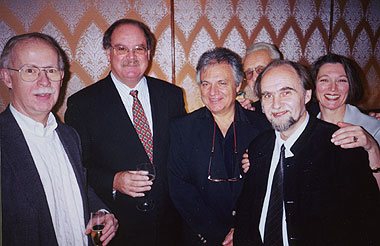 Summit in St. Petersburg: United States Consul General Paul R. Smith, SFA Dean Bruce MacCombie, SFA's Theodore Antoniou, composer Vladislav Uspensky (partly obscured), director of the Sound Ways Festival Alexander Radvilovich, and SFA's Ludmilla Leibman.
---
Visits to the Russian Museum and the vast collection of the Hermitage and performances of Mussorgsky's Boris Godunov and Tchaikovsky's Swan Lake provided ALEA members with a further reminder of the thriving culture poised on the brink of the Revolution.

But, says Kaderavek, "when music, painting, and dance were developing their own style, that creativity was squelched and perverted and driven underground. That crushing of artistic flower on the bloom I found to be overwhelmingly moving and poignant."

The reminder of more than 70 years of repression is visible throughout the city and displayed in the tremendous strength and tenacity evident in its people, she says. Yet St. Petersburg's artistic community, nourished by its rich cultural history, is beginning to blossom with a vitality not seen in nearly a century.

An emotional release
Despite the tremendous allure to emigrate and the hardships brought on by the faltering economy, Russian musicians are searching to rediscover their voice. "Their music has a kind of innocence and a willingness to express emotions," says Kaderavek, "in contrast to the American style, which I think has an intellectual sophistication. The Russian is more atmospheric, understated and detached."

The Russian composers were eager to hear the music brought by ALEA III, according to ALEA bass player Irving Steinberg. "They seem to be in a desert in terms of modern music. The composers [we spoke to] said they're not hearing enough of it. Nearly all of the pieces we performed, though some of them are 20 to 30 years old, were Russian premières."

The St. Petersburg trip came about through the enthusiasm and enormous efforts of Antoniou and Ludmilla Leibman, as well as the support of Chancellor John Silber.

"This trip couldn't have happened without the great support of John Silber, who provided the necessary funds," says Antoniou. "We are very grateful to him because it is extremely important for our school to gain visibility in Europe. Only by traveling and making personal contacts can this be done."

Educational bridgework
Leibman, a Russian native, has been laying the foundation for the St. Petersburg visit for the past three years as part of her project of building an educational bridge between SFA and the St. Petersburg Conservatory. "Being a student and teacher with both institutions, I saw how much could be gained from exchanges by both schools," says Leibman. So far, she has arranged several exchange visits by composers, musicologists, and top administrators who visited each other's institutions and presented master classes and lectures, observing, performing, and sharing educational approaches.

MacCombie joined the musicians for a few days to represent the University, attend the concerts, and meet with the president and vice rector of the St. Petersburg Conservatory. "We discussed potential projects," he says, "the anniversary of St. Petersburg in 2003 and possible future cultural links between Boston and St. Petersburg." MacCombie and Leibman also met with United States Consul General Paul R. Smith.

"This trip exceeded our hopes," says Leibman. "Seeing a full house at the closing concert of the festival made me feel that we are doing something very important, especially in the current political climate where the anti-American sentiment is growing. But for musicians, there are no obstacles. We speak the same language."
---
| | |
| --- | --- |
| Ground control to Colonel Lee: Astronaut Mark Lee flies above the space shuttle Discovery 165 miles over the ocean while making the first test flight of a miniature rocket backpack. The photo, along with 35 others taken by astronauts, will be shown at BU's 808 Gallery from January 14 to February 24 in an exhibit entitled "Orbit: NASA Astronauts Photograph the Earth." Photo by astronaut Carl Meade | |