Departments




| | |
| --- | --- |
| Week of 3 December 1999 | Vol. III, No. 16 |

Feature Article

Near East scholars near East Campus
ASOR settles into permanent digs
By Hope Green
In the heart of Kenmore Square, a nondescript six-story building is a nerve center for some of the world's most exciting research on tools, bones, tablets, pottery, and other artifacts of early Western civilization.
Headquartered on the fourth floor of 656 Beacon Street is the Archaeological Institute of America (AIA), the nation's largest archaeological institution and publisher of the American Journal of Archaeology. AIA has been based at Boston University since 1983. Perhaps less familiar to the Charles River Campus community, however, is one of AIA's esteemed upstairs neighbors, the American Schools of Oriental Research (ASOR). That group, the nation's largest collaborative of Near East scholars, moved its central coordinating bureau from Baltimore to BU three years ago.
"With these organizations based here, the University has become a world center for archaeological research," says Julie Hansen, CAS associate professor and chairman of the archaeology department. "The groups complement each other chronologically as well as geographically, because by and large ASOR looks at earlier periods of history. So BU now covers all of the Eastern Mediterranean and Near East, from the earliest paleolithic period [100,000 years ago] through the Byzantine era of the 12th to 13th century a.d."
And after decades of migrating to temporary spaces in different cities, ASOR finally has a permanent home. The organization has signed a 10-year lease with the University, an agreement that Rudolph Dornemann, ASOR's executive director, expects will be renewed in 2006.
"You couldn't ask for a better host than BU," he says. "It has a very active department of archaeology -- one of the largest in the country -- and many of the faculty are closely involved with ASOR as members of its boards and committees."
A charter member
The University's ASOR connection actually began in 1900, when the organization was founded. The mission of BU and 19 other charter members of ASOR was to sponsor research and excavations in Palestine and Mesopotamia, and to build research institutes close to the sites where ancient remains were found. Since then, ASOR has grown into a nonprofit consortium of 110 North American academic institutions and 1,400 individuals, who share their discoveries at conferences and in prominent scientific journals published by ASOR, such as Near Eastern Archaeology and the Journal of Cuneiform Studies.
At the time of the group's inception, "the Orient" referred to all of the Asian continent, but ASOR focused its efforts in the Holy Land of southwest Asia. In 1925, it built the William Foxwell Albright Institute of Archaeological Research in Jerusalem, which houses a renowned library filled with hundreds of early biblical and archaeological research reports. Albright, one of ASOR's early directors, led the famous 1940s excavation of the Dead Sea Scrolls.
Today, as part of an extensive fellowship program, scholars at any level can apply for ASOR grants to study at one of three affiliated research outposts -- the Albright center and two others, in Amman, Jordan, and Nicosia, Cyprus. The centers, which operate independently, all provide hostel-style housing as well as research libraries and artifact collections. ASOR members also conduct research in Tunisia, Egypt, Yemen, and Turkey.
Despite volatile Middle Eastern politics, ASOR hopes one day to rebuild an abandoned center in Baghdad, Iraq, and add an institute in Damascus, Syria. It has also set up a committee to build an outpost in Saudi Arabia. Recent scholarly exchanges between the centers at Amman and Jerusalem, Dornemann adds, have slowly been forging academic ties between the countries.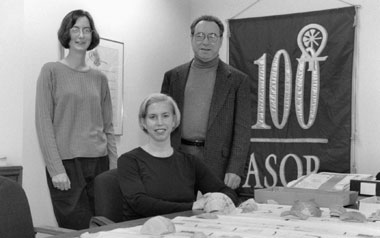 Rudolph Dornemann, executive director of the American Schools of Oriental Research, with Holly Andrews, assistant director (seated), and staff assistant Britt Hartenberger, a fifth-year doctoral student in archaeology. The table is covered with bits of ancient Syrian pottery from an excavation at Tell Qarqur. Photo by Vernon Doucette
---
Record attendance
ASOR is led by a governing body of officers who work without compensation and the small, permanent coordinating staff at BU. Beyond his role as the organization's chief administrator, Dornemann is a practicing archaeologist, and for the past seven summers, he has directed the Tell Qarqur excavation in Syria, where artifacts date from the early Bronze Age (2400 b.c.) to the Ayyubid Period (1300 a.d.). He shared some of his findings at ASOR's annual professional meeting in November, when more than 500 scholars from around the country gathered at the Cambridge Marriott to explore topics such as the incense trade in southern Arabia, ancient methods of food production, and reports on current archaeological digs in Caesarea.

The annual meeting travels to a different city each year, but coordinators say last month's event was the most well attended to date, and not simply because it was held near so many universities.

"Most of the increased participation was due to the invigoration of the program," Dornemann says. "We are trying to choose topics that more closely match the interests of our membership, such as techniques of pottery recording and the use of satellites in aerial mapping of archaeological sites."

Besides Dornemann, another of this year's presenters from BU was Britt Hartenberger, a fifth-year GRS doctoral candidate and full-time staff member at ASOR, who spoke on the excavation of an early Bronze Age blade workshop in southeastern Anatolia. She explains that the trade in cheap flint blades continued in that era despite innovations in metallurgy.

"These blades are found all over the Near East," Hartenberger says, "but this is the only blade workshop of its kind ever discovered, and it helps us understand how they were produced. People studying similar tools excavated in Israel or Jordan can make connections to their own research," she adds, "and the conference gave our work in Anatolia much wider exposure than it would have otherwise received."

ASOR's leadership is looking forward to another major event in April, a centennial celebration at the Smithsonian Institution in Washington. At the gala, ASOR will kick off a campaign to triple its $1 million endowment.

"We expect the event will be a success," says Holly Andrews, ASOR's assistant director, "and we hope to provide support for more excavations in places where Western civilization has its roots."