Departments




| | |
| --- | --- |
| Week of 3 December 1999 | Vol. III, No. 16 |

Feature Article

Warren, DeLisi named to new Metcalf professorships
By Eric McHenry
Arthur G. B. Metcalf (SED'35, Hon.'74), who died in 1997 after more than 60 years of distinguished association with Boston University, continues to be one of its principal benefactors.
On January 1, 2000, two BU professors -- Rosanna Warren and Charles DeLisi -- will assume academic chairs endowed by the late chairman of the University's Board of Trustees. Metcalf provided in his will for the professorships, which are funded through the Arthur G. B. Metcalf Foundation and administered by the Office of the Provost. The current Board of Trustees recently approved President Jon Westling's recommendations for both appointments.
Warren, UNI associate professor and CAS associate professor of English and modern foreign languages, will become Emma Ann MacLachlan Metcalf Professor of the Humanities -- a title that honors the grandmother of Arthur G. B. Metcalf, whom he credited for his lifelong interest in literature and the humanities. DeLisi, ENG professor, will hold the Arthur G. B. Metcalf Professorship of Engineering.
"Arthur Metcalf was a pioneering aviator, inventor, industrialist, educator, philanthropist, and friend whose association with Boston University spanned more than six decades," says BU Chancellor John Silber. "By providing in his will for these professorships, which are funded through the Arthur G. B. Metcalf Foundation, he further demonstrates his lifelong commitment to science, engineering, and the humanities, and to the instruction of the young by individuals of remarkable achievement."
Like Metcalf himself, the appointees are polymaths. Warren is a lyric poet and translator of tremendous range -- she has rendered in English the poetry of Euripides, Giosué Carducci, and Pierre Reverdy. In 1993, the year her most recent book of poems, Stained Glass (W. W. Norton & Co.) appeared, she received the Lila Wallace-Reader's Digest Writer's Award for Poetry, the Lamont Prize from the Academy of American Poets, and the Witter Bynner Prize for Poetry from the American Academy of Arts and Letters. Warren, who is currently at work on a literary biography of the French poet Max Jacob, was elected a fellow of the American Academy of Arts and Sciences in 1997, and a chancellor of the Academy of American Poets earlier this year.
Admired for her depth of learning and ability to lead students through subtle readings of difficult texts, Warren teaches the UNI seminar in literary translation, which with its roster of eminent guest lecturers has become one of the most celebrated courses BU offers.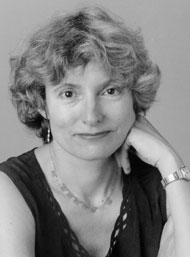 Rosanna Warren
Boston University Photo Services
---
"Arthur Metcalf held excellent teaching and cross-disciplinary scholarship in the highest regard," Westling told Warren in announcing the appointment, "and sought to recognize teachers truly dedicated to their students and to the community. You exemplify these ideals. Your excellence as a teacher and the breadth of your learning make you among the most admired teachers at Boston University."

Warren says she feels "surprised and flattered and more than a little spoiled" by the generosity of the University and the Metcalf Foundation. "In the 16 years I've been here, BU has been a large part of my education," she says. "My colleagues and friends here have been my teachers. I feel tremendous gratitude to BU for providing an environment that has continued to teach me. And the spirit of Mr. Metcalf clearly contributed to creating that environment."

Warren has also edited several acclaimed books, including two anthologies of verse by prison inmates, the products of workshops she added to BU's Prison Education Program curriculum in 1995.

"Your contribution to the Prison Program is profoundly humanizing and, in the best sense, optimistic," Westling told Warren. "Instructing prisoners in the art of poetry has helped to redeem the better part of some of the inmates, and broaden the horizons of all of them."

DeLisi is internationally regarded as the father of the Human Genome Project. He initiated the project, which is expected to deliver a blueprint of all human genetic material, while serving in the mid-1980s as director of the U.S. Department of Energy's Health and Environmental Research Programs.

"He was the critical person in getting the program started," says George Bell, senior fellow at Los Alamos National Laboratory. "He stimulated the NIH [National Institutes of Health] to take the matter seriously. Without his initiative, the program might never have gotten going."

Charles DeLisi
Boston University Photo Services
---
DeLisi received a doctorate in physics from New York University, then did a postdoctoral fellowship in chemistry while lecturing in engineering and applied science at Yale. He next held senior scientist positions at Los Alamos National Laboratory and the National Institutes of Health. Prior to joining the BU faculty in 1990, he served as department chairman at Mt. Sinai Medical School in New York City. In February of this year he announced that he would be stepping down as dean of ENG to direct its new bioinformatics program. Bioinformatics is a new discipline of which DeLisi is one of the founders. It uses sophisticated mathematics and computational science to interpret massive databases of biomedical information, including information derived from the Human Genome Project.

"It's an honor to receive any endowed chair," says DeLisi, "but a chair bearing the Metcalf name is a particular honor. Arthur Metcalf was an extraordinary individual, well-versed in a number of disciplines. I'm very grateful to the provost, the president, the chancellor, and the Metcalf family for associating me with the name."

As dean, DeLisi guided ENG through a period of unprecedented growth, boosting research funding by 369 percent, to more than $18 million annually, recruiting a world-class faculty -- now 100 strong -- and expanding enrollment.

The erudition of both DeLisi and Warren befits the professorships they will hold. In a remembrance of Metcalf that appeared in the summer 1997 issue of Bostonia, Silber described his friend: "Painter, author, horseman, yachtsman, mathematician, inventor, aviator, industrialist, and patriot."

Metcalf took an assistant professorship at BU immediately after his graduation, teaching aeronautical engineering courses that laid the foundation for the University's College of Engineering. In 1937 he resigned to found and operate Photoswitch, Inc., later the Electronics Corporation of America, beginning a career of entrepreneurial successes. He also founded and served as chairman of the United States Strategic Institute. Metcalf received the Legion of Merit from the United States Army. In 1956 he was elected to the BU Board of Trustees. He became chairman in 1976, and chairman emeritus in 1994.

His legacy of generosity may be seen in the many University facilities and awards that carry his name, including the Metcalf Center for Science and Engineering and the Metcalf Cup and Prize for Excellence in Teaching.