| | |
| --- | --- |
| Week of 19 November 1999 | Vol. III, No. 15 |

Feature Article

Remembering George Higgins, best-selling author and gregarious teacher of a lonely trade
By James W. Brann
One evening in the University Pub a few years ago, I asked novelist George V. Higgins why he left his home office in Milton on Wednesdays to drive to Boston University and teach fiction writing. I expected a conventional academic answer about the joys of shaping young minds.
"I sit in my office by myself all day every day, and it gets awfully lonely," George replied. "It's a real pleasure to come in here and have a scintillating adult conversation with someone as brilliant and as witty as you, Jimmy."
Few of us are that quick or generous in dispensing blarney. Higgins was superb company. He enlivened Boston University's classrooms and the Pub for the last 11 years of his life.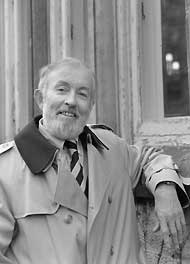 George Higgins
Photo by Kalman Zabarsky
---
The author of 30 books, Higgins taught fiction writing in Boston University's Creative Writing Program and in Metropolitan College. He died November 6 at his Milton home, a week before his 60th birthday. His first and greatest success, The Friends of Eddie Coyle, was published by Alfred A. Knopf in 1972 and was made into a movie starring Robert Mitchum. A tale of small-time Boston area hoods, it was named one of the top 20 postwar American novels by the Book Marketing Council.

"I never knew another person who on the spur of the moment could think or speak so fast and so well," commented BU Chancellor John Silber. "And yet he was an extraordinary listener."

COM Associate Journalism Professor Norman Moyes, who edited Higgins' columns at the Boston Herald American, recalls: "I don't think that I ever saw anyone who wrote faster or better. He knew what people liked to read."

It was a murder case that brought attorney George Higgins to Boston University. Higgins recounted the event in hard-boiled prose in the Boston Herald American of February 13, 1979:

"Last year a kid nobody had ever heard of got himself in a fine mess of gravy. Right up to his nostrils, in fact, and he was not accustomed to breathing gravy. What happened to him was this: he was indicted for Murder One.

"That is not a pleasant experience. It will get your attention, for sure, but it is not pleasant.

"The kid had a brother, employed as a security guard. The brother was as distressed as the rest of the kid's family. He mentioned his distress in the course of his working hours. He was convinced that the kid brother was innocent. He did not like the idea of his kid brother pleading guilty to a crime that he did not commit. He also said that the family lacked the money to hire a lawyer for the kid.

"He said those things to the fellow who ran the place where he was a security guard. Whereupon, the fellow who ran the place, having no other connection with the defendant, said that he would get the kid a lawyer, and pay for it himself. The guy who paid the bill, and it was large, never saw the defendant until after the trial was over. And the bill-payer had to be dragged in for that occasion.

This year's Creative Writing Program annual faculty reading will be dedicated to Professor George V. Higgins. Readers at the Monday, December 6, event will include Leslie Epstein, Geoffrey Hill, Susanna Kaysen, Ralph Lombreglia, Robert Pinsky, Derek Walcott, and Rosanna Warren. The reading will take place at 8 p.m. in the School of Management Auditorium.

"The guy who paid the bill was John Silber, the president of Boston University. I know because he paid the bill to me. And as it turned out, the jury agreed with the kid's brother, which was nice . . ."

After listening to the security guard's story, Silber had asked a University trustee, an eminent Boston lawyer, for the name of the best defense attorney in the city. The trustee said that would be George Higgins, the lawyer-novelist. Silber phoned Higgins, who took the case and won it, and the two men became friends. A Boston College alum, Higgins had worked as a journalist in Providence and in Boston. He returned to B.C. to attend law school after observing that lawyers were more prosperous than reporters. He served as an assistant U.S. attorney in Boston in the early '70s.

His stories are driven by the dialogue of his marvelous characters. He admired the Pennsylvania novelist John O'Hara, whose characters did much the same thing. George's teaching methods were unusual, stemming from his conviction that good writing is guided and governed by the ear. Thus, his classes contained a heavy dose of students reading aloud from their manuscripts, interrupted by George's insightful comments. I used to tease him about his unorthdox method of teaching, certainly far different from my method of scrawling irascible comments in the margins of student articles. I once asked him: "How in hell can you stay awake or retain your sanity listening to hour after hour of students reading their drivel?"

"It's not all drivel, Jim," he replied quietly.

George did often observe (sadly) in the Pub that the current generation of students grew up with television, rather than books. By the mid-'90s, he was including substantial doses of modern American literature in his fiction-writing classes. In a recent memo, he wrote: "There are no naturals in storytelling. It is an acquired art. Acquisition is usually by means of lawful larceny, requiring close observation and careful imitation of those who mastered it in preceding generations. The aspiring writer who omits the observation stage seriously complicates and delays, if he does not prevent entirely, his further artistic development . . .

"My experience as a student, writer, lecturer, and now teacher of writing has demonstrated to my satisfaction that the subject can't be taught, only learned. I define my function in the seminars as that of the expediter, or docent, doing the best I can to facilitate and accelerate the students' efforts to form their own styles and become their own first readers, so that those who do in fact stubbornly persist at what must surely be one of the world's lonelier trades will have their own resources to draw upon for progress evaluations."

A few years ago, a Newsweek article said that Higgins was one of the finest American writers of the late 20th century and was unfairly neglected. It urged readers to purchase his books for Christmas. I ran into George on Commonwealth Avenue a week later and asked, "So how much did you hafta pay the Newsweek guys?"

He said the article was a happy surprise to him and he added, "Ah, but Seamus, aren't they grand and perceptive folks!"

His words live on at Boston University. Associate Journalism Professor Jon Klarfeld, who worked with Higgins at the Associated Press office in Boston, often quotes a favorite line from The Friends of Eddie Coyle to negligent students:

"This life's hard, but it's harder if you're stupid."
---
James W. Brann, professor emeritus of journalism at COM, was chairman of COM's journalism department from 1973 to 1980.