Departments




| | |
| --- | --- |
| Week of 15 October 1999 | Vol. III, No. 10 |

Feature Article

Who's behind that building?
By David J. Craig
Not a BU student, faculty, or staff member goes a day without referring in conversation to such buildings as Mugar Memorial Library, George Sherman Union, or Warren Towers.
But exactly who are Mugar, Sherman, or Warren? The personalities behind the campus' most prominent buildings, it seems, are often eclipsed after the dedication ceremony takes place.
Obviously, anyone whose name is on a BU building made a profound contribution, either monetarily or through years of work, to the University. Ideally, buildings make a fitting memorial to the people whom they recall. Daniel Marsh (1880-1968), BU's fourth president and a Methodist minister, surely would have preferred that no other building but the elegant Marsh Chapel grace his name.
But his successor, Harold Case (1902-1972), was no sports fan. When the Case Athletic Center was completed in 1972, it needed a designation, the recently deceased former president deserved a namesake, and the two were matched.
There's a story behind the name of every building or landmark. Below are some of our favorites.
Warren Alpert Mall, behind Marsh Chapel, is the largest plot of green space on campus, having replaced a parking lot in 1970. It is named for Warren Alpert (1920- ), a 1942 graduate of the College of Arts and Sciences, New York investment banker, and a native of Chelsea, Mass. Alpert, who had blue collar roots and worked seven days a week as a BU student, in 1988 pledged $100,000 to BU to help reform the Chelsea school system.
Walter Brown Arena, at 285 Babcock St., is named for Walter Brown (1905-1964), who founded the Boston Celtics in 1946. A diehard fan of college athletics, Brown had a special affinity for the BU hockey team and was instrumental in bringing the annual Beanpot competition to the Boston Garden. BU opened Walter Brown Arena in 1971.
Case Athletic Center, at 285 Babcock St., commemorates Harold Case, a 1927 graduate of STH, Methodist minister, and BU president from 1950 to 1967. Case is credited with transforming BU from a local university to one of international import, and it was under his leadership that the University's unification on the Charles River Campus was completed. Case, however, reportedly hoped that the athletic center would be named for someone else.
Claflin, Sleeper, and Rich Halls, at 273-77 Babcock St., are named for BU founders Lee Claflin (1791-1871), Jacob Sleeper (1802-1889), and Isaac Rich (1801-1872), all of whom were self-made New England businessmen and philanthropists. The trio was instrumental in transforming what was originally a parochial college designed to educate Methodist ministers into BU, a university based on the European model, in 1869. The residence halls, some of whose rooms offer panoramic views of Boston and the Charles, were completed between 1963 and 1964 on part of the site of the old Braves Field.
Danielsen Hall, at 512 Beacon St., was given to BU in 1976 by Albert V. Danielsen (1893- 1986) a native of the Virgin Islands who made his fortune in U.S. real estate. A self-taught scholar of philosophy and religion, Danielsen founded the Danielsen Institute for Pastoral Counseling at the School of Theology. The building was one of many residential properties Danielsen owned in the area and has served as a student residence since 1976.
Dunn House, at 147 Bay State Road, one of the most stately buildings on campus, contains the offices of the chancellor. It was built in 1900 for Dr. Charles Goddard Weld, a young physician, and acquired by BU in 1942 for use as the College of Practical Arts and Letters, which eventually closed and its courses incorporated into the College of Business Administration (today's School of Management), the School for the Arts, and the School of Education. The building, which later housed the Faculty Club, is named for Edward Howard Dunn (1826- 1906), a BU trustee for 28 years. When Dunn's only son, who had planned to become a Methodist minister, died at age 22, Dunn helped pay the expenses of many young theology students, according to Kathleen Kilgore's BU history, Transformations. Weld House, at 145 Bay State Road, also was owned by Weld, and adjoins Dunn House.
Charles Hayden Memorial Building, at 685 Commonwealth Ave., is named for Charles Hayden (1870-1937), an MIT graduate who founded the investment banking firm Hayden, Stone & Company. When Hayden died, he left a reported $50 million to a foundation in his name to educate young men. The foundation gave BU $586,000 to build a new College of Business Administration building in 1938. The six-story limestone structure, featuring arched doorways and windows, was built in 1939. Construction of the other buildings on the block at 675-755 Commonwealth Ave. was interrupted by World War II and completed in 1948.
Marsh Chapel, at 735 Commonwealth Ave., cost $1 million to build between 1939 and 1948 and forms the architectural center of the Charles River Campus. Daniel Marsh was a Methodist minister who graduated from the BU School of Theology in 1908 and was the University's president from 1926 to 1950. He oversaw the beginnings of BU's consolidation on the Charles River Campus. The foundation of the chapel contains stones from Jesus College and St. John's College, both at England's Oxford University.
Arthur G. B. Metcalf Center for Science and Engineering, at 590 Commonwealth Ave., is named for longtime BU friend Arthur G. B. Metcalf (1908- 1997), a 1935 graduate of the School of Education, a graduate of Harvard, and a Boston inventor, who in 1937 founded the corporation that became Electronics Corporation of America. Carved out of three industrial buildings, the Metcalf Center's space, with its open white balconies, red stairs, and exposed ventilator pipes, recalls the utilitarian design of the Pompidou Center in Paris. In the 1930s, Metcalf taught courses in aeronautical engineering at BU and in 1956 he joined the Board of Trustees, of which he was elected chairman in 1976. He was also honored with the naming of Metcalf Hall, the George Sherman Union ballroom.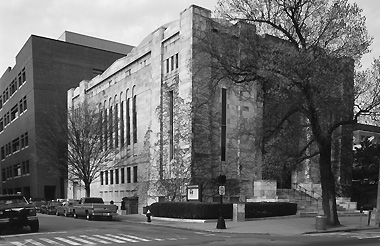 Morse Auditorium, at 602 Commonwealth Ave., is named for BU benefactor Alfred L. Morse (1903-1990), founder of the Morse Shoe Company and a member of the BU Board of Trustees from 1968 to 1973. The domed theater was built in 1903 and originally was Temple Adath Israel. BU Photo Services
---
Morse Auditorium, at 602 Commonwealth Ave., is a domed theater that was built in 1903 and originally was Temple Adath Israel. At that time, it was thought that the part of Commonwealth Avenue that BU now occupies would become an affluent residential area. BU acquired the building in 1968 and now uses it for classes, speakers, and other events. In 1971, it was named for BU benefactor Alfred L. Morse (1903-1990), founder of the Morse Shoe Company. Morse was a member of the BU Board of Trustees from 1968 to 1973.

Mugar Memorial Library, at 771 Commonwealth Ave., was built in 1966 with a gift from Stephen Mugar (1901-1982), an Armenian immigrant who wanted to honor his parents, Sarkis and Vosgitel Mugar. Sarkis Mugar operated a small grocery store in Watertown, Mass., called Star Market, which Stephen developed into the massively successful chain. According to Nancy Lurie Salzman in her architectural history of BU, Buildings & Builders, the library is "an energetic composition of concrete, glass, and red-glazed panels shaped into bays, recesses, balconies, and service towers." She adds that the architects from Sert, Jackson and Gourley used "the façade as a canvas on which to create an abstract painting, with windows as the dominant shapes."

Newman House, at 211 Bay State Road, is home of the Newman Club for Catholic students. The home was built in 1899 and purchased by the Catholic archdiocese in 1912. As are most Catholic student centers at American universities and colleges, the building is named for John Henry Cardinal Newman (1801-1890), an Anglican prelate who converted to Catholicism in 1845 and was made a cardinal in 1879.

Nickerson Field, on Harry Agganis Way. The original Nickerson Field was in Weston, but when the commonwealth of Massachusetts decided to build Route 128 straight through it, BU was forced to shop for a new ballfield. When the National League's Boston Braves, who until 1953 played on a field between Harry Agganis Way and Babcock Street, moved to Milwaukee in 1954, BU bought the ballpark, giving it a home field, on the Charles River Campus. It was named Nickerson Field as well, after William E. Nickerson, an MIT graduate who was the principal inventor of the machinery used to manufacture the first Gillette safety razor.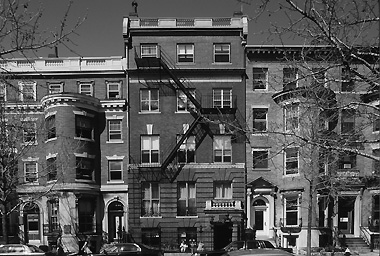 This building at 191 Bay State Road became the Harriet E. Richards House in 1940. A residence at 328 Bay State Road originally bore the name of the Boston woman, who in 1928 created a trust fund for a cooperative living house for female students. BU Photo Services
---
Harriet E. Richards House, at 191 Bay State Road, is named after a Boston woman who established a trust fund for a cooperative living house for female BU students as an affordable alternative to campus room and board. It cost less than $10 per week to live in the co-op in 1928, the year it opened at 328 Bay State Road. It was moved to its current location in 1940.

Shelton Hall, at 91 Bay State Road, was built in 1923 as the first Sheraton Hotel. It catered to Boston's social elite and was "the swingingest place in Boston" during the 1940s, according to a historical pamphlet on the building. Eugene O'Neill lived in Room 401 for years and died there in 1953. Other residents included Red Sox slugger Ted Williams and 1930s actress and opera singer Jeanette MacDonald. When the hotel was purchased in 1950 by the family that now owns the Sonesta hotel chain, its name was changed to the Shelton Hotel so that linens and silverware already imprinted with an S would not have to be replaced. BU bought the building and converted it to a residence hall in 1954.

Raleigh House, at 2 Raleigh St., was named by its owner and architect, Arthur Little, for Sir Walter Raleigh, the Elizabethan courtier, navigator, tobacco importer, and poet who unsuccessfully tried to colonize Virginia and was beheaded by King James I after the death of Elizabeth I. Little was reportedly an admirer of the opportunistic adventurer. Built in 1890, the building was celebrated at the time for its revival of early American architecture. It has served as a BU residence hall since 1956.

George Sherman Union, at 775 Commonwealth Ave., is named for the Boston industrialist, philanthropist, and BU benefactor George Sherman, who made the naming gift for the student center. The GSU opened its doors in the spring of 1963 and was modeled after student union buildings at Midwestern universities, which were the social cores of their campuses.

Sloane House, at 135 Ivy St. in Brookline, is named for Marshall M. Sloane, an alum of the School of Management and currently a member of the Board of Trustees. Sloane contributed a gift that allowed BU to purchase the property in 1994 and renovate it to serve as the home of Jon Westling and future BU presidents. The imposing, Gothic-revival house was built in 1851 for Amos Adams Lawrence, a textile merchant and ardent abolitionist. Lawrence added a wing with a vaulted library more than a decade later to commemorate the end of the Civil War and memorialize Abraham Lincoln's assassination.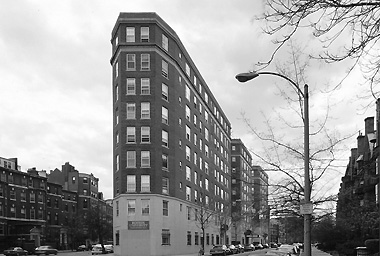 Myles Standish Hall, at 610 Beacon St., was a hotel often used by visiting baseball teams playing the Red Sox before it was converted to a residence hall in 1949. Babe Ruth is said to have always stayed in Suite 818. BU Photo Services
---
Myles Standish Hall, at 610 Beacon St., was built as a hotel in 1928 and served a mostly middle-class clientele until BU bought the building in 1949, according to Transformations. It is a 10-minute walk from Fenway Park, and visiting baseball teams often stayed at the hotel. Babe Ruth always had Suite 818, Kilgore writes, and few would be surprised if the two speakeasies hidden in the basement during Prohibition caused the Babe to miss his curfew once or twice. Named after Myles Standish, the Mayflower captain who helped settle Massachusetts Bay, BU acquired the building and converted it to a student residence.

Stone Science Building, at 675 Commonwealth Ave., is named for Harry K. Stone (1897-1969) and Dewey David Stone (1900- 1977). Harry was a graduate of the BU School of Law and was appointed judge of the Plymouth County Probate Court in 1938. His brother graduated from the College of Business Administration (now SMG) in 1920 and became president of the Harodite Finishing Company in North Dighton, Mass. He was also deeply involved in Jewish charitable work and was elected chairman of the United Jewish Appeal in 1955. The Stone Science Building was the last section of the massive, continuous block at 675 Commonwealth Ave. to be completed. It was erected in 1948 and named after the Stone brothers to commemorate their contributions to BU.

Warren Towers, at 700 Commonwealth Ave., commemorates William Fairfield Warren (1833- 1929), a Methodist minister who founded the First Methodist Church on Bowdoin Street, as well as his son and grandson. William Fairfield Warren served as pastor to BU's founders and was BU's first president. His son, William Marshall Warren (1865- 1953), was a professor of philosophy and dean of CAS and the father of Shields Warren, M.D. (1898-1980), an internationally renowned pathologist who graduated from the College of Arts and Sciences in 1918 and served for 30 years as a trustee and as chairman of the BU Board of Trustees. The three-towered residence hall was built in 1965 and is home to 1,650 students.

Weld House is located at 145 Bay State Road and houses the office of the president. See Dunn House.

Much of the information in this story is from Buildings & Builders by Nancy Lurie Salzman, published in 1985 by Boston University Scholarly Publications, and Transformations by Kathleen Kilgore, published in 1991 by the Trustees of Boston University.