| | |
| --- | --- |
| Week of 15 October 1999 | Vol. III, No. 10 |

Feature Article

Sculpting as self-discovery
SFA students learn the art of teaching in program for inner-city youth
By David J. Craig
Torrey Green has known for years that he would teach art for a living. Last spring, he was determined to do it in an affluent suburban district in the Northeast. There, he assumed, teaching would be most fulfilling.
But Green's outlook changed after he spent six weeks teaching at an alternative program at Chelsea High School as part of Art Teaching, a graduate course taught by SFA Associate Professor Judith Simpson.
"I heard things like the kids in an inner-city school would be gangsters and tear us to pieces," he says.
Instead, Green (SFA'00) helped an 18-year-old immigrant from Cape Verde -- whose frequent absences put him in Chelsea's Pathway program -- make a powerful autobiographical sculpture contrasting the machismo he projects on the street and the person he sees inside.
"The warnings were a bunch of stereotypes," Green says. "We didn't have any problems."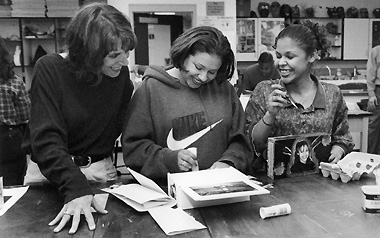 Marion Beram (SFA'01) helps Chelsea teenagers Juliana Quintero and Leonides Ortiz create autobiographical sculptures. Beram says working with the students inspired her to pursue a teaching career in an urban school. Photo by Fred Sway
---
Unlike Green, who now is considering teaching at an urban school, many prospective teachers enter the job market dismissing positions at an inner-city school, according to Simpson, because they hear exaggerated stories about how thankless and dangerous such positions are.

"There's a lot of trepidation about what urban kids are like," she explains. She says such attitudes among education students first alarmed her while she was studying for a doctorate at the University of Wisconsin in 1989. "It's fear of the unknown. And because most BU students haven't grown up in or participated in that kind of educational setting, I think it's important to expose our students to it."

Simpson, who has taught at BU since 1996, brings her students to Pathway every year in order to open their eyes to the possi bility of working in an inner-city district. Pathway serves mostly teenagers who have had behavioral or attendance problems in regular education classes at Chelsea High School.

Not only do BU students find the environment at Pathway safe -- those enrolled Simpson's course have never had a serious disciplinary problem with any Pathway student, she says -- but they come away realizing that teaching in the city offers unique rewards.

"Education students often think idealistically about well-financed suburban districts, but it's not just the buildings that make education work," Simpson says. "A lot of these high school students really need to feel success, and to find it through visual arts is a powerful thing. In that sense, working with them can be more rewarding than working in an affluent town, with kids who have seen the Louvre more often than you have."

As part of Simpson's course, which is a requirement in BU's five-year art education program, students plan an art project for the Pathway participants and lead an art class at the high school as a group for six weeks between March and May.

Last spring, 11 BU students in Simpson's course had the Pathway students transform a container about the size of a shoebox into an autobiographical sculpture. On the outside of the box were images that represent how the artist thinks other people perceive him or her. On the inside were images that express how the artist sees his or her own personality.

The students at Pathway could decorate their box with any me dium they chose as long as they learned how to use it. Paints, photos, and clippings from magazines were popular choices.

Green, who spent much of his time working one-on-one with junior Carlos Perrera, says assisting Perrera with his sculpture was difficult at the beginning.

"Carlos was fine by himself," explains Green. "What was hard is a lot of the guys put on this macho front and don't want to reveal anything. So they were trying to portray a really macho image of themselves, putting pictures of girls on the outside of their boxes."

But through sheer will and determination, Green says, he convinced Perrera eventually to let out powerful feelings regarding women and the way he projects himself to his peers.

"What I did with Carlos was get him to really focus on why he was including things on his box and how they fit together," says Green. "I found that if you focus on these students, they like to talk about themselves and they feel important."

Green's tenacity helped Perrera create one of the most insightful and complex sculptures in the class. On the outside of a cigar box, Perrera pasted images of a dog ("Ladies think I'm a dog," he explains later) and text that read, "They think I'm a bad guy" and "You see what I want." Open the box and it reads, "But really, I'm a good guy," and there is a photo of Perrera wearing a rare, shy smile. Next to his are photos of women he respects, such as the socially conscious rapper Lauryn Hill.

"I can be the good cop, I can be the bad cop," Perrera says, adding that the project "made me think a lot about who I am, inside and out."

Vadis Turner (SFA'00), who is student teaching in Revere this fall, says working at Pathway energized her own painting as well as her hunger to teach.

"I've been around the same people in school for four years, and not many of them are from places like Chelsea," she says. "A lot of these kids have really different experiences. I gained a lot in my own work from watching them deal with their autobiographies. They weren't pretty little portraits they were doing. There is a lot of black and drama and real intensity."

Edith Fenton, Pathway's lead teacher last year, says her students gained from the partnership with BU as well. "It's very exciting for our students to meet adults who value their skills," she says. "It gives them a sense of pride and self-worth that carries over to other subject areas like math and reading. We find that if the students have the experience of successfully taking a risk in one area, that energy spills into other areas."