Departments




| | |
| --- | --- |
| Week of 15 October 1999 | Vol. III, No. 10 |

Feature Article

Accolades for alumni achievers
The highest honor conferred on Boston University alumni will be presented at the Homecoming and Family Weekend Welcome Breakfast and Alumni Awards Ceremony on Saturday, October 16, at 9:30 a.m. at Metcalf Hall in the George Sherman Union. This year's award recipients are:
Merwyn Bagan (MED'62, SPH'95)
Merwyn Bagan earned a B.A. at Dartmouth College and an M.D. at the BU School of Medicine and trained in neurological surgery at Johns Hopkins Hospital. After retiring from neurosurgical practice in 1993, he earned an M.P.H. at the BU School of Public Health.
Merwyn Bagan
---
He cofounded Healthsource New Hampshire and Healthsource, Inc., state and national health maintenance organizations, respectively, in 1985. He was president and chairman of Healthsource New Hampshire from 1985 to 1993 and chairman of Healthsource, Inc., from 1985 to 1997, when it was bought by CIGNA.

Since 1995, Bagan has lived in Nepal as a volunteer at the Tribhuvan University Teaching Hospital, where he has helped establish neurosurgery, a neuro ward, and a spinal unit. He has been instrumental in obtaining more than $1 million in medical equipment for the hospital. He was named visiting professor at the Tribhuvan University Institute of Medicine's department of surgery in 1997.

Bagan is a former president of the American Association of Neurological Surgeons and of the New Hampshire Medical Society. He has received the Distinguished Service Award from the Congress of Neurological Surgeons, the Ether Prize from Boston City Hospital, and the Distinguished Alumnus Award from the BU School of Medicine, where he serves on the Board of Visitors.

He and his wife, Carol, live in Nepal. Karin, one of their three children, graduated from the College of Communication in 1989.
---
Edward W. Harbert III (COM'77)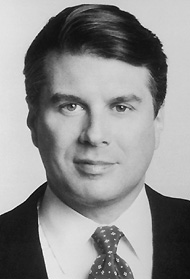 Ted Harbert
---
While at Boston University, Ted Harbert was a producer in the news department of WHDH radio. He graduated magna cum laude and that summer began 20 years with ABC Entertainment. Rising through a variety of programming positions, he became vice president for program planning and scheduling in 1983, and successively vice president for motion pictures, vice president for motion pictures and scheduling, vice president for prime time, and in 1989, executive vice president. In January 1993 he was named president, responsible for all prime time and late-night entertainment programming, and in 1996 was named chairman.

He joined DreamWorks SKG in February 1997, signing an exclusive two-and-a-half-year contract to develop and produce new television shows. In August of this year, he was named president of NBC Studios.

Harbert is a member of the executive committee and the board of governors of the Academy of Television Arts and Sciences and of the board of governors of the Environmental Media Association, and is a past president of the Hollywood Radio and Television Society. He is also on the dean's advisory board of UCLA's Center for Communications Policy and the board of directors of Friends of the L.A. Free Clinic.

He received the College of Communication's Distinguished Communicator Award in 1989 and Distinguished Alumnus Award in 1994.

He and his wife, Susan, and their children live in Los Angeles.
---
Frederick Kobrick (CAS'69)

Fred Kobrick
---
Fred Kobrick graduated first in his class in economics at the College of Arts and Sciences, and two years later, first in his class in investment management at the Harvard Business School. He spent 14 years at Wellington Management Company as a securities analyst and portfolio manager, and in 1985 he joined State Street Research, where he was senior vice president and a member of the Equity Investment Committee. He managed three equity mutual funds, a pooled pension vehicle, and MetLife's aggressive equity annuity fund, with total assets of more than $4 billion. In late 1997 he left State Street to start Kobrick Funds, which manages three mutual funds, and Kobrick Capital, which manages private money for high net worth individuals, universities, and other organizations.

Before coming to BU, Kobrick served in the U.S. Navy, where he was in charge of photography for Cruiser-Destroyer Flotilla Six.

He was elected to the Boston University Board of Trustees at graduation and served until 1972, at the time the youngest trustee in the University's history. He is a member of the College of Arts and Sciences Collegium of Distinguished Alumni.

Kobrick lives in Sudbury, Mass., with his wife, Sherrill (DGE'67, SED'69), and their two children.
---
Gitta Kurlat (SMG'63, LAW'65)
Gitta Kurlat transferred to Boston University from George Washington University. She earned a B.S./ B.A. at the School of Management and a J.D. cum laude at the School of Law, where she was on the staff of the Law Review for two years. She received an L.L.M. from Harvard University in 1966.
Gitta Kurlat
---
Kurlat was an instructor and research assistant at the School of Law during the year following her graduation and then joined the Boston law firm Guterman, Horvitz, Rubin and Rudman. She was a partner in the firm from 1971 to 1986. She founded Kurlat Associates in 1987, specializing in business, securities, and international corporate law, and cofounded Kurlat Ventures, a venture capital company focusing on high-technology industries.

In 1968 she cofounded Eikonix Corporation, which specialized in digital imaging, and was director of the corporation until it was sold to Eastman Kodak in 1985.

Kurlat has been active with the American Bar Association, the Massachusetts Bar Association, and other professional organizations. She has been a member of the Board of Bar Overseers of Massachusetts, a director of the International Coordinating Council, the Boston Municipal Research Bureau, and the Advisory Board of the Coalition for Science and Technology, and a trustee of the New England Medical Center.

She received the School of Management's Alumni Award for Distinguished Service to the Profession in 1993 and is a member of the SMG Dean's Advisory Council.

She and her husband, Saul, live in Cambridge, Mass.
---
Ida E. Lewis (DGE'54, COM'56)
After graduating from the College of Communication, Ida Lewis was the financial writer for the New York Amsterdam News from 1957 to 1960 and financial editor for The New York Age from 1959 to 1961. She directed research at the Small Investor's Real Estate Plan for two years and lived in France from 1964 to 1969, writing for Life, Le Figaro Litteraire, L'Express, the Washington Post, the New York Times, and other periodicals. She also interviewed African dignitaries in Paris for the BBC's African Service. She returned to the United States as a correspondent for Jeune Afrique, a newsmagazine based in Paris. She was the first editor-in-chief of Essence magazine, in 1971 and 1972, and then founded Encore: American & Worldwide News. She was its publisher and editor-in-chief for 10 years, the editor or publisher of other small periodicals, and a member of Columbia University's journalism faculty.
Ida Lewis
---
Lewis was a political media consultant and press agent from 1984 to 1992; her clients included Ross Perot, Abe Hirschfeld, and Adam Clayton Powell. She was a literary agent from 1995 to 1998 and last year became the first woman editor-in-chief of The New Crisis, the magazine of the NAACP.

She speaks frequently at conferences, seminars, and colleges. Lewis taught at the College of Communication in the spring of 1999 and will do so again in the spring of 2000.

Among her honors are an award for excellence in journalism from the Association for the Study of Afro-American Life and History, the Woman of Distinction Award from Kingsborough College of the City University of New York, and the Distinguished Alumna Award from the College of Communication.

Lewis lives in New York City.