| | |
| --- | --- |
| Week of 15 October 1999 | Vol. III, No. 10 |

Feature Article

Seeking alumni support
$1.5 million gives preschool room to grow
By Hope Green
For youngsters at Boston University's Early Childhood Learning Laboratory (ECLL), there are fascinating lessons in ordinary things.
At one table, a blond three-year-old boy shakes a jar of oil and vinegar, then watches the liquids separate. Nearby, a pair of his classmates mix a paste of cornstarch and water in a bowl, experimenting with a plastic spoon and a metal one to see which works better. Later, a girl in pigtails counts the number of chairs around a snack table, removes two, and then takes a recount to see how many are left.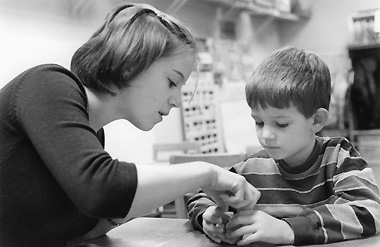 Michele Nees (CAS'01, SED'01) shows a youngster how to add food coloring to white Play-Doh and manipulate the substance so that the color distributes evenly. Photo by Kalman Zabarsky
---
Student teachers at ECLL spend many hours talking youngsters through simple exercises like these, posing provocative questions and introducing basic concepts in chemistry, math, and tool function under the supervision of Judith Schickedanz, the preschool's founding director and a professor in BU's School of Education.

"We don't entertain children here," she says. "They are happy, they are calm and deeply engaged, but we don't talk about 'fun.' I think that's trivializing what children really enjoy."

Schickedanz likens the facility to a teaching hospital for medical residents or a flight simulator for pilots in training. "We communicate with our students each day after the children leave," she explains. "There is constant reflection about what works and what does not."

The preschool, established in 1983, attracts parents and educators from all over New England to watch the teacher-pupil interactions through a one-way observation window. Student teachers praise the program for applying academic research on child development directly to their work in the laboratory, where they learn how a carefully planned activity with Play-Doh or a hand-cranked eggbeater can advance children's social skills, increase their vocabulary and hand-eye coordination, and stimulate their intellectual development.

"We even work with concepts of physics, " says second-year doctoral student Molly Collins, a graduate assistant lead teacher. "We have the children experiment with how fast they have to turn the eggbeater to make a mixture fling to the side of the bowl, introducing the ideas of centrifugal and centripetal force. We ask what they think will happen if we add more water or more dry matter."

But while acclaim has grown for ECLL, its cramped quarters on the School of Education's first floor have not. That is likely to change next year if a $1.5 million expansion and renovation project at SED goes as planned.

Within the next two years, the two-and-a-half-room preschool will move into an entire floor on the lower level of SED, a space now occupied by the Educational Resources Library. By that time the library will have pulled up stakes and resettled into a renovated brownstone at 617-619 Commonwealth Ave.

The new ECLL blueprint calls for two large classrooms with adjoining observation booths. (Right now a sole booth doubles as a storage closet.) For the first time, the center will also have a parent-conference room, a kitchen, and children's toilets. And in a new videotaping area, Schickedanz will be able to record the progress of the youngsters and create teacher-training materials.

"The changes will make it possible for us to do all the things associated with running a clinical site at a major university," says Schickedanz, author of several critically acclaimed books on children's cognitive development.

To fund both the preschool and library projects, SED has launched a $1.5 million capital campaign. It has applied to the Kresge Foundation for a challenge grant, which, if awarded, would contribute $300,000 to the campaign once the school has raised $900,000 in private contributions. The school hopes to raise another $300,000 in alumni gifts and pledges by December 31 in order to strengthen its case with the foundation.

"We are very optimistic about the prospect of receiving a Kresge challenge grant and feel fortunate that the ECLL and library projects are of great interest to our alumni," says Gretchen von Schlegell, SED's development officer. "Dean Edwin Delattre and I will spend most of this fall visiting with alumni across the country. Their support is critical to the success of this project."

The increased space alone will make it possible for a dozen more children to attend the preschool, and admissions to the master's level early childhood education program will increase from 22 to 30. Yet Schickedanz envisions benefits extending beyond University borders. Once renovations are complete, she plans to create print and video training materials for outside educators. Programs for disadvantaged children such as Head Start, as well as volunteer instructors at day-care centers, could particularly benefit.

"Training student teachers is the core of what we do," Schickedanz says, "but there are also huge opportunities to share what we know with educators in the real world."