With veteran's return and transfer's emergence
Men's soccer Terriers may have regained their scoring touch
By Brian Fitzgerald
Who would fill the void after BU men's soccer scoring machine Sigurd Dalen (COM'00) limped off the field in the second game of the season? The question remained unanswered (two Terrier goals in the next three games) until September 25, when it was Miller time: newcomer Kirk Miller (SMG'01) scored four goals in a home game against Albany.
At the beginning of the season BU was counting on forward Dalen, last year's scoring leader, to lead the way. However, an ankle sprain hampered the team's scoring abilities. Dalen practiced with the team, but why take chances? His impact in previous seasons has been crucial late in the schedule, when the Terriers play their all-important conference games. He scored the game-winning goal in BU's final three wins during the regular season last year.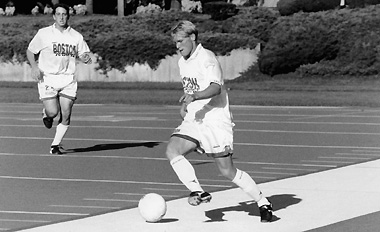 Men's soccer fans at BU are happy about the return of injured forward Sigurd Dalen (COM'00) (right). Also a large factor in the Terrier attack is midfielder Matt McManus (CAS'01) (left), the team's most improved player last season. Photo by Eric Olean
---
"Early in the season we want to work on having our game down by the time we face our conference opponents," says Coach Neil Roberts. "Unfortunately, we lost Siggy during most of that time -- we weren't able to work him in with some of the new guys. Still, although we're not as far ahead as we'd like to be, we're getting there."

Where Roberts wants to go is back to the NCAA tournament. The Terriers received invitations to the dance for five straight years by winning the America East tournament from 1993 to 1997. Last year, however, they were bumped off by Drexel, 2-0. Their problem last season: a lack of scoring. Dalen had 10 goals, but he was the only Terrier in double digits. Frank Vigliotti (SMG'01) had six goals and Joachim Kaland (MET'02) had five. In fact, BU scored only 27 goals in 17 regular-season games -- and that tally included a 5-0 whitewashing of Rhode Island.

Miller, a transfer from Maryland, just might be the man to help end the scoring drought. He was thrown into the Terrapins' starting lineup in his freshman year and scored three game-winning goals -- not bad for a midfielder. He played in all 24 of the Terps' games as a sophomore. Roberts watched him play in Maryland's 2-1 loss to Stanford in the Final Four last fall and liked what he saw. "He's an offensive midfielder, and that's what we've lacked the past couple of years," he says.

Also heartening for Roberts is the fact that Dalen was able to play in the rout of Albany. Although the Norwegian didn't score, he looked healthy when he booted the ball across the field to other attackers. "He got a couple of good crosses in," says Roberts. "He didn't get any shots off, but it was nice to see him striking the ball well."

When BU begins its America East schedule against New Hampshire on Friday, October 1 (7 p.m.), and Maine on Sunday, October 3 (1 p.m.), it will enjoy the advantage of home games against teams that finished fifth and ninth, respectively, in the conference last year. BU finished second. And thanks to Albany, some BU bench players saw recent action. "Defensively, we've been playing well," says Roberts. "When the Albany game was pretty much over, we were able to give some of our starters a rest," especially after two double-overtime epics within a week.

In addition, Roberts may have found a bona fide scorer in Miller, whose hat trick-plus-one was a goal shy of the team record, set by Dave Pollini in 1958.

Roberts admits that he was surprised by Miller's four goals, but notes that the native New Yorker is expected to contribute offensively. "He's been playing behind Kaland, and his job is to get into the attack as much as possible. When we win possession, he becomes another forward for us."