Departments




| | |
| --- | --- |
| 13 August 1999 | Vol. III, No. 3 |

Feature Article

From the stage to the stump
BU-trained playwright assumes the director's chair
By Eric McHenry
Dan Hunter (GRS'99) has put 11,000 miles on his car since he bought it in April. As newly appointed director of both the Iowa Department of Cultural Affairs and the Iowa Arts Council, Hunter has been canvassing his home state on behalf of creativity.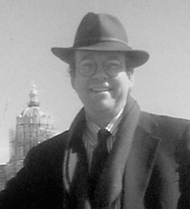 Dan Hunter (GRS'99) in front of the Iowa capitol in Des Moines, where he works as director of the state Arts Council and its Department of Cultural Affairs.
---
"One of our congressmen, when I met with him in Washington, dubbed me Iowa's minister of culture," says Hunter, whom Governor Thomas Vilsack named to the directorships early this year. "And we were laughing about that. But I later realized that in a way he was right. Iowa is 45th in the nation in per capita spending for the arts. Really, all I have is a bully pulpit and the right to go out and preach, to try to be a catalyst for improved arts programming in the state."
The constant movement that being such a catalyst entails is nothing new for Hunter, who prior to coming to BU for an M.A. in playwriting had traversed all of Iowa as a singer-songwriter, humorist, writer, director, creative and political consultant, and freelance jack-of-all-arts. His familiarity with the state, and its familiarity with him, he says, helped make him an attractive candidate for his current appointment.
"It's a quirk of fate," Hunter says, "but I've done a residency, a concert, or a theatrical performance in all 99 counties in Iowa. I have a unique confluence of experiences that I think appealed to the governor."
Hunter had even served as a political consultant to Vilsack in two state senate campaigns. When Iowans elected his former client governor in 1998, Hunter elected to pitch himself as a potential arts administrator.
Another feather for Hunter's many hats
Dan Hunter's statewide cultivation of support for the arts has forced him, for the moment, to place his personal artistic pursuits in the shade. But that hasn't stopped them from bearing fruit.
A production of Un Tango en la Noche, a play Hunter wrote under the guidance of Kate Snodgrass and Richard Schotter while a student in BU's graduate Creative Writing Program, was selected in March as one of two winners of a 1999 Kennedy Center/American College Theater Festival Short Play Award. The competition drew over 900 entries from more than 400 colleges and universities around the country.
Hunter, who had taken up his duties as Iowa's arts czar but whose wife and son were still living in Cambridge when the awards were announced, got the news on a pay phone in Chicago's O'Hare Airport.
"The first thing I wanted to do was share it with about eight million strangers," he says.
The award recognized both Hunter's script and the Boston Playwrights' Theatre production of the play, directed by Eve Muson of the SFA theatre arts division and staged in January at Brandeis University. The student cast reconvened for April 19 and 20 performances at the American College Theater Festival, held in the Kennedy Center in Washington, D.C. Hunter also received a $1,000 cash prize, and his play will be published by Samuel French, Inc.
Hunter describes Un Tango en la Noche as "magical realism" in the tradition of Colombian novelist Gabriel García Márquez.
"The devil dangles the fulfillment of a dream in front of an old man," Hunter says, "and then, of course, takes it away."
The play was first performed in August 1998 by the Trinidad Theatre Workshop. That production, staged in Castries, St. Lucia, was arranged by Nobel Laureate and CAS Professor of Creative Writing Derek Walcott, a native St. Lucian, as part of a University-sponsored summer artists' program. Walcott says the qualities that make Hunter an estimable playwright will also make him an effective champion of the arts for Iowa.
"The principal thing about Dan is his personality," says Walcott. "He's very bright, very affable, and a very devoted, affectionate student. He's easy to teach and to work with. So although I didn't know that he had a talent for arts administration, I was very happy and not at all surprised to hear of his appointment."
"Governor Vilsack's is the first Democratic administration in Iowa since 1969," says Hunter, "so it's been a long time since Democrats have had a chance to put together an administration. And the day after the election I realized that the first place where policy begins to be worked out is in the formation of a new administration, and that takes place largely through the hiring of department heads. It occurred to me that I could potentially help shape the state's commitment to the arts."
Returning to Iowa in January for one of the occasional performances he was still giving, Hunter hustled an interview with the governor-elect.
"I sat down for what should have been a 15-minute meeting, and we talked for over an hour," he says. "It was just really clear that he liked what I had to say -- that I had a passionate agenda for the arts in Iowa, that I knew the arts community well, and that I knew Iowa history."
Back in Boston two days later, Hunter got a call from the Iowa statehouse. "They said, 'Hope you're still interested in the job, because we just sent the press release out,'" Hunter recalls. "That's how quickly it happened. We didn't even talk salary until about a week after that."
Hunter has thrown himself headlong into the job. In addition to his stumping, he's found time to institute an amateur arts festival for senior citizens from throughout the state. He has brought Robert Pinsky, U.S. poet laureate and CAS professor of English, to Des Moines for a Favorite Poem Project reading, and is currently putting together a forum that will celebrate the achievements of student poets from all over Iowa -- "the same sort of thing states do with their all-star football players," he says. He's also promoting expansion of Iowa's artists-in-the-schools program.
Not surprisingly, with a docket full of such projects, Hunter doesn't hold much time or energy in reserve for his personal artistic pursuits. He acknowledges a tension between his two identities, one that can't be entirely reconciled. It's a tension that's evident even in the trajectories of his sentences. At one point he interrupts himself to apologize for a cliché, then just as abruptly becomes an apologist for clichés themselves, which as a busy administrator he finds useful -- "a shorthand way of speaking," he says.
"It's hard to be an artist in an administrative position," he admits. "Here I am a full-blown bureaucrat. I simply don't have time to do my creative work, and that's frustrating.
"Having said that, there are things I bring to the job, as an artist, that make it easier. I've been using the reputation I'd already developed in Iowa to raise the profile of the agencies. I've been speaking to Rotaries, Kiwanis clubs, Chamber of Commerce groups. I'm reaching out to new audiences -- people who don't traditionally have a huge investment in the arts."
One of the keys to being a successful playwright, he adds, is understanding the motives of each character, and how those motives will affect behavior and interaction.
"And that's certainly what politics is all about," he says. "I've actually been accused of taking this job to try to get material."