| | |
| --- | --- |
| 13 August 1999 | Vol. III, No. 3 |

Feature Article

Former BSO and SFA musician Joseph Silverstein
Learning and teaching from the maestro's podium
By Judith Sandler
It doesn't seem all that long ago that Joseph Silverstein was a fixed part of musical life in Boston, but some of the musicians playing for him this week hadn't even been born when he left the Boston Symphony Orchestra and Boston University in 1983.
---
"He knows every turn of phrase and all the possibilities for what you might do as you think of it. He's a very generous conductor."
-- Peter Zazofsky, Muir String Quartet
---
Local music lovers older than 30 or so remember him as concert-master of the Boston Symphony Orchestra, chamber musician with the Boston Symphony Chamber Players, conductor of the Utah Symphony Orchestra, soloist with world-class orchestras throughout the world, and teacher and mentor to generations of musicians.

This week Silverstein and the supremely talented high school students of the Boston University Tanglewood Institute Young Artists Orchestra are preparing a challenging program of Berlioz, Piston, and Brahms. On August 14, Silverstein will lead the orchestra in its final concert of the summer program at Tanglewood.

Having trained with legendary violin teachers Josef Gingold, Mischa Mischakoff, and Efrem Zimbalist, Silverstein is singularly equipped to communicate the complexities of orchestral playing. From the instrumentalists' vantage point, he learned much of what he knows during his years with the Houston Symphony, the Philadelphia Orchestra, and the Boston Symphony Orchestra, where he played from 1955 until 1983, 19 of those years sitting in the hot seat of the concertmaster's chair.

Putting down his bow and taking up the baton, he served 12 years as assistant conductor of the BSO (in addition to his concertmaster responsibilities) and 15 years as music director of the Utah Symphony Orchestra.

Although not trained as a conductor, Silverstein learned from some of the best teachers in music. "If one wants to learn about conducting, playing in the orchestra is the best school," he says. "I had numerous good teachers, some of whom would have been surprised to discover I regarded them as my teacher. It's the department of voluntary and involuntary mentors." He's talking about such maestros as Eugene Ormandy of the Philadelphia Orchestra, British conductor Sir John Barbirolli, and BSO Music Directors Charles Munch and William Steinberg.

Using these conductors as models, Silverstein has developed a pragmatic definition of an effective conductor: "Someone who can help the players to perform in a manner which they feel reflects well upon them -- that's a good conductor."

Peter Zazofsky, the Muir String Quartet's first violinist and SFA associate professor, has known Silverstein both as teacher and as conductor. He studied with Silverstein from age 5 to 13 and performed as soloist under his direction with the Worcester, Utah, and Boston symphonies. "His extraordinary musicianship and intimate knowledge of the violin part make him an ideal collaborator for a soloist," says Zazofsky. "He knows every turn of phrase and all the possibilities for what you might do as you think of it. He's a very generous conductor."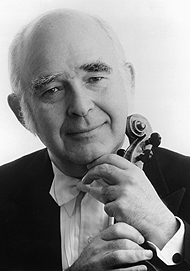 Joseph Silverstein
Photo by Michael Schoenfeld
---
Dennis Alves (SFA'77), Boston Pops Esplanade Orchestra trumpeter and Pops artistic coordinator, says Silverstein is "a truly great teacher and a very giving individual." An alumnus of the Boston University Tanglewood Institute, Alves played under Silverstein in the Boston University Symphony Orchestra, which Silverstein led during his tenure as head of the orchestral department and violin teacher SFA.

"He taught the orchestra members to play like chamber musicians," Alves says. "He taught us how to listen to each other and how to pay attention and know when to play out and when to hold back." When Alves was a student, the BUSO competed in Berlin at the 1976 Karajan International Youth Orchestra Festival, where Silverstein led the orchestra to a silver medal. "We gave a great performance of the Bartók Concerto for Orchestra," he says. "It was a highlight of my career at that time."

Longtime SFA and BUTI faculty member Ralph Gomberg was principal oboist of the BSO from 1950 to 1987. As a colleague in the orchestra and cofounding member of the Boston Symphony Chamber Players, he remembers the "impeccable technique and brilliant tone" and the "artistry and musical integrity Joe brought to every composer's work."

Throughout his time as concertmaster of the BSO and conductor of the Utah Symphony, Silverstein continued to perform as soloist and chamber musician, as he does today. In addition to concertizing with orchestras in Europe and Asia, this coming season he will perform a number of concerts with the Chamber Music Society of Lincoln Center.

Silverstein has not conducted the BUTI Young Artists Orchestra before, but he has extensive experience with young instrumentalists, and has seen a tremendous growth in their technical abilities. "Their physical competence is astonishing," he says. "Standing in front of a student orchestra, I expect a level of playing I would not have expected from professionals 30 years ago."

The Young Artists Orchestra is part of the Boston University Tanglewood Institute, a summer program that trains talented high school musicians in voice, instruments, composition, chamber music, and orchestra. Run by BU for over 30 years in collaboration with the Boston Symphony Orchestra's Tanglewood Music Center, BUTI offers lessons, coaching, and master classes with world-class musicians from the SFA faculty and the BSO, and international artists such as Yo-Yo Ma, Itzhak Perlman, Phyllis Curtin, and Bobby McFerrin.

"Teaching is important to me," says Silverstein, "because my life has been enriched so by the musical experience. I feel the obligation to share my love of music with young people. As teachers, we can become so focused on their playing that we lose sight of the role music can play in their lives."
---
On Saturday, August 14, at 2:30 p.m. in Seiji Ozawa Hall, Joseph Silverstein will lead the Boston University Tanglewood Institute Young Artists Orchestra in Berlioz's Roman Carnival Overture, Piston's Symphony No. 6, and Brahms' Symphony No. 4. Admission is $10. For further information, call 413-637-1430.