Departments





| | |
| --- | --- |
| Week of 14 May 1999 | Vol. II, No. 34 |

Feature Article

BU sophomores recognized as Beckman Scholars
By Eric McHenry
Arnold Beckman, a world-renowned inventor, entrepreneur, and philanthropist, who turned 99 last month, says his strategy for advancing the sciences is a simple one: "Give money to the best people and then get out of their way."
It appears that BU is home to some of the best people. The University is one of only 16 institutions nationwide to be selected by the Arnold and Mabel Beckman Foundation for a 1999-2000 Beckman Scholars Program Award. Three sophomores from the College of Arts and Sciences and one from the College of Engineering will share an award of $70,400, which will finance research for one academic year and two summers. The four students, Carissa Bellardine (ENG'01), Catherine Cormier (CAS'01), Hau Le (CAS'01), and Mindy Markowitz (CAS'01), were recognized at the annual Undergraduate Research Awards Ceremony May 6 in the School of Management.
"This year's Beckman Scholars are certainly among the best of Boston University undergraduates," President Jon Westling said at the ceremony. "They've already shown the discipline of mind needed to prepare research projects that are not only focused and feasible, but of significance as well. And thanks to the generosity of the Beckman Foundation, we are now able to grant them the means to take up their work and thus continue the process of acquiring those skills and habits that will lead to a rewarding life in science, a life that was beautifully exemplified by Arnold Beckman's own."
Beckman, who invented a spectrophotometer that greatly accelerated the study of chemical reactions and a centrifuge that enabled Jonas Salk to isolate the polio virus, got his start conducting experiments with ammonia and baking soda in his father's woodshed. One of the guiding objectives of the charitable Beckman Foundation, which he established in 1982 after selling his multimillion-dollar Beckman Instruments company, has been to encourage young investigators with lots of promise but not a lot of name recognition or financial wherewithal.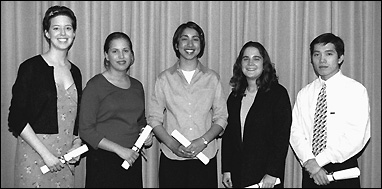 Mark W. Riemen Prize-winner Monica O'Chaney (center) and Beckman scholars (left to right) Catherine Cormier, Carissa Bellardine, Mindy Markowitz, and Hau Le, were recognized at the May 6 Undergraduate Research Awards Ceremony. Photo by Michael Hamilton
---
"The Beckman Scholarships are targeted for sophomores," says Sharon Prado, director of the Undergraduate Research Opportunities Program (UROP), which is administering the award. "The idea is to support really well-qualified students early in their undergraduate career, to connect them with a strong faculty mentor, and to get them on the road to research a little bit sooner."

When applying to be Beckman Scholars, eligible sophomores met prospectively with various faculty members as part of a mentor-student matching process. The four students selected will work closely with the faculty mentor assigned them, pursuing a project directly related to that professor's research area.

"I think this is going to be a terrific experience for me," says Catherine Cormier, who under the direction of Thomas Gilmore, CAS associate professor of biology, will work toward the development of a durable mammalian cell system in which a protein believed to have a role in the growth of cancerous tumors can be studied. "The things that they're doing in Dr. Gilmore's lab are so fascinating. If I ended up finding a mammalian system that can overexpress v-Rel [the protein], I'd be one of the first people in the world to do so.

"That's what excites me about research," Cormier says. "Even if a discovery you make isn't something earth-shattering, something that's going to change the course of history, it's still something brand-new. That's such an exciting prospect."

This is the second year of the Beckman Scholars Program, and BU's first as an award recipient. After reviewing information on nearly 800 American educational institutions, the Beckman Foundation invited the 170 colleges and universities it identified as having demonstrated the strongest commitment to undergraduate research in chemistry, biochemistry, and the biological sciences to apply for the awards. Prado put together a Beckman Committee, comprising herself and four faculty members, which submitted a preapplication profiling the University's undergraduate research programs in those areas and outlining ways that the University's students would apply the money if selected as Beckman Scholars. When the initial group of preapplicant schools was narrowed to 40 finalists, the committee forwarded a longer, more detailed proposal. The group of 16 institutions ultimately selected for the awards includes Dartmouth College, Haverford College, the University of California, Los Angeles, and Yale University.

Also honored at the May 6 awards ceremony were recipients of the Mark W. Riemen Prize, UROP Faculty Matching Grants, UROP Summer Research Awards, Pfizer Prepare Awards, National Science Foundation Research Experiences for Undergraduates awards, and Howard Hughes Medical Institute awards. Visit UROP's Web site at www.bu.edu/urop.