| | |
| --- | --- |
| Week of 14 May 1999 | Vol. II, No. 34 |

Feature Article

Student speaker Jennifer Gruber
Ad astra per aspera
By Eric McHenry
Student speaker Jennifer Gruber isn't interested in talking about her experiences at BU, and she suspects her classmates aren't interested in hearing about them. There's better fare for commencement addresses, in her opinion, than the nostalgia of someone whose life is really just beginning.
"To be honest, I don't think anybody cares about my experiences," says Gruber (ENG'99), an aspiring astronaut and BU's first Rhodes scholar in 12 years. "I'll write a book of memoirs someday, and maybe somebody will want to read that. But as a student I know that's not what I want to listen to."
Gruber says her speech at the May 23 graduation exercises will be "a call to action," a spirited charge "to my classmates and people my age to go out and go for the big stuff again."
It's a message with both practical and moral implications. By "big stuff," she means projects with more substantial ends than mere personal advancement: finding cures for terminal diseases, pursuing peace through diplomacy, raising honorable and educated children, and her own goal: traveling to Mars.
"I'll actually use the words 'Age of Greatness' in my speech," Gruber says. "I think we should be working toward an Age of Greatness. The media always talk about how we have no heroes. Why should we wait for heroes to come along? I think we should start becoming them."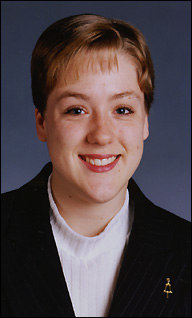 Jennifer Gruber
---
The determination evident in such remarks, ethically inflected and beautifully exemplified by her own life and pursuits, made Gruber an appealing choice for student speaker. President Westling, himself a former Rhodes scholar, personally invited her to give the address.

"Your record and character convince me that you can speak eloquently about cultivating a sense of purpose while regarding the ventures of others, some of which you may someday pursue on your own," Westling wrote in his letter of invitation.

Gruber has aspired to be an astronaut since she was a child. An aerospace engineering major, she has completed both a four-year B.S./M.S. degree at BU and a one-year cooperative education program at the NASA Johnson Space Center in Houston, where she contributed to the development of maneuver-confirmation software that's already being used for the space shuttle Endeavor.

Between her graduation and her trip to Mars, Gruber will make a trip to England, where the Rhodes scholarship will support her work toward a doctorate in engineering science at Oxford University.