Departments



| | |
| --- | --- |
| Week of 16 April, 1999 | Vol. II, No. 31 |

Feature Article

Towle named senior VP
Richard Towle, Boston University's vice president for administrative services, has been promoted to the position of senior vice president.
Towle has held a variety of senior administrative posts at BU for the past 19 years. As vice president for administrative services since 1990, he has supervised the operations of many University-wide departments, including Campus Planning, Risk Management, the Police Department, Personnel, the Office of Equal Opportunity, the Faculty/Staff Assistance Program, the Office of Family Resources, and Student Health Services. He has also served as the principal liaison between the University's main campus and the Boston University Medical Center, and has been the chief business officer of the Medical Campus.
In announcing the promotion, President Jon Westling praised Towle's demonstrated leadership ability in carrying out his responsibilities for BU, adding: "It is a tribute both to his administrative acumen and to his diplomatic talents that he has also developed a harmonious and mutually beneficial collaboration with all of his colleagues at the Boston University Medical Center."
In his new position, Towle will take on increasing levels of responsibility in campus planning and in the oversight of major campus development projects. He will work closely with Executive Vice President Joseph Mercurio, who says that he looks forward to Towle's help in these efforts. "I also welcome his assistance in reorganizing a number of vital administrative divisions of the University," Mercurio adds.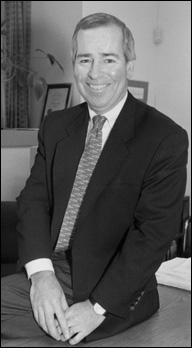 Richard Towle, Boston University's recently appointed senior vice president. Photo by Vernon Doucette
---
Towle will work with Mercurio on such projects as the new athletic and fitness complex being developed at the Armory site on Commonwealth Avenue, where an 817-bed student residence will open in the fall of 2000. Other construction projects on the agenda include a new science building -- which will house the departments of biology, chemistry, and computer science -- and a 1,000-car parking garage at BioSquare, the $350 million industrial park being developed next to the Medical Campus by BU and Boston Medical Center to support innovation in science and business. He will also be increasingly involved in the University's limited partnership with developers to build a European-style hotel and retail complex on the south side of Kenmore Square.

Planning and development are familiar terrain for Towle. He has served as lead executive in the BioSquare project, and played a major role in the University's new master plan, which the Boston Redevelopment Authority approved last year.

In addition, Towle has led labor negotiations on both BU campuses and in the Chelsea public schools. "I look back with pride on the harmonious relationship we've been able to develop with the unions and collective bargaining units," he says. "In the last 19 years, we have negotiated more than 50 agreements without a job action or strike of any kind."

Towle received a bachelor of arts degree in psychology from Boston College in 1976, graduating summa cum laude. He earned a master's degree in industrial psychology from the same institution in 1980. Besides his membership in various professional organizations, he serves on the Greater Boston Chamber of Commerce Development and Transportation Committee.

"I am really happy to have been part of the University's facilities planning and campus development in the last 19 years," Towle says, "and I look forward to doing more."