| | |
| --- | --- |
| Week of 16 April, 1999 | Vol. II, No. 31 |

Feature Article

Turning wisdom into widgets
Global manufacturing program to expand BU-Fraunhofer ties
By Hope Green
The Boston University College of Engineering and Fraunhofer-Gesellschaft, a multinational industrial research consortium based in Germany, have announced plans for a joint graduate program in which engineering scholars will apply theory to practice on the factory floor.
And while the students are getting grease under their nails, they will also be gaining cross-cultural perspectives on industry.
Officials of BU and Fraunhofer celebrated their expanding partnership as well as the new International Program in Global Manufacturing during an April 12 ceremony at the Fraunhofer USA Center for Manufacturing Innovation (FHCMI), a three-year-old research facility on St. Mary's Street. Joining them were more than 100 friends from industry, the German American Business Council, BU faculty, and FHCMI staff.
Amid champagne toasts, Dirk Meints Polter, president of Fraunhofer USA, and BU President Jon Westling cosigned a partnership agreement, which along with the graduate program "marks the beginning of a new level of collaboration for BU and Fraunhofer Gesellschaft -- both in engineering education and technology development and transfer," says Andre Sharon, FHCMI director and ENG professor.
Students in the new graduate program will spend their first year in Aachen, Germany, at the Technical University of Rhineland-Westphalia and the Institute for Production Technology. In their second year they will study at BU and FHCMI.
The local Fraunhofer facility designs next-generation manufacturing technologies for companies ranging from such corporate giants as the Ford Motor Company and Boeing to tiny New England start-ups. Graduate and undergraduate students, along with BU faculty, have played a role in the work of the Center. But the new program, Sharon explained, offers master's degree candidates an even richer global perspective.
"Almost every large company has a war story about lost opportunities due to cultural differences and business misunderstandings," he told the assembled guests. "Engineers in the 21st century will need not only to be well-versed in technical aspects of engineering, but also to understand the culture, engineering practices, and business practices on both sides of the Atlantic."
The new collaborative program, Sharon adds, will balance the American and European approaches to engineering education -- that is, the American emphasis on theoretical science and the more hands-on approach of European universities.
Applied research
Fraunhofer-Gesellschaft was founded in Munich in 1949 to aid the reconstruction of Germany following World War II. Its guiding principle, says FHCMI business development manager Nancy Henderson, was to create institutes where academic ideas could be applied quickly and directly to the needs of industry. Today the organization operates 55 institutes in Europe, Asia, and North America, each paired with a university sharing its technological focus.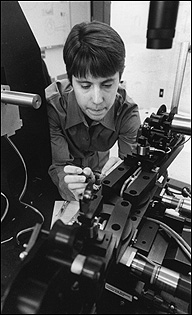 K. C. Cherko, manager of the automation technologies group at the Fraunhofer USA Center for Manufacturing Innovation, examines a coil-winder, a device used in the assembly of fiber-optic gyroscopes. Photo by Kalman Zabarsky
---
Fraunhofer's BU outpost, established in December 1995, shares a building on St. Mary's Street with ENG's department of manufacturing engineering. In FHCMI's 9,000-square-foot machine development laboratory, a staff of 10 full-time engineers is dedicated to quickly solving problems for corporate clients. In many cases their work continues at the client's manufacturing plant.

"Our people have been on production floors doing nasty, dirty jobs at three in the morning to make sure a process runs," Henderson says. "Universities are often seen as slow, unresponsive, and ivory-tower, but we like the hands-on.

"A paper study often has little direct value in industry," she adds. "It's when the process changes, or the machine part you have designed works, or you make something cheaper, better, or faster -- that's what the company wants in the end."

Production savings
Reducing wear and tear on machinery is a typical cost-saving strategy. Such is the case with laser-assisted milling, a technique that FHCMI has developed for cutting metal and other hard substances. The process employs lasers to heat the material near the cutting area, greatly reducing force on the tool and extending its useful life. Ford is underwriting this research, and hopes eventually to use the technique in its assembly lines.

Fraunhofer also devises machines and components for automation. One of these is a coil-winding appliance for assembling the fiber-optic gyroscope, a highly accurate navigation aid used in submarines, airplanes, guided missiles, and automobiles. The gyroscope contains several kilometers of hair-thin fiber-optic cable, which is wound in specified patterns at precisely calibrated levels of tension. Earlier winding machines required more human involvement in the process and left more room for mistakes.

"Our machine will reduce the winding time by an order of magnitude, so what normally takes a week, we can do in a few hours," explains Sharon, an automation specialist. "It also uses an algorithmic process to detect errors, and it takes corrective action."

Mutual benefits
Fraunhofer's partnership with BU is designed to be symbiotic. In exchange for engineering faculty expertise, the center shares its intellectual property rights with the University -- meaning BU can receive some of the profits gleaned from licensed technologies.

At the same time, the center provides industrial experience to engineering students, undergraduates in work-study programs, and MBA candidates from the School of Management. And of course there are the company contacts. BU alumni who once worked at FHCMI have landed positions with such Fraunhofer clients as Kennametal, Boeing, and Ceradyne.

The new agreement between BU and Fraunhofer, Westling remarked as he prepared to sign the document, "will realize several years of serious and important work in trying to put together a most innovative and important European organization and a superb College of Engineering here in Boston."

But he noted that the relationship has even wider implications. "Linking arms with a strong and united Europe," he said, "is one of the most important steps that we can take to ensure a peaceful and prosperous future for the world." It is essential, he said, "to do what we can below the level of governance, foreign ministers, and military alliances to ensure that scientific and technological collaborations -- and the process of educating our young men and women -- continues to be a vital transatlantic partnership."