Departments
Arts



| | |
| --- | --- |
| Week of 16 April, 1999 | Vol. II, No. 31 |

Arts

Hand-to-mouth characters strike chord with BU's Bohèmes
By Judith Sandler
Opera is the art that generally requires the greatest suspension of disbelief, but the next production by Boston University's Opera Programs requires almost none. Giacomo Puccini's La Bohème, at the Boston University Theatre April 22 through 25, is not about gypsies or gods. It's about a group of Parisians in their 20s, young people who have a lot in common with the BU students who will portray them on stage.
Guest director Albert Sherman (SFA'75,'76) works with the cast of La Bohème. Photo by Vernon Doucette
---
Puccini's 1896 opera tells of the friendship of four struggling artists and intellectuals -- the painter Marcello, the poet Rodolfo, the musician Schaunard, and the philosopher Colline -- and of two contrasting love stories -- the fiery Marcello and Musetta, and the tender Rodolfo and Mimì.

La Bohème is particularly meaningful to the student singers, they say, because their catch-as-catch-can lives are not so far from the characters they play. "This is actually how we live in a lot of ways," says Scott Toperzer (SFA'98), who is singing in his first Bohème. "There are times when we don't have food on the shelves and have only 10 bucks in our checking account."

Mark Womack (SFA'99), who alternates the role of Marcello with Toperzer, agrees: "Every singer relates to this story. We've all been struggling for a break."

BU's Bohème is being directed by Albert Sherman (SFA'75,'76), stage director at the New York City Opera. He's a man who got his break directing not Rodolfo and Mimì, but Snoopy and Linus. In 1971 he was asked to direct the Warren Towers' production of You're a Good Man, Charlie Brown. "Even though I had no experience," he says, "I was hooked." Then a young voice student at BU's Opera Workshop, he soon advanced from Charlie Brown to the Boston University Savoyards to directing and teaching at the Opera Workshop. He has returned to SFA for the first time since he left in 1982, in part to acknowledge his debt to mentors Adelaide Bishop, then head of the Opera Workshop, and Wilbur Fullbright, then director of the music division. "If I hadn't had the support of Adelaide, Dr. Fullbright, and the entire voice faculty," he says, "I don't know if I would be where I am now."

This is Sherman's first Bohème, and while he has retained the original Parisian setting, he has shifted the period of the opera from the 1830s to the years after World War II. "When you perform any opera in its period, people become very comfortable with the trappings and the story," Sherman explains. "But I wanted people to sit up and listen and look at the story, and I wanted to make the opera more accessible. Of course, any period or location change is done with a lot of thought, because the piece has to be consistent from top to bottom. Ultimately, any changes you make have to serve the piece."

La Bohème's appeal is in its universality, says music director William Lumpkin, SFA assistant professor. "It speaks to the struggle of believing in what you are put on earth to do, whether you make money at it or not." La Bohème was the first opera Lumpkin worked on as an assistant musical director. "This was the piece that bit me -- it gave me the opera bug. It's always been at the top of the list of the music I love."

It is at the top of many lists. "It's got almost everything: beauty, passion, tragedy, camaraderie, and humor and two very different love stories," says Toperzer, who has completed the two-year Opera Institute program and is now working toward an artist diploma. "It's great music," adds Darren Chase (SFA'99), who plays Schaunard. "Every single tune is a good one."

While the young singers can relate easily to their characters and appreciate the music, they find their vocal roles quite challenging. Colleen Kramer (SFA'97), who shares the role of Mimi with Sarah Pelletier (SFA'99), was initially intimidated by the formidable role. "It was the very first opera I ever saw," she remembers, "so I had a lot of expectations. Then I realized that I'm singing this huge role at 26, so I need to remember simply to sing the notes and let Mimì be a part of me. If I tried to achieve the sounds I have heard from seasoned voices, I would probably be miserable. It's reasonable to sing the way I sing and let the character fuse with the experiences I've had."
---
The Boston University Opera Programs presents La Bohème, in Italian, conducted by William Lumpkin with stage direction by Albert Sherman, at the Boston University Theatre, 264 Huntington Ave., April 22 through 24 at 8 p.m. and April 25 at 2 p.m. A special reception April 23 will benefit the Phyllis Curtin Fund for Opera Performance. Tickets for the performance only are $10, $5 for BU alumni, seniors, and special groups, and free for BU students, faculty, and staff. Tickets for the on-stage reception with Curtin and the cast and priority seating at the opera are $50. For reservations and information about the opera and benefit, call 266-0800.
---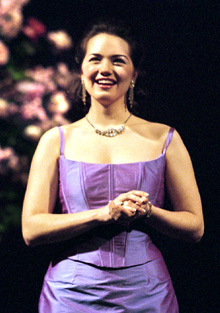 Soprano Kelly Kaduce (SFA'99), shown completing her audition pieces on the stage of the Metropolitan Opera House in New York, was one of five winners of the Met's National Grand Finals on April 11. More than 2,500 young singers competed in earlier rounds of the competition. Photo by Henry Grossman
---
SFA's Kaduce nets Met's best

Kelly Kaduce, a student in the master of music program at SFA, was one of five winners in the annual Metropolitan Opera National Council Auditions Concert held in New York on Sunday, April 11. The winners, who were selected from more than 2,500 young singers in a judging process that began nine months ago, each received $15,000 and the incalculable exposure that comes from singing to a full house of enthusiasts and professionals at the Metropolitan Opera House.

Within a day of the concert, Kaduce had already received a few nibbles from agents, "but no offers for work as yet."

The 11 finalists each performed a pair of arias or songs, accompanied by the Metropolitan Opera Orchestra and conductor Edoardo Müller. After the audition concert, the decisions of the nine judges -- who included Metropolitan Opera singers and Richard Wagner's great-granddaughter -- were read before the finalists and the audience of nearly 4,000.

"It was thrilling," says Kaduce, who had sung in the vast opera house for the semifinals a week before, but to a tiny audience and with only piano accompaniment. "I was quite nervous on April 4 because we didn't have a chance to try out the space on our own. All of us were wailing away at the top of our voices to try to check the acoustics."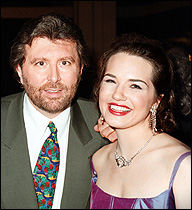 Jerry Hadley, master of ceremonies at the Metropolitan Opera Grand Finals Concert, congratulates Kelly Kaduce after she was named a winner. Hadley, a popular Met tenor, was himself a Grand Finals winner early in his career. Photo by Henry Grossman
---
By the time her turn came on the 11th as the last of the finalists, though, she had thoroughly relaxed. "Actually I enjoyed being last," she reports. "It was easier because I had a chance to hear how wonderful the other singers sounded in the hall, and I talked myself out of being nervous. I realized that this was an opportunity to go out there to sing and have a good time."

It was obvious to the audience that she was enjoying herself. In contrast to the dramatic scowls of most of the other singers, she was all smiles as she sang the "Song to the Moon" from Dvorák's Rusalka and "The Jewel Song" ("Ah! Je ris") from Gounod's Faust. The "Song to the Moon" has become a sort of signature aria of hers, at least on the audition circuit. "I think it is one of the most beautiful arias written for soprano," she says. "There is something about its modal quality, the big sweeping lines, and the octave jumps. It fits right in the fat of the lyric soprano voice. I had admired that aria for some time before my teacher agreed I was ready to sing it."

Kaduce was especially glittery in "The Jewel Song," but laughs when asked if the sparkly gems she was wearing were intended as a visual pun. "Not really," she says, "but my voice teacher and I decided that nothing's too much for the Met stage."

Boston audiences will be able to hear the lyric soprano on the stage of the BU Theatre April 22 through 25 when she sings Musetta (alternating with Elizabeth Mondragon) in La Bohème. (See main story.)

-- MBS