Departments


| | |
| --- | --- |
| Week of 12 March 1999 | Vol. II, No. 26 |

Feature Article

BU musicians blend classical and pop in CD with a sound all its own
by Brian Fitzgerald
Many artists in popular music want to forget their beginnings -- the memory of low-paying or no-paying gigs often reminds them of not only how they struggled to pay the rent, but also how immature their bands once sounded. However, Jeff Sauber (SMG'98) looks back with fondness at the days when he played at weddings and Christmas parties.
"I became known as the wedding guy," laughs Sauber, a pianist who recently produced a CD with cellist Pavel Dovgalyuk (SFA'01) and violinist Elise Dalleska (SFA'00). "But playing at weddings gave us confidence. We discovered that we could perform well in front of 300 people. And we didn't play covers. They were all original numbers." Several of those songs are on his debut release Sauber: Boundless, a CD that he categorizes as "progressive classical" music.
After getting a bachelor's degree in history at UCLA, Sauber earned his MBA at BU's School of Management, where he began to pursue a music career in earnest. A native of Manhattan Beach, CA, Sauber began tinkering on the piano at age four. Music has always been a hobby of his -- he took a musicology course at UCLA -- but he became serious about producing a CD after he bought an electric keyboard while at BU and began a search for musical collaborators by posting fliers in the School for the Arts. Dovgalyuk saw the ad on an SFA bulletin board, phoned Sauber, and then astounded the beach kid with his proficiency on the cello during an audition.
"Pavel taught me a lot about music," says Sauber. "He's classically trained. I'm not. I don't know how to read music. I just listen and play." Sauber says that his songwriting skills developed when his elementary school teacher let him play original songs during recitals. "It was a lot easier than learning the music," he says with a smile.
But Dovgalyuk needed to read sheet music of Sauber's piano melodies to play the appropriate cello lines. "The problem was solved when Jeff bought a computer program that converted what he played to sheet music," says Dovgalyuk. "He just hooked up his keyboard to his computer."
Dovgalyuk, a native of Latvia who moved with his family to Virginia when he was 12, has been playing the cello for a dozen years. "Jeff introduced me to a different level of musicianship," he says. "I was used to the standard classical sound. This was all new to me."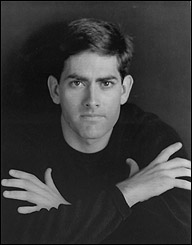 Jeff Sauber
---
"Lasting Embrace," the second song on the CD, features Dalleska on violin. "The song was recorded during a frantic time," says Sauber. "We had booked a session at an SFA studio during finals week, and she nailed it on her first try in the studio." Dalleska, a friend of Dovgalyuk, says, "Pavel told me that they needed a violinist, but we only had time for one rehearsal. Fortunately, it sounded great."

While Sauber tries to peddle the CD to various record labels in California, it is being distributed in Los Angeles coffee shops, flower shops, and boutique variety shops. "It has elements of adult contemporary, pop, easy listening, and classical," he says. "But, when it is sold in record stores, it will probably end up in the new age section." He says the music is difficult to categorize. "I call it progressive classical because the term describes how we implement acoustic classical orchestration into contemporary music genres and production." Indeed, the musical influences he lists include Led Zeppelin, George Winston -- and Beethoven. "After I took the musicology course, I learned how to play Beethoven's Moonlight Sonata and parts of his Ninth Symphony."

George Winston's wild improvisations clearly come through in Sauber's music. But don't expect to hear Led Zeppelin's power chords -- that band's gentle ballads have had more of an impact on Sauber's songwriting.

The CD is available on Sauber's Web site: www.saubermusic.com. "The site is getting visitors from all over the world: Germany, Greece, Sweden, France, Brazil, Russia, Mexico, Malta, and Tonga," he says.