Departments


| | |
| --- | --- |
| Week of 12 March 1999 | Vol. II, No. 26 |

Feature Article

Taste of the TV biz
At Hothouse Productions, cameras roll and clients rave
By Hope Green
Garland Waller recalls starting out in the television business 20 years ago: the panic of deadlines, the unfamiliar studio politics, and the adrenaline rush when the first show she produced hit the airwaves. Today, as an assistant professor of broadcasting in the College of Communication, Waller (COM'79) is cultivating a new generation of small-screen professionals in a course called Hothouse Productions.
Participants in Hothouse, a two-credit elective in COM's department of film and television, create short videos for clients who pay only for blank tapes and incidentals such as travel expenses. The undergraduate and graduate students write, direct, shoot, and edit under Waller's mentorship. "These are very talented people," Waller says. "I don't tell them what to do. I'm there as more or less an executive producer or consultant."
A specialist in children's television, Waller was an award-winning producer for many years at WBZ-TV, Boston's NBC affiliate. She has also produced shows for the Lifetime cable station, including a 26-part series, Your Child Age 6 to 12. She developed the idea for Hothouse with Bill Lawson, film and television department chairman. "We wanted to establish something for the students that was like real life, where they would get a taste of the business," Waller explains.
Students compete for positions in the Hothouse unit by submitting professional letters and résumés. "Hothouse is similar to the COM Film Unit," Waller says, "but video is cheaper so we're able to do a lot more, and faster."
Health message
Hothouse Productions germinated in September, and its first large project was an educational video commissioned by the Massachusetts Department of Public Health. In the six-minute tape, male and female actors encourage people at risk for contracting HIV to be screened for the virus and seek treatment if they test positive. The task of securing low-budget talent fell to Anupam Lakhina (COM'99).
"We had to use two casting firms," says Lakhina. "We couldn't afford the Screen Actors Guild, but in the end we got what we needed and the cast did a good job. The issues were mostly technical," he adds. "Many of the actors were speaking too low, the script kept changing, and a lot of the scenes were too long. We had to revise the piece three times." According to Waller, the health department is "thrilled" with the result.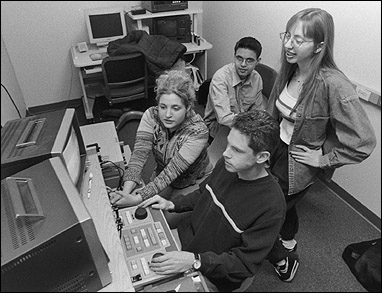 Students in the Hothouse Productions unit have created videos for an array of clients, including a Boston musician and the Massachusetts Department of Public Health. Reviewing tape from a shoot are (clockwise from right) Lori Shea (COM'99), graduate student Robert Weigand (COM'00), Shari Ortner (COM'00), and Anupam Lakhina (COM'99). Photo by Vernon Doucette
---
Students credit Waller for buoying their spirits at times of crisis. "She's a good sounding board," Lakhina says. "There are times when you think everything you are doing is absolutely worthless, but when you go to class you become excited about it again."

Just look natural
In a separate project, COM students collaborated with Boston-area musician Victor Cockburn last fall to create a music video for his "Aquarium Song," a cut from the popular children's CD Get Ready for Boston. Filmed at the New England Aquarium, the footage features grade-schoolers from Brookline and Newton exploring the giant fish tanks and getting nuzzled by seals. "It was spontaneous and planned at the same time," says Lori Shea (COM'99), who, like Lakhina, returned to Hothouse this term for an independent study. "We wanted to shoot it fresh so it wouldn't seem forced. We wanted the kids just to be themselves."

This semester, a Harvard University physician recruited Hothouse for a piece warning the Passamaquoddy Indian children of Maine against "huffing," or inhaling common household chemicals such as glue and nail polish remover for their narcotic effects. Scenes will be shot on a reservation. Another video will profile the Strand Theater, a Dorchester community performance space.

Finding their way
Real-world lessons in the unit are abundant, Waller says, ticking off some of the cardinal rules: "You don't show up on the set looking like a slob, you'd better bring a notebook and pen, you have to get directions to the shoot -- and they'd better be right. One of the hardest things that happens," she adds, "is that when you get excited about a project, you start to shoot everything. That's a very inefficient way to produce a show. You have to edit the piece in your head before you start, and scout the production site ahead of time so you know what you'll need."

Aside from the finer points of videography and wordsmithing, Hothousers are learning the art of diplomacy as they encounter customers whose ideas may clash with the students' creative vision. "Once they get the idea that we know what we are doing, they trust us," Shea says. "We're not control freaks, and we know that no one is a complete expert on everything. We need the client, and the client needs us."