| | |
| --- | --- |
| Week of 12 March 1999 | Vol. II, No. 26 |

Feature Article

Silber steps down as Board of Education chairman, ends impasse
By Eric McHenry
To break a political deadlock over the appointment of Massachusetts' new education commissioner, BU Chancellor John Silber resigned as chairman of the state Board of Education on March 2.
Silber included in his letter of resignation to Governor Paul Cellucci a proviso that he be replaced as chairman by James Peyser, the candidate both he and Cellucci had favored for the commissioner's position. Neither Peyser, head of the Pioneer Institute, a Boston-based conservative think tank, nor interim commissioner David Driscoll had the six votes necessary for election by the board. Cellucci accepted both the resignation and the Peyser condition, clearing the way for approval of Driscoll as commissioner.
"It's not often in public life that someone will put his personal interest aside to try to make sure that the common good is done," Cellucci said March 3, announcing his acceptance of the resignation. "Dr. Silber has done that and he's a hero for doing it."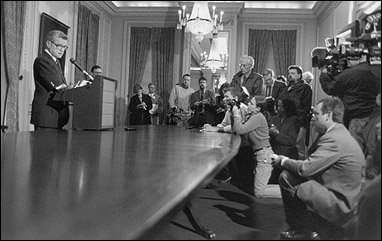 John Silber announced he was stepping down as chairman of the Massachusetts Board of Education at a March 2 press conference at 147 Bay State Road. Photo by Vernon Doucette
---
The selection effort had pitted Driscoll, a three-decade veteran of public education whom board member Abigail Thernstrom described to the Boston Globe as having "tremendous credibility in the field," against Peyser, a candidate attractive to his proponents in part because he has earned his credibility outside the field. Silber has expressed concerns about whether Driscoll's longstanding ties to the educational establishment might trip up reform efforts.

"He's a very nice man, but I did not see in him the kind of leadership and the kind of independence from the status quo that I think education reform calls for," Silber said in a March 7 appearance on Challenge, a WABU news analysis program. "My view was shared by three other members of the board, so we ended up with an impasse."

"I think John Silber has done a marvelously statesmanlike thing, and it's exactly what I would expect of him," said SED Dean and Board of Education member Edwin Delattre in a March 5 interview with the BU Bridge. "But I do not believe the outcome -- David Driscoll's appointment as commissioner -- is a desirable one for Massachusetts education. His seven-month record as interim commissioner shows both omissions of performance that have had dreadful consequences and unilateral actions that should never have been taken."

Governor William Weld invited Silber to become chairman, an unpaid position, in late 1995, seeing in him a likely agent of necessary change. Silber has been characteristically active in the role, pushing through stringent teacher certification requirements he said have "revealed the bankruptcy of most schools of education in the Commonwealth of Massachusetts.

"And it would be no different if the test were given nationwide," Silber added in a March 9 interview with the Bridge. "It has revealed that the standards of admission, the curriculum requirements, the grade inflation, and the risible standards of graduation in schools of education are nothing short of scandalous."

Silber also points to the development of the first curriculum frameworks for English, history, social studies, foreign language, and other subjects taught in public schools, the Massachusetts Comprehensive Assessment System (MCAS) tests, and a literacy test for third graders as accomplishments of the board during his term. He said he admires Peyser's proposals for continued education reform, such as the appointment of a deputy commissioner for academic affairs who could recruit experts to determine content for the frameworks and for the MCAS.

"I think that is an excellent recommendation," Silber said. "If he picks the right person for that position, and if he gives that person his full support, that could be a major improvement in the prospects for the design of the frameworks and in the prospects for the design of the MCAS tests and other examinations that have to be given."

Silber said an overarching hope is that Peyser will be able to build consensus on the board so that reform can proceed and future impasses can be avoided.

"I hope that Peyser will, with the majority of the board, insist on the rapidity of reform and on the standards that have characterized the first three years of the present board," he said. "I'm not going to predict the future, but I hope that the intense pressure for meaningful education reform will continue."

Silber will continue his duties as chancellor of BU. He said he plans to dedicate time freed by his departure from the board to three book manuscripts: a book about freedom and responsibility, one covering education or a collection of previously unpublished essays, and a book about Immanuel Kant's ethics that he hopes to have ready for publication in 2000.

"I had completed that book before I came to Boston University," Silber said. "But the manuscript was burned in a fire in my home on January 4, 1972, and the fire, as is the usual wont of fires, burned all around the edges including all the footnotes. And so I had the unattractive task in the intervening years, while being heavily engaged as president of Boston University, of trying to recover the footnotes. And I did recover them, but in the meantime many years had passed and there was secondary literature that I had to read to try to bring the manuscript up to date. I hope to have time, beginning next summer, to rewrite that manuscript.

"It will be 30 years late," he said, "but it will be better late, I think, than never."