Departments




| | |
| --- | --- |
| Week of 19 February 1999 | Vol. II, No. 24 |

Feature Article

Is the Scarlet Express slowing down?
Injury-plagued hockey Terriers try to stay on winning track
By Brian Fitzgerald
Everywhere a sign. Last year there were a few indications that the decade of hockey Terrier dominance might be coming to a close. First, there was Boston University's first-round loss in the Hockey East tournament, courtesy of low-seeded Merrimack. Then two weeks later came BU's elimination from the NCAA tournament with an overtime loss to New Hampshire.
A year ago Terrier fans were expecting the Scarlet Express to cruise into April with very few twists and turns -- all the way to the National Championship game, as it had in 1991, 1994, 1995, and 1997. In the 1990s, BU advanced to the final four seven times, and there was little reason to believe that dropping two of three to Merrimack was anything but an anomaly. However, after BU was derailed by UNH, Hobey Baker winner Chris Drury (CAS'98) graduated, along with stars Mike Sylvia (SMG'98), Chris Kelleher (CAS'98), and Jeff Kealty (CAS'98). Following this exodus, All-American sophomore defenseman Tom Poti turned pro. Those five players tallied 75 goals last season, nearly half of the Terriers' total of 155.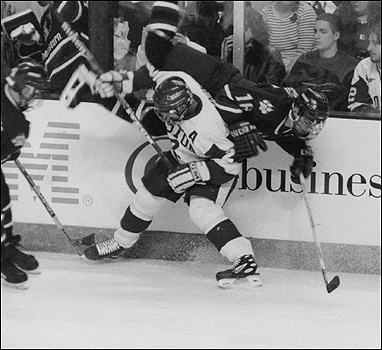 Ronan means business: Cocaptain Dan Ronan (COM'99) has played in 121 straight games. Photo by Vernon Doucette
---
This year, the team, with a 11-15-3 overall record, has just three seniors and four juniors -- and lower expectations, especially after a January winless skid (0-5-1). BU had posted a 5-1 record in December, but a 3-0 loss that month to the Princeton Tigers put the spotlight on the Terrier offense. Why only 16 shots against Princeton? True, the Tigers were ranked seventh in the nation at the time, but how to explain BU's paltry 17-shot performance against UMass-Lowell on January 29?

The answer is that Coach Jack Parker, after the Terriers lost three straight, tried to shake up the team by benching a few players. "Two of the guys [who were not in uniform against UMass-Lowell] were our number one and number two leading scorers," says Parker. "We were really thin on defense, but we benched two of the defensemen. And the rationale for that was that they were coming off some bad games. It was just time to do something. I thought, 'We've got to straighten this out here.' " The Terriers lost the game to UMass-Lowell, but the message was clear: play with intensity or take a seat. Colin Sheen (SMG'01), Chris Heron (COM'00), and Russ Bartlett (MET'01) sat in the stands of Lowell's Tsongas Arena and watched their team lose, 4-1.

Parker says that the UMass-Lowell experiment was probably worth a notch in the loss column, because these Terriers responded by playing more intensely. "Mike Pandolfo (MET'02) got benched the game before that, and he's played great since then," says Parker. In fact, Pandolfo was named Hockey East Rookie of the Week after a hat trick in the 6-3 win over Merrimack February 5. "Colin Sheen had two of the best games he's played in college hockey since he got benched," Parker points out. "And obviously, Heron and Bartlett are playing very well. I guess we're fortunate that we got everybody's attention just in time to play BC."

The Terriers' 3-2 overtime victory over Boston College in the opening round of the Beanpot February 1 enabled BU not only to play in the championship round in the tournament -- and win its fifth straight Beanpot trophy -- but also to prove that it can still defeat top-ranked teams. Boston College's recent success -- notably, making it to overtime in the 1998 National Championship game, along with a national ranking at present of sixth, has been a sore point on the Charles River Campus. Boston College, after finishing first in the Hockey East standings six times between 1985 and 1991, saw a changing of the guard in the 1990s when BU sat atop the conference heap five seasons in a row (1994-98). BC, however, won the Hockey East postseason tournament last year, and became the focus of the local sports media in its quest for an NCAA title.

The "hometown favorite" role is one that BU had grown accustomed to playing nearly every spring in this decade. Now the Terriers are in danger of having their first losing season since 1989.

But in their past few games, the Terriers have shown signs of life. On February 12 they tied New Hampshire, a team ranked fourth in the nation, but then lost to Providence, 6-3, on February 14. At stake in the Providence game was a shot at fourth place and home advantage in the first round of the Hockey East tournament. Providence is all but entrenched in fourth place: the Friars are five points ahead of the Terriers with five games remaining.

Adding to the Terriers' woes, the team is now without the services of Tommi Degerman (SMG'00), who broke a rib in the Beanpot Championship. Degerman missed eight games earlier this season with a sciatic nerve problem and now will be off the ice for two to three weeks. Also sitting out the UNH and Providence games was Nick Gillis (MET'01), who reinjured a pulled groin. Dan Cavanaugh (SMG'02) and Mike Dimella (CAS'02) both left the New Hampshire game, with a concussion and a shoulder injury, respectively.

A true test of BU's mettle will be the February 19 and 20 weekend series at Maine, the number two team in the country and sole possessor of first place in Hockey East. A respectable showing up north, followed by victories in an away-home series the following weekend against Northeastern (February 26 and 27), along with another win against Boston College on March 5 -- BU has a 2-1 record against the Eagles this year -- could give the Terriers the momentum necessary to pull off a few upsets in the Hockey East tournament, which begins March 11.