Departments




| | |
| --- | --- |
| Week of 19 February 1999 | Vol. II, No. 24 |

Feature Article

Internet peacemaker
Frankel happily ensnared in Net negotiations
By Hope Green
Tamar Frankel, a Boston University professor of law, has become a key player in the creation of an international self-governance system for Internet address-keepers that is expected to affect cyber-inhabitants for years to come. "It's very exciting," she says. "It's like a constitutional convention."
Part mediator, part consultant, Frankel chaired a meeting in Reston, Va., last July where concerned parties huddled together to devise a structure for the Internet Corporation of Assigned Names and Numbers (ICANN), a privately run, nonprofit corporation that will have full authority to manage the registration of Web addresses beginning in 2001. Her task was to coax large corporations, small business owners, and individuals into consensus regarding the shape of the new governing body.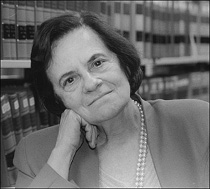 Professor Tamar Frankel is imparting her expertise in corporate law to a fledgling organization that will set policy in cyberspace. Photo by Fred Sway
---
In the months that followed, Frankel, drawing upon 30 years of experience teaching and practicing corporate law, provided guidance to participants at similar meetings in Geneva and Singapore, and appeared by videoconference at a session in Buenos Aires. By telephone, she is continuing her consultancy with the interested parties just as she began: pro bono. "Nobody is paying me," she says. "What I gain from this process is material for my writing."

Court battles over Internet naming have multiplied in recent years with the expanding population of Web entrepreneurs. The trouble, Frankel explains, stems from the use of common words and surnames to serve as mnemonic devices, such as www.apple.com for Apple Computers, www .mcdonalds.com for the fast-food chain, or www.windows.com for Microsoft Windows computer software. Companies fiercely guard their trademark Web handles from imitators, leading to disputes whenever an entrepreneur, association, consumer group, or individual tries to register a similar online name.

Two years ago, President Clinton authorized the U.S. Department of Commerce to privatize the Internet naming system, resulting in ICANN's formation. In hopes of widening the field for new addresses, many individuals and small firms want this organization to increase the number of top-level domains -- the over-arching regions of the Internet denoted by the three-letter codes .edu, .com, .org, .gov, and .net. But large companies with established brands prefer to keep this five-domain system, Frankel says, because it limits the time and expense required to monitor the Web for trademark violations.

Also under debate is who should have authority for registering names on the Internet. Name registration is a multimillion-dollar industry that until recently was the sole province of a Herndon, Va., company called Network Solutions, Inc. The firm was under a federal contract that ended in September. ICANN will be responsible for deciding what qualifies an individual or company to become a registrar in the future.

These were just some of the issues to sort out when Frankel stepped into the fray last year. It became apparent, she says, that many of the groups she worked with were at cross purposes. "I thought a lot about those meetings and how to create a less contentious atmosphere," she recalls. "I drew on the theories of trust and fiduciary law that I had developed over the years." Forum participants divided themselves into work groups, she says, "and the one thing I demanded of them was to come back and report only on what they agreed upon."

The peacemaking effort was a success, according to attorney Kathryn Kleiman (LAW'93), a cofounder of the Domain Name Rights Coalition and former student of Frankel's who recruited the professor for the meetings. "Dr. Frankel is the right person at the right time for helping to establish this new international corporation," Kleiman says. "People really trust her because she encourages members of the Internet community to talk with each other. She doesn't act like the judge making the decisions; she tries to create a process for us to make decisions ourselves. And ultimately that's the only way this corporation will survive."