Departments




| | |
| --- | --- |
| Week of 12 February 1999 | Vol. II, No. 23 |

Feature Article

Looking homeward
NASA speaker urges students to view Earth as a system
By Hope Green
As the future of space exploration unfolds, NASA will increasingly use its satellite technology to look back at Earth and solve problems on our home planet, a representative from the agency said during a visit to campus last week.
Speaking to a roomful of CAS science majors and GRS geography students in the Stone Science Building on February 5, Ghassem Asrar, associate administrator for earth science at NASA, urged his audience to explore opportunities to become involved in the space agency's Earth Observation System (EOS). NASA awards $300 million a year in EOS funding, mainly to academic institutions, including about $2 million worth of grants and contracts annually to Boston University's Center for Remote Sensing.
The center, one of the University's largest, uses remotely sensed data in interdisciplinary research conducted by the departments of anthropology, archaeology, earth sciences, and geography. It also supports BU educational programs in remote sensing and geographic information systems. Projects have included, among others, monitoring changes in the growing season for plants in high northern latitudes, mapping the deserts of Egypt, and measuring solar radiation reflected off terrestrial zones in studies of climate change.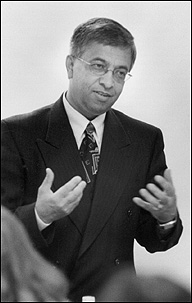 Ghassem Asrar, associate administrator for earth science at NASA, speaks to students in the Stone Science Building about earth-observing satellites. Photo by Kalman Zabarsky
---
In his talk, Asrar presented an overview of EOS, in which scientists are using satellite-mounted devices to measure variables in the Earth's atmosphere and land and water surfaces. Eventually, Asrar says, these eyes in the sky will have practical uses for firefighting, fisheries management, and even urban planning.

Moreover, he adds, they are providing objective data to inform the ongoing international debates over global warming and ozone layer depletion. "At NASA we are bringing together physicists, biologists, and social scientists to study Earth as a system," he says. "We believe the knowledge we gain will not only improve our ability to predict climate variability, it will also provide the tools for policy makers to form their decisions on a sound scientific basis rather than personal judgment or prejudice."

The talk was part of a series of Friday lectures hosted by the CAS geography department for a graduate seminar, which is being taught this semester by Ranga Myneni, CAS associate professor of geography. Myneni and Asrar have coauthored a number of remote sensing studies, and the two worked together at NASA for several years.

Remote sensing technology, Asrar says, is the vehicle for an evolving interdisciplinary field that NASA calls earth system science. This approach departs from traditional earth science by studying not only the independent effects of marine, terrestrial, and atmospheric forces on climate, but how these phenomena influence one another, as well as the impact of human activity on that system.

Asrar outlined several recent accomplishments of EOS, such as its