Departments




| | |
| --- | --- |
| Week of 12 February 1999 | Vol. II, No. 23 |

Feature Article

Helping Cuba's chemists
Hoffman travels 1,700 miles -- and 40 years
By Hope Green
Morton Hoffman has never considered himself much of an activist. Yet the CAS professor of chemistry recently joined a quiet movement of academics who, despite a longstanding U.S. policy to isolate Cuba, are reaching out to assist their counterparts in the economically depressed island nation. At conferences in Havana and through electronic mail correspondence, they are sharing knowledge that Hoffman says will help Cuba emerge from what he calls an educational time warp.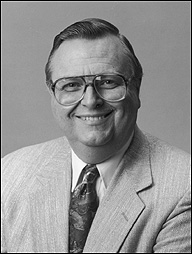 Morton Hoffman, CAS chemistry professor, traveled to Havana in December as part of a delegation from the American Chemical Society. Photo by Fred Sway
---
"I don't agree with the communist government in Cuba," he says, "but this is something that transcends politics. It's a human rights issue. Our ability to have international communication is the linchpin that keeps the whole scientific community together."

With partial funding from the CAS chemistry department, Hoffman traveled to Havana in December for the Third International Congress of the Cuban Chemical Society, attended by more than 400 scientists, mostly from Central and South America. Conference topics ranged from the pedagogical, such as Hoffman's talk on the use of electronic mail in undergraduate education, to the practical, including a lecture on methods for detecting groundwater pollutants.

During the breaks between presentations, Hoffman chatted with professors from the University of Havana. While that institution places a strong emphasis on the teaching of chemistry, his colleagues told Hoffman, it is poorly funded and must make do with outdated textbooks and equipment. It cannot afford sufficient library materials, and computers with Internet access are scarce on the campus.

Yet in some areas, Hoffman says, the Cuban research establishment is thriving. He cites a news reporter's account of the December conference that appeared in the journal Chemical & Engineering News, which explains that Cuba has made the study of chemistry and other sciences a priority in the hope of expanding its economic base. According to the article, the Cuban government runs more than 200 research laboratories to incubate and market products for sale to other countries.

Hoffman notes that even the techniques to repair decayed building facades require chemical expertise, hence one group of researchers is testing composite materials formulated to resist the effects of salt air and hurricanes. "Chemistry touches just about every part of the human condition," he says. "It's necessary for Cuba to have these laboratories to solve very practical problems because of the country's isolation. It can't depend on the United States because of the embargo, Canada and Europe are too far away, and the nearby countries are in worse shape than Cuba."

Located 90 miles off Florida's southern coast, Cuba is 800 miles long and home to 11 million people. It is the largest and most populous country in the Caribbean, and the third-largest noncontinental island nation in the world, after Greenland and Madagascar. Regardless of one's views on Fidel Castro, Hoffman says, it is hard to ignore the plight of Cubans under his leadership. The U.S. sanctions began after the U.S.-Soviet missile crisis of 1962 -- one year after Hoffman began teaching at Boston University -- and continued because of Castro's human rights violations and his backing of revolutionary movements in Latin America and Africa. The economy worsened considerably after Cuba's longtime benefactor, the Soviet Union, collapsed in 1990.

Hoffman is optimistic that negotiations now under way could ultimately lead to a lifting of the embargo. Coinciding with the conference he attended was a diplomatic mission to Havana by U.S. Representative Barbara Lee (D-Calif.), a member of the House Science Committee, and Senator Christopher Dodd (D-Conn.), who later shared a plane out of the capital with the group of American scientists.

President Clinton's recent gestures toward Cuba are a step in the right direction, Hoffman says. Last month Clinton announced that the United States will permit direct mail service between the countries, the sale of food to nongovernmental entities, permission for families to send money to needy relatives, and an easing of travel restrictions for groups of academics. The travel issue has been a thorny one for Hoffman and his colleagues in the American Chemical Society, whose December trip was nearly canceled when their application for a special U.S. Treasury license, which is required for all travel to Cuba, was repeatedly rejected. The bureaucratic ordeal ended only after the group's leader appealed the case to several members of Congress. Hoffman received approval just days before he was to board a plane out of Providence, R.I., on the first of three connecting flights. Stories like his are not uncommon. "The Treasury Department always makes it a cliff-hanger when you're going to Cuba because they're authorized to maintain the embargo," he says. "So obviously they're not going to be very friendly."

Hoffman hopes that by the time he attends the next conference, scheduled for April 2001, diplomatic relations between Washington and Havana will have improved. Meanwhile, he will keep up his e-mail correspondence with the Cuban professors, sharing ideas from his own experience at BU and faxing articles from scientific journals that the Cubans cannot afford to purchase.

"I think it's important to reach out to a group of human beings who are caught in a particularly damaging time warp," Hoffman says.