Departments
Arts




| | |
| --- | --- |
| Week of 29 January 1999 | Vol. II, No. 21 |

Arts

Requiem for Robert Shaw
By Michael B. Shavelson
One week before he was scheduled to conduct the Boston University Symphonic Chorus and Symphony Orchestra in Mozart's Requiem, Robert Shaw -- the most important figure in American choral music this century -- died at the age of 82. Ann Howard Jones, director of choral activities at the School for the Arts and a colleague of Shaw's at the Atlanta Symphony Orchestra, will lead the January 31 concert of Mozart's last piece, which will be dedicated to Shaw's memory.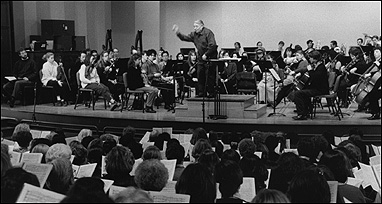 Robert Shaw leads BU's Masterworks Sing at the Tsai Performance Center in February 1996. Photo by Kalman Zabarsky
---
For several years Shaw had an arrangement with Boston University, coming to SFA annually to teach master classes and to conduct a concert with BU musicians. "It is sad," comments Bruce MacCombie, SFA dean, "that initially because of Shaw's health problems and now his death, his contact with SFA students and BU audiences was not as long as it could have been. By the same token, the hundreds who did hear his concerts or who attended his classes came in contact with one of the last giants in 20th-century music." The University awarded Shaw an honorary degree in 1994.

Born in 1916, Shaw conducted his college glee club in the 1930s and caught the attention of radio entertainer Fred Waring, who asked him to form the Fred Waring Glee Club. Looking to perform more classical music, Shaw established the Collegiate Chorale in 1941, which Arturo Toscanini selected for a series of performances of the Beethoven Ninth Symphony. The Robert Shaw Chorale, which he launched in 1949, was Shaw's best-known ensemble and for decades one of the country's top choral groups. Shaw joined the Atlanta Symphony in 1967 and raised it from a provincial ensemble to a major U.S. orchestra. He became music director emeritus and conductor laureate when he retired -- nominally -- in 1988.

One of Shaw's greatest contributions emerged from his rehearsal technique, according to Jones, who has prepared the Atlanta Symphony choruses for Shaw since 1983, as well as several of the choruses he directed at the University of Georgia in the 1970s. His methods "made a huge body of choral literature available to amateur singers by taking the music apart so we could understand its elements," she explains. "He broke it down first into rhythm, then pitch, text, dynamics, and balance. Remember, he began with Fred Waring and at the Collegiate Chorale and with amateur singers."

Over the years, a few critics of Shaw's performances and recordings charged him with a sort of technical overperfection at the cost of musical spirit. Jones says that the spiritual aspect was not neglected in the least.

"We always dissected the music minutely," she says, "but the spiritual aspect in him was absolutely his greatest power. There is in those wonderfully great teachers -- and he was one -- the power to bring amateurs to a level that they had never imagined for themselves. He did it by first making an intellectual connection with those singers, working on one component at a time, 'count-singing' from the beginning to the end. Is that technical? Yes, his ear was impeccable, but his musical imagination knew no bounds.

Like MacCombie, Jones regrets that the Shaw-BU tie never developed as fully as it might have. "We would have been thrilled beyond words if he had accepted a more formal kind of guest professorship," she says, "but we never really got beyond the point of an annual appearance to conduct a piece . . . and a master class or a series of seminars. One of the great things that he had a chance to do only two times was be in a room with a lot of young students who were capable of learning his techniques and understanding what he had to say about a given piece."

When Jones conducts Mozart's valedictory composition -- a requiem is a mass for the dead -- on Sunday, January 31, she will use a score in which she has copied down all of Shaw's conductor's markings. ("He drove the librarians crazy, because he put a mark on practically every note in the score.")

"I had to conduct a rehearsal of the Requiem on Monday, a few hours after I got the news of his death," she says. "There I was, looking at the score with those green, pencilled marks. Every one brought a tear."
---
Ann Howard Jones will conduct the BU Symphonic Chorus and Symphony Orchestra in works by Mozart, Sunday, January 31, at 3 p.m. at the Tsai Performance Center. The concert is free and open to the public. For more information, call 353-8724.
---
| | |
| --- | --- |
| | Finding Movement, an informal performance ("informance") by guest artist Heidi Latsky (foreground) will take place at 8 p.m. on Friday, January 29, in the SGB Dance Studio (see Calendar, page 8). Photo by Robert Schaefer |
---
BU students compete for a chance at national theater festival
Brian Ditchfield (SFA'99) and Brooke Hardman (SFA'99) in Raul Castillo's Pomp and Circumstance. The play is set in a slum of Rynosa, a border city in the Mexican state of Tamaulipas. Photo by Kalman Zabarsky
---
Dan Hunter and Raul Castillo share an ambition: to see their plays staged at the Kennedy Center this spring -- a lofty goal for playwrights who are still students.

Hunter (GRS'99) and Castillo (SFA'99) are currently participating in the American College Theater Festival, a national theater education program designed to identify and promote quality in college-level theater productions. If they succeed in the New England Regional Festival, they will be eligible to compete in the nationals at the Kennedy Center. Playwrights who make it that far not only receive the honor of having their plays performed at one of the most prestigious theaters in the country, but also are eligible for awards, scholarships, and special grants, available for actors, designers, and critics as well.

Hunter has entered two one-act plays in the regional festival, taking place at Brandeis University January 27 through 31, both of which are reminiscent of the fantasy and realism of Gabriel García Márquez. His Un Tango En La Noche is set in a poor village in Michoacan, Mexico, during the early years of this century. The main character, Don Viejos, is tormented by age and infirmity, and for relief he summons the Devil, who returns Viejos to his past. When a beautiful woman awakens his passion, Viejos is faced with a conflict -- he has to decide whether or not to bargain for his life with the Devil.

Castillo's trio of one-act plays, Border Stories, examines life on the U.S.-Mexican border. Each play features two principal characters.

For more information on the American College Theater Festival's New England Regionals at Brandeis University, call 736-4300.