| | |
| --- | --- |
| 11 Dec. 1998 - 7 Jan. 1999 | Vol. II, No. 17 |

Feature Article

Caryl Rivers' novel of the Kennedy years
Silent generation finds its voice in Camelot
By Hope Green
Caryl Rivers remembers fearing for her safety when, as a Washington bureau reporter in the 1960s, she stood taking notes amidst crowds of police and angry antiwar demonstrators. She recalls being awestruck while on assignment at President John F. Kennedy's press conferences and thinking that at any moment, "somone would lift and carry me away."
It was a time when reporters were average folk from working-class families, often hoping to spur reform in the world they wrote about. It was also a time when an increasing number of women such as Rivers had to angle for acceptance in traditionally male domains.
In her fifth novel, Camelot, Rivers draws on these sensations and experiences to create the character of Mary Springer, a wide-eyed young reporter who covers the White House beat for her small-town Maryland newspaper in 1963.
"I hope the idealism of that age will speak to people," says Rivers, professor of journalism in the College of Communication, "because I think we're in a far more cynical age now, particularly about politics. That disturbs me, because we are a democracy and politics is how we make the decisions about what we're going to be."
Published by Zoland Books in October, Camelot interweaves numerous subplots including a woman journalist's confrontation with sexism, the struggles of a young civil rights worker, and the psychological turmoil faced by two white male characters who came of age in the 1950s. The narrative also speculates on what churned within President Kennedy's mind during his final months.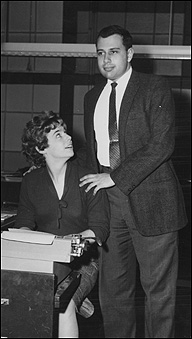 Reporter Caryl Rivers at the Middletown Record in New York state, 1962. She's posing with her future husband Alan Lupo, who went on to become a Boston Globe columnist. Below: The novelist and COM professor today.
"Lately the portrayal of Kennedy has been of the cynical politician and the womanizer," says Rivers. "That's all real, but there was another side, and that other side was far more important." Rivers finds that reviewers are responding well to her portrayal of JFK as a complex human being, second son in a family both profoundly dysfunctional and rocked by tragedy.

A veteran reporter for national magazines and major newspapers, Rivers has published four other novels, beginning with Virgins in 1984. Her nonfiction works include Slick Spins and Fractured Facts: How Cultural Myths Distort the News (1996), and she has coauthored a number of books exploring gender roles, most recently She Works/He Works: How Two-Income Families are Happier, Healthier, and Better-Off (also 1996).

To some extent, Rivers' professional life overlaps with that of Camelot's heroine, Mary Springer. Like Mary, Rivers began her career at a small daily, though it was in upstate New York. She later moved to Maryland to work for a Washington bureau reporting to papers across the country.

While she did not have the informal chats with the president that Mary frequently enjoys, Rivers did interview him, while he was still a senator, for her student newspaper at Trinity College in Washington. One sharp difference is that Mary has no ambitious female role models. By contrast, Rivers' mother was a lawyer, and both parents encouraged her career from the start. Still, she faced her share of real-life male prejudice.

During a 1964 visit to the Washington Press Club, for example, Rivers was forced to stand in the balcony while the male reporters sat around a dais on the floor. The guest speaker was Carl Rowan, head of the U.S. Information Agency under Lyndon B. Johnson. Rowan, who is black, told how as a boy in Tennessee he had to sit in the balcony at the segregated movie theater. As the reporters seated below her tsk-tsked their dismay, Rivers inwardly fumed. "All of a sudden there was this great massive click inside my head -- 'Hey guys, guess what? Here I am. I'm in the balcony!'"

Her recollection of being the outsider also strongly resonates with Camelot's character Donald Johnson, a black civil rights worker and aspiring writer. Don, Rivers explains, is an amalgam of activists she has met and people she has profiled in articles about growing up black. Don is raised Catholic, middle class, and Washingtonian, and feels insulated by his economic status until, to his astonishment, he confronts bigotry as a young adult.

Similarly, Mary's eyes are opened to racism when a conflict over housing tears apart the town of Belvedere. "It's not like in the South where there were dogs and water hoses, but it's in her own backyard," Rivers says. For the book's climactic protest by a civil rights group against Belvedere's town fathers, Rivers draws on her experience as a reporter covering anti-Vietnam War and Ban the Bomb demonstrations.

Just as Mary discovers the power of the media to promote change, Rivers says, many people of her generation went into journalism (and other professions) with the desire to do good. Yet she disagrees with the notion that twentysomethings today are inherently less idealistic than their '60s counterparts. "I just don't think they see as many ways to be connected," she says. "My generation was called the Silent Generation. It wasn't until Kennedy came along and the civil rights movement came along and gave us channels for our idealism that we became un-silent."

Camelot was a project Rivers started several years ago, then put aside. Her challenge, she says, was to write chapters alternating among five different characters' points of view. Previous novels had not been as complex. But a common thread is that all of Rivers' books have societal concerns as a backdrop.

"The novel of politics isn't in fashion lately, but I like the kind of novel that gets into public affairs and issues," she says. "I think there's so much happening in the world out there, it's real fodder for writers. I like to encourage young writers to look to the world for material and for stories. It's a wonderful canvas out there -- and why should it be just left to the journalists and not have the novelists get to use it, too?"