| | |
| --- | --- |
| 11 Dec. 1998 - 7 Jan. 1999 | Vol. II, No. 17 |

Feature Article

First BU Rhodes scholar in 12 years
Gruber's Rhodes to the stars
By Hope Green
As a child, Jennifer Gruber would gaze raptly at the night sky outside her family's trailer in Omaha, Nebraska. She dreamed of one day exploring at close range those mesmerizing dots of light. Now it seems Gruber (ENG '99), a major in aerospace engineering, is a step closer to fulfilling that wish. On December 5, she was awarded a Rhodes scholarship, one of 32 students out of 1,000 candidates nominated by U.S. universities and colleges.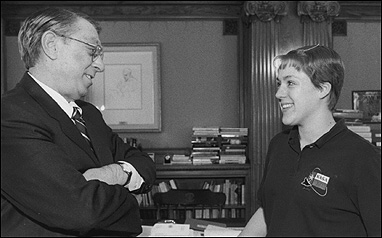 Jon Westling chats with BU's newest Rhodes scholar, Jennifer Gruber (ENG '99). An aspiring astronaut, Gruber will begin doctoral studies in engineering science at Oxford University next fall. Westling won a Rhodes scholarship in 1964. Photo by Vernon Doucette
---
Gruber is Boston University's first Rhodes scholar in 12 years. Established in 1902 as a bequest of Cecil Rhodes, the scholarship program sends students from around the world to the University of Oxford. Gruber plans to pursue a doctorate there in engineering science. The Rhodes Trust pays all educational costs for two years, and there is a possibility of renewal for a third.

A congratulatory sign greeted Gruber at the ENG building on Monday. She was thrilled to learn of the honor, if a little overwhelmed by all the attention. "Even random students are e-mailing me because they were excited to hear the news," she says.

President Jon Westling, a 1964 Rhodes scholar, interviewed Gruber during the nomination process. He calls her "extraordinarily focused and able, in an instant, to grasp new ideas. I have no doubt that she will achieve her aspiration and one day reach the stars."

Second of four children, Gruber credits her parents for taking seriously her childhood ambition to become an astronaut. Her father is a bricklayer, and her mother a schoolteacher who earned her college degree when Jennifer was eight years old. "My mother is really more of a hero to me than John Glenn," Gruber says.

When her parents took her to see The Right Stuff, the film "really struck a chord with me, because it was this great big adventure. I was always adventurous by nature, and these guys got to go out and see everything that inspired me."

In high school, Gruber captained the cheerleading squad as well as studied advance-placement physics. At Boston University she is pursuing a four-year BS/MS degree, but took one year off to participate in a cooperative education program at the NASA Johnson Space Center in Houston. While there, she helped to write a training manual for astronauts and flight controllers. She also helped develop maneuver-confirmation software that the Mission Control Center is already using for the space shuttle Endeavor. "I'm very excited, because this is the first time they're using it," Gruber says.

Among her other accomplishments and activities, Gruber last year received the Dean Elsbeth Melville Scholarship. She has made Dean's List every semester, and is a member of the engineering honor societies Tau Beta Pi and Sigma Gamma Tau. In addition, she has served as president and coach of BU's Gymnastics Club.

At Oxford, Gruber plans to explore the use of ion propulsion. This technology creates an ionized gas plasma and employs electromagnetic forces to accelerate gas through a rocket nozzle. Gruber is fascinated by the technology's potential, such as the possibility of using ion engines to deflect cosmic radiation from crew quarters during flight. Ion engines are part of the Deep Space One probe, but so far have not been used in human space travel.

A great fan of science fiction (a favorite novel is Encounter With Tiber, by astronaut Buzz Aldrin and John Barnes), Gruber aims to visit Mars. Yet she also hopes it won't be long before astral navigation for the average person becomes routine. "It's part of human nature to move out and be part of new places, and to make new lives for ourselves," she says.