| | |
| --- | --- |
| Week of 4 December 1998 | Vol. II, No. 16 |

Feature Article

Third Annual International Conference on Millennialism
Deep Impact screenwriter to speak about apocalypse as entertainment, and vice versa
By Eric McHenry
If the world ends on January 1, 2000, it won't be the end of the world.
That's the sentiment of screenwriter and novelist Michael Tolkin, in any event. He believes the apocalypse is already upon us, and he plans to say as much at Knowing of a Time, Knowing the Time, the Third Annual International Conference on Millennialism, which will be held December 6 through 8 in the George Sherman Union Conference Auditorium.
"I think I'll be talking about entertainment as apocalypse," says Tolkin, in reference to the keynote address he'll give on December 6. Author of such screenplays as The Rapture, The New Age, and most recently Deep Impact, Tolkin has spent quite a bit of time thinking about the dramatic potential of the eschatological. But his assertion, he makes clear, is not simply that the apocalypse makes for good entertainment.
"I mean entertainment is the apocalypse," he says. "I think a strong case can be made that the culture of entertainment is a calamity of apocalyptic scale, tantamount to a comet or a tidal wave or God's final judgment.
"Maybe," he says, "God has judged us, and this is hell."
That's heady language, but Tolkin is known for leaving subtlety to his characters. The screenwriter Newsweek magazine once called a "sadistic moralist" has been fire-and-brimstoning his own industry for at least a decade. "The movies are poisoning our culture. They are deadening America," he told Vogue in 1988. That same year he pilloried Hollywood insiders with his novel The Player (Atlantic Monthly Press), which in short order became a critically lauded motion picture.
Asked to elaborate on his entertainment-as-apocalypse vision, Tolkin offers a portrait that is part The Day After and part Helter Skelter.
"It forces millions of people every day to hide in dark rooms, existing on a diet of puffed corn and chemically altered water -- caffeine and sugar to modify their moods," he says. "It decimates community and creates false community. It spreads the worship of false idols and offers false hope. It's certainly a millennial movement in those respects."
The term millennial, as applied by Tolkin and other participants in the conference, is not bound to increments of 1,000 years. Organized by the Center for Millennial Studies at Boston University, the conference is billed as "a multidisciplinary inquiry into historical and contemporary practices of dating the End." Its 36 presen-ters will address such topics as Women and Doom: Gender in Early Islamic Narrative Discourse and End-Times and The Persistence of the Millennium: Branch Davidian Expectations after Waco.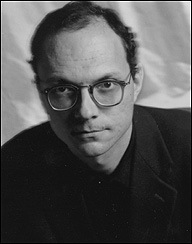 Michael Tolkin Photo by Scott C. Shulman
---
"Millennial movements happen at other times than every 1,000 years," says Beth Forrest (CAS'93, GRS'99), special programs coordinator for the Center. "Our definition of millennialism is belief in, or expectation of, a radical transformation here on earth. In the '60s, the Age of Aquarius, we saw a millennial movement. German Nazism was a millennial movement. Our conference will deal with the ways people date the End, and with what happens when they've set a date and seen it pass."

Tolkin, one of only a few nonacademics on the conference roster, says that addressing a group of millennial scholars is "obviously not something I do every day." He came to be the event's keynote speaker, he says, in an appropriately roundabout way. Last spring he was in Jerusalem visting the Rabbi Daniel Landes, an old friend. Landes, as it happens, is the cousin of Richard Landes, CAS associate professor of history and founding director of the Center for Millennial Studies.

"Richard was in Jerusalem at the same time," says Tolkin, "consulting with the Israeli government on how to prepare for the thousands of people who are going to be flying into the city with one-way tickets at the end of 1999.

"It turned out he liked my movies, particularly The Rapture, and so he invited me to speak at the conference."

In The Rapture, which stars Mimi Rogers and David Duchovny, the female protagonist forsakes a life of selfishness and self-loathing for the absolutism of a doomsday cult. Her newfound faith is then assaulted by a series of horrific events. In Tolkin's novel Among the Dead (William Morrow, 1993), a plane crash pushes an amoral central character toward true self-scrutiny. In Deep Impact, the threat of annihilation by earthbound comets forces similar reflection. Earth-shattering scenarios are of endless interest to Tolkin.

"As a writer, I'm comfortable with characters who are facing the largest crises and the largest questions," he says. "I'm not that interested in genre: I don't give much thought to writing detective stories, cop stories, science fiction. What interests me are situations that put characters to the greatest test. I like the way disaster forces people to face themselves."

Does he feel at all ambivalent about being part of an industry that is, in his own words, "poisoning our culture"?

"I think ambivalence is the only way to live in the world," he says.
---
A special screening of Michael Tolkin's 1992 film The Rapture will take place at 7 p.m. Saturday, December 5, in the George Sherman Union Conference Auditorium. Tolkin will introduce the film and participate in a question-and-answer period afterwards. For more information about the screening or the conference, call the Center for Millennial Studies at 617-358-0226, or visit its Web site at http://www.mille.org.