Departments





| | |
| --- | --- |
| Week of 20 November 1998 | Vol. II, No. 15 |

Feature Article

Chelsea schools earn federal 21st Century Learning Center grant
by Eric McHenry
The BU/Chelsea Schools Partnership has been awarded a three-year $434,356 grant to support before- and after-school activities. The money is part of a $2.2 million package of federal grants to six Massachusetts schools and school districts, the state's allotment under the federal 21st Century Community Learning Center Program.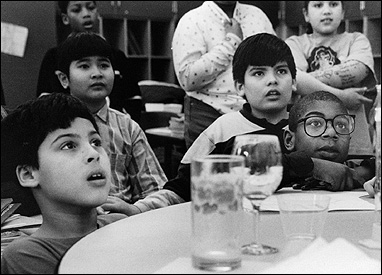 Chelsea elementary students enrolled in Project Excellence's math and science program learn about chemical change from middle school and high school students enrolled in another Project Excellence program, the Souls of Chemistry. An ongoing series of before- and after-school activities rooted in the core curriculum, Project Excellence will receive further support through a federal 21st Century Community Learning Center grant. Photo by Vernon Doucette
---
Senator Edward M. Kennedy announced the grants at a November 12 ceremony in Roxbury. In addition to Chelsea, public schools in Boston, Dorchester, Hampshire, Holyoke, and Springfield will benefit from the outlay.

"These grants mean a total of 20 Massachusetts communities will be able to create high-quality learning centers that meet their children's after-school educational needs," Kennedy said. "This is important for the future of the children of the commonwealth."

In Chelsea's case, the grant will be used principally for the enhancement of existing programs developed through the BU/Chelsea Partnership -- a unique arrangement whereby the University manages the city's public schools. "This fits in really well with the comprehensive before- and after-school programs that the school department has in place already," says Sean Moriarty, associate director of A Different September Foundation, the University's fundraising arm for the Partnership. Targeting grades 6 through 12, the expansion will affect literacy education programs, summer and weekend programs, school library hours and services, telecommunications and technology education programs, and services for individuals with disabilities.

"We've committed a lot of resources, time, and energy to making sure we make the best possible use of the day," says Doug Sears, superintendent of Chelsea public schools, "and that's the day that extends beyond the typical school day, which in our view is painfully short. We recognize that it's important to have places for young people to be other than on the street or in situations where they're not properly cared for -- not necessarily because they're being neglected, but because their parents have to work.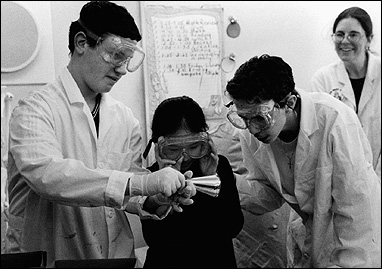 Elementary school student Trang Truong assists middle school students Alex Abdou (left) and Tony Menderos in their Mirror Makers experiment, part of a Project Excellence after-school activity. By mixing four chemicals, they are able to coat the inside of a flask with a silver mirror. Photo by Vernon Doucette
---
"It's a tough town," he says, "a poor town, in which people are in many instances trying very hard to get on their feet or get back on their feet. They can't be in two places at once. So it's helpful to have options for kids that are meaningful and substantial, that are not just a form of time-serving."

The grant application was authored by A Different September Foundation on behalf of the Chelsea School Department, which is the award's official recipient and executor. A federal statute requires that all applicants for 21st Century Community Learning Center money be public school districts. Sears credits the foundation's help with making the award possible.

"It's a fundraising effort in which our partnership with the University was critical," he says. "Together, we bring to the work of fundraising a kind of initiative that's not typical. Districts are doing more and more of it, but we're particularly aggressive and serious about it. I think the University's investment and our long-term commitments make it easy for the federal government to approve this sort of support."

Moriarty adds that the grant is an affirmation of the Partnership's success in developing a viable curriculum. Rooted in math and science, literacy, history, and the arts, Chelsea's in-school educational framework is the basis for all before- and after-school activities and services.

"Chelsea's revamped curriculum in grades pre-K through 12 forms the foundation for all before- and after-school programs," says Moriarty, "and it is a direct result of the Partnership. The grant brings some very gratifying recognition to that fact: the federal government has decided that the BU/Chelsea Partnership, together with the city of Chelsea, is worthy of the term '21st Century Learning Center.' "