Departments
Arts





| | |
| --- | --- |
| Week of 20 November 1998 | Vol. II, No. 15 |

Arts

Roman Totenberg
I'm only high-strung when I play
By Judith Sandler
Growing up in a family of artists, violinist and School for the Arts Professor Emeritus Roman Totenberg might have followed his relatives into writing or painting had it not been for his baby-sitter.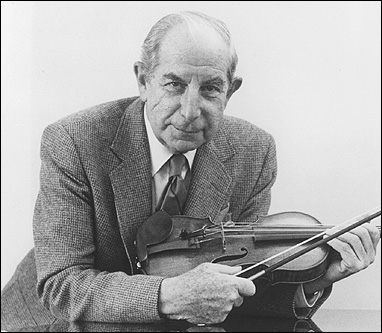 Roman Totenberg
---
Born in Poland 87 years ago, he endured the First World War in a ravaged and starving Russia, where his architect father had been transferred. A neighbor, the concertmaster of the Moscow Orchestra, supplemented his income by taking care of the young boy. He started Totenberg on the violin at age six, and within a year student and teacher were performing together. "We played in schools and for different organizations," Totenberg remembers. "People would pay us with money or food. It was a very difficult time. We fled Moscow in order to survive the famine."

Perhaps it was those lean years that moved Totenberg to ensure that others never felt wanting. To students he is a a demanding and inspiring mentor. To colleagues he is an insightful and imaginative collaborator with a wry sense of humor. To audiences he is a master violinist from the great European tradition.

Totenberg will present a recital with pianist Shizue Sano on Monday, November 30, and audiences can expect to hear what critics have long been appreciating. The Boston Globe reports recently, "He played through with open-hearted generosity of spirit and great vigor . . . élan, color, character, and zest." The Berlin Kurier writes, "Roman Totenberg is a sovereign of the violin. His playing is superior and powerful, and his technical perfection cannot be matched."

The accolades come in for his teaching, too. (He won the Metcalf Cup and Prize in 1996.) Ikuko Mizuno, a BSO violinist and SFA faculty member and alumna, consults with him when she's preparing a performance. "He respects everyone's individuality," she says, "never pushing his own ideas or technique, and he is very generous with his time, ideas, and knowledge."

"He is a most generous, kind, warm, and un-self-involved person," says former student and friend Mark Ptashne, "with this amazing ability to play the violin. He's inspiring on every level, in every way."

Unsheltered life
Totenberg's musical and human insights surely come from the astonishing course of his life. Following his family's return to Poland in 1921, he made his début at 11 as soloist with the Warsaw Philharmonic. (He was already giving lessons to a 10 year old.) After studies in Berlin with master teacher Carl Flesch, he moved to Paris in 1932. When Flesch fled Germany after Hitler's rise to power, Totenberg worked as his assistant, while also touring and giving concerts with the major European orchestras.

"The intelligentsia moved to Paris in 1933," Totenberg says. "Everyone was there." He performed in the popular salons, where he mingled with such figures as Chagall, Bonnard, Picasso, Gertrude Stein, Serge Lifar, and George Balanchine.

At the Parisian salons he also became friendly with composers Georges Enesco and Darius Milhaud and former BSO conductor Pierre Monteux, and he formed a close friendship and collaboration with pianist, composer, and fellow Pole Karol Szymanowski. He also befriended Igor Stravinsky's son, pianist and composer Soulima Stravinsky. (Just before his death two years ago, Soulima had been working with Totenberg on a compilation of cadenzas to the Mozart violin concertos. The cadenzas were published several weeks ago.)

But the gathering war clouds ended Totenberg's Paris idyll. "Many of my closest friends were Spanish republicans," he says. "When they lost the war and Franco took power in 1937, we could see that it was the beginning of the end of Europe."

Totenberg fled to the United States in 1938, settling in New York City. He continued to teach, perform, and tour, even traveling to South America with pianist Arthur Rubenstein.

In 1961 he was invited to come to SFA, where, although nominally retired, he still teaches. "He is one of the old masters," says Professor Emeritus Wilbur Fullbright, who was director of the music division in 1961. "He is still performing with the great energy and style that have always characterized his ability to say something important in his performance."

Totenberg has indeed lost little of his ebullience. "I'm interested in life, people, music, and the world around me," he says. "I keep playing and also keep in touch with my students both here in Boston and around the world; we're a very big family."

He often sees that family when he travels to adjudicate, perform, and give master classes. Since April, he has been to Poland, Germany, and to Butler University in Indianapolis, and he traveled to France to judge the Yehudi Menuhin competition and to Russia to judge the International Tchaikovsky Competition. Totenberg speculates that he receives so many invitations to adjudicate competitions because "people like me for my sangfroid." He chuckles. "When there are problems, I try to negotiate peace. I'm only high-strung when I play."
---
Roman Totenberg and Shizue Sano will perform Brahms' Sonata in A, op. 100, no. 2, Ysaÿe's Ballade-Sonata no. 3 for Violin, Debussy's Sonata, two Caprices of Paganini, Szmanowski's Fontaine d'Arèthuse, and Beethoven's Sonata in E-flat, op. 12, no. 3, on Monday, November 30, at 8 p.m. at the Tsai Performance Center, 685 Commonwealth Ave. For information about this free concert, call 353-8724.
---
SFA holiday exhibition

After the Hunt, a hand-colored etching by Liz Gribin (SFA'56), will be one of the works by School for the Arts alumni, faculty, and students at a holiday exhibition and sale at the 808 Gallery in the Fuller Building, December 10 from 6 to 8 p.m. and December 11 to 13 from 9 a.m. to 6 p.m.