Departments
Arts


| | |
| --- | --- |
| Week of 2 October 1998 | Vol. II, No. 8 |

Arts

Sam Lacombe Exhibition
And something there is that does love a wall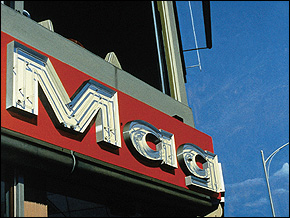 Mag, 1995, oil on canvas, 32" x 42"
---
By J. Nicole Long
He once believed the world was black and white, but SFA Teaching Associate Sam Lacombe (SFA'88,'90) now spends months mixing and blending paint to render its color with precision.
"One can become too comfortable with subjects, ideas, or style," he says. "When I was beginning, I thought the world was black and white -- that there was a right and a wrong way to do things. Now I'm more open. Whatever comes, comes."
The Stuart Gallery on the second floor of the GSU will display Lacombe's work from October 8 through November 2. A photorealist, Lacombe says that when he began painting he thought his logical end would be making images that seemed mechanically produced. Recently, however, he has decided to focus less on technical perfection and more on the arrangements of his compositions and the quality of their color.
"Though I'm awed by a painting that is technically exquisite," he says, "there can be something empty about it -- it can lack soul."
Much of Lacombe's work has an autobiographical component. His painting 900 E. 1st St., 1997 depicts an old converted violin factory where he lived for three years. Inside were approximately 40 loft spaces occupied by photographers, painters, and a rap artist.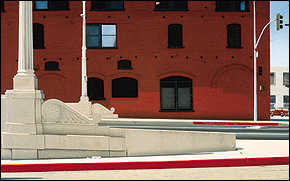 900 E. 1st St., 1997, oil on canvas, 20" x 30"
---
The red of the building's wall, according to Lacombe, was difficult to achieve. "I even used transparent reds," he says. "Finally I told myself, 'I can't get it,' and gave up." He decided to begin painting the shadows of the bricks instead. "After a couple of rows of them, I realized I had gotten the red," he says. "It was precisely the interaction of the blue of the shadows and the red that made the particular strawberry-red I had worked a year to find."

Lacombe says that 900 E. 1st St., 1997 represents one of two moods he expresses in his paintings. "There are paintings that are founded on vertical and horizontal axes, which have a real quiet to them," he says. "Others seem as though I'm craning my neck to look at some oblique lines. I call them my 'screaming paintings.' "

It is useful, Lacombe believes, to think of painting in terms of another discipline -- sculpture. This, he says, assists both his art and his teaching.

"I tell my students that they have a rectangle and must be responsible to every square inch of it," he says. "We are not just taking a frame and sticking it over reality. We are making a unique object, just as a jeweler makes a ring. He is responsible for the form of its setting, the cut of the gem, and he demonstrates his care by turning it around and around in his hand. An artist must be responsible to his canvas this way also -- as a two-dimensional sculpture."

Because he teaches, Lacombe finds, he is better able to articulate his ideas about art and to be open to various aesthetics.

"No one wants to be a hypocrite," he says. "So I have to consider, earnestly, the way other artists work. It has helped me maintain an openness to my students, and it has helped me be more creative in my own process."

Lacombe recalls staring at the wall during his first year as a graduate student, not knowing how to begin. "The exercises of undergraduate school were behind me," he says, "and I was at a loss for how to how to begin 'as a painter.' Then I started copying a painting by Andrew Stevovich, whose work seems to have a Renaissance style, though he deals with modern subject matter. "

Because Lacombe intended to give the copy as a gift, he tried to paint everything he saw. It was this exercise, he says, that initiated his interest in photorealism; it gave him an approach to craft, which was what he had been lacking.

Although there is pleasure to be found in the surfaces of both photographs and paintings, Lacombe says, for him the significant difference is texture. "I think my paintings have an initial impact that's more than photographic, because of the texture of the canvas and the painterliness."

These two qualities have been significant shapers of Lacombe's aesthetic.

"When I see the mark that a painter makes, it stuns me how quickly some of them have been made -- the directness of the brush stroke," he says. "I am taken back in time, and there is a communication of the process. For now, I want the artist's hand to be present in my work, so viewers are not removed from the making."

The development of Lacombe's sensibility was also influenced by his introduction to the work of Jan Van Eyck, whose style continues to be a model for him. "There can be 500 miles of space in one painting," he says, "and the thing 500 miles away can be seen as clearly as an object in the foreground.

"When you get close to a Rembrandt, the nose becomes lumps of paint. With Van Eyck, his peaches are forms -- a peach on a plate -- and a texture. One becomes aware that the fuzziness is composed of clear little hairs that light is refracted through. What impresses me is that I can be aware of the large scale and the microscopic scale at the same time. In a Van Eyck, it never breaks down."

Because of an introduction to a book on Van Eyck, written by the art critic Robert Hughes, Lacombe's sensibility awakened more. One passage in particular, which Lacombe says he included in his thesis, continues to inform his belief in what paintings can be: "To the realist's modest claim," Hughes writes, "that 'this is the way it was,' Jan Van Eyck adds 'is now, and ever shall be, world without end; Amen."
---
The Stuart Gallery is located at 775 Commonwealth Ave. Hours are Monday to Friday, 11 a.m. to 5 p.m., and Saturday and Sunday, 1 to 5 p.m. For more information, call 617-353-5707.