Departments



| | |
| --- | --- |
| Week of 25 September 1998 | Vol. II, No. 7 |

Feature Article

The Mind and the Brain conference
Youth to explore the inner frontiers of learning and memory
by Brian Fitzgerald
How long a list of numbers can you accurately remember? CAS Psychology Professor Howard Eichenbaum wants to know. Eichenbaum is among several researchers presenting workshops in an October 4 conference at Boston University entitled The Mind and the Brain: Exploring the Inner Frontiers.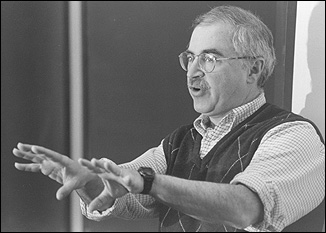 Howard Eichenbaum
---
The all-day event, sponsored by BU and the Institute for the Academic Advancement of Youth at Johns Hopkins University, will bring more than 150 eighth- and ninth-grade students from New England -- along with their parents -- to the Charles River Campus to investigate the mysteries of memory.

Actually, thanks to important discoveries of late, the neurobiological mechanisms behind memory are much less perplexing, says Eichenbaum, whose work explores the neural circuitry that mediates our capabilities for cognition and memory. "Recent research has provided valuable new insight into how memory works," he says.

In July, scientists at the Institute of Child Health in London proved that even if the hippocampus, the structure in the medial temporal lobe of the brain -- and traditionally thought of as being critical for memory -- is damaged, the underlying regions of the brain can still carry out some important memory functions.

"Their results show that the hippocampus is critical for everyday episodic memory," says Eichenbaum. "That is, our record of personal events. But it is not necessary for semantic memory: our lifetime accumulation of universal factual knowledge." He adds that the findings may hold new hope for children with memory problems and have implications for health-care professionals and teachers involved in the assessment and education of children with special needs.

"If only the hippocampus is damaged, a child can develop fact memory surprisingly well through the function of the underlying cortices," says Eichenbaum, whose workshop at the conference will take place at 10:15 a.m. in the Metcalf Science Center's psychology laboratory. Eichenbaum will show videotapes of rats in his lab attempting memory tasks. "The rats were trained in numerous tasks, such as remembering a list of locations where they found previous rewards," he says. "The kind of memory being tested is very much like the type humans use to remember lists of numbers, such as a phone number," he says. "We will discuss the role of different areas of the brain in memory, including the frontal lobe, seeing what memory capabilities normal rats have compared to rats who have different types of brain damage."

Mark Gluck, a psychology professor at Rutgers University, will give the conference's keynote presentation at 9:15 a.m. in George Sherman Union's second-floor Metcalf Hall. In his research, Gluck has drawn upon an interdisciplinary array of tools from neuroscience, psychology, and computer science to better understand the hippocampus and its importance to both animal and human learning. An essential component in this endeavor has been the use of computational neural network models to map out the relationship between neurobiological mechanisms and behavior.

Throughout the day, at student and parent workshops, professors will present their research on the mind and memory. Christine Li, a CAS associate professor of biology, will show students how information from the environment is processed by the nervous system of an animal -- in this case, a cockroach. With electrodes attached to the insect's legs, students will learn how mechanical stimulation, such as touch, is converted into an electrical signal by the nervous system.
Psychology Professor Jean Berko Gleason: "By the time children are three or four years old, they have typically acquired thousands of vocabulary words, complex grammatical and sound systems, and the ability to use their language in appropriate social settings. My workshop will attempt to explain how children are able to learn language so quickly."
---
In addition, Michael Baum, associate chairman of the CAS biology department, will show how testosterone permanently organizes parts of a ferret's nervous system to control psychosexual behaviors. CAS Psychology Professor Jean Berko Gleason will demonstrate how children learn language. Alice Cronin-Golumb, an assistant professor in the CAS psychology department, will conduct a workshop on memory and aging. Mary Erskine, an associate professor of biology at CAS, will have students use computer-based simulation exercises to examine the electrical properties of cells in the nervous system. "The two fundamental types of electrical responses of neurons will be studied," she says, "and the limitations to the speed, rate, and magnitude of electrical signaling in the brain will be explored. These exercises will help students understand at the cellular level how cells within our brain communicate with and influence each other."

Is visual perception automatic and passive, or active and complex? Using optical illusions, CAS Assistant Professor of Psychology Takeo Watanabe will address this question in his presentation. A workshop on brain scans will be conducted by Chantal Stern, an assistant professor of psychology at CAS. David Farb, chairman of the BU School of Medicine's pharmacology department, will talk about how drugs are used to treat mental illness.

"The event is a good way to get young minds interested in science," says conference organizer Cynthia Brossman, grants administrator for the CAS mathematics department. "It broadens the scope of BU's mission. When kids are invited to a university campus to pursue an interest in any academic area, they will be better prepared for college work."