Departments
Arts



| | |
| --- | --- |
| Week of 18 September 1998 | Vol. II, No. 6 |
Arts

All-Read concert celebrates 85th birthday of longtime BU composer
Gardner Read, composer and School for the Arts professor emeritus, has been writing music so steadily for the past 70 years that his output has become a good-natured joke. The musicologist Nicolas Slonimsky recalled Read's showing up at his office in the late 1950s to announce that he had just finished his Fourth Symphony. Read then paused and asked, "Can you tell me why?"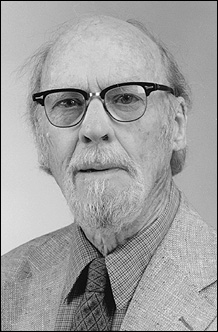 Gardner Read Photo by Vernon Doucette
---
Four decades later the BU Bridge wondered whether Read had answered his own question. Was he possessed by a muse or demon who made him compose piece after piece (he's past 150 opus numbers)? "No, I'm not that kind of composer," he says. Read composes in part for self-fulfillment and in part "because it's fun."

You can hear fun in plenty of his works, but you'll encounter pathos and anguish as well. That range of moods is expressed over a variety of musical forms that extends from his piano music for silent movies through dozens of songs and choral pieces to organ and chamber works to four symphonies and an opera. There are parodies and plaintive works, delicate chamber meditations and crashing orchestral and percussion pieces. The music, especially the colorful orchestral compositions, appealed to conductors and audiences to such a degree that for a few years Read was listed as one of the 10 American composers whose works were most often played by major U.S. orchestras.

That was two generations ago, though, and a lot of music has been written since, crowding Read's off concert programs and radio broadcasts. "It's not conspiracy," he says of the dwindling performances of his music, "it's just that there's so much more music now. The competition is something."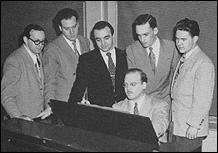 Gardner Read at the piano with SFA composition students. The photo ran in the February 1949 Bostonia with an article noting that one of Read's newest compositions, Pennsylvaniana Suite, had recently been premiered by conductor Fritz Reiner and the Pittsburgh Symphony Orchestra.
---
BU is taking a step both to remedy the situation and to honor the 30-year faculty member and former composer in residence during his 86th year.

A September 25 concert of vocal and keyboard music will give a hearing to a group of once-popular compositions that haven't been performed lately. "The concert has some nice contrasts," says Read, "and some excellent local performers." SFA Professor Mark Kroll will perform Fantasy Toccata for Solo Harpsichord (1990) and mezzo D'Anna Fortunato, accompanied by composer and pianist John McDonald, will sing "From a Lute of Jade," Opus 36 (1935-36); "Songs for a Rainy Night," Opus 48 (1938-40); and Three Songs for Mezzo-Soprano, Opus 68 (1946). McDonald, who is on the faculty at Tufts University, will also play "Jungle Gardens by Moonlight" and "Spider Monkeys," from Read's Driftwood Suite, Opus 54 (1942). "McDonald is a terrific pianist," says Read, "and he has quite a mittful at this concert."

The Fortunato-McDonald duo is about to record a CD of all of Read's song cycles, due for release early next year from Albany Records. The record is one of several releases of Read's music over the past few years, and the BU concert one of several during this 85th birthday year.

"I can only be 85 once," says Read, "so I have to make the most of it."
---
Gardner Read's 85th Birthday Celebration, an evening of vocal and keyboard music, will take place at 8 p.m. on Friday, September 25, at the Tsai Performance Center. It is free and open to the public.