Departments



| | |
| --- | --- |
| Week of 11 September 1998 | Vol. II, No. 5 |

Feature Article

A transplant for the heart of the campus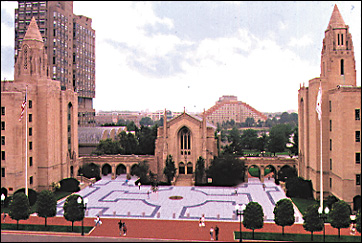 Marsh Plaza as it is planned to appear after restoration, in time for the fall 1999 Homecoming.
---
Boston University alumni have launched a $1.5 million fundraising campaign to restore Marsh Plaza, aiming to give the heart of the campus a dignified new look in time for Homecoming in the fall of 1999.

"Marsh Plaza has long been the physical and spiritual center of the Charles River Campus," says Ed Westerman (CGS'66, COM'68), cochair of the alumni-initiated campaign along with Sharon Ryan (SAR'70). "Our goal is to preserve the site as a crossroads and a gathering place for future generations of BU students and alumni."

Named for Boston University President Daniel L. Marsh, the plaza was constructed in 1948 using 36" bluestone pavers that over the years have cracked and chipped as a result of the harsh New England winters and unsuitable subsoil conditions. Other eyesores include the rusting of Free at Last -- Sergio Castillo's soaring sculptural tribute to one of the University's most distinguished alumni, Martin Luther King, Jr. (GRS'55).

The renovation will include the removal of the plaza's existing bluestone and concrete base and its replacement with a new reinforced concrete base topped by more than 4,000 granite squares in a latex mortar bed. Lighted granite bollards will be installed between the sidewalk and the plaza, a new brick sidewalk will be built, and the covered arcades at the east and west wings of Marsh Chapel will receive new granite pavers. The University Coat of Arms will be reset, and the Free at Last sculpture will be cleaned and sealed to stop rust. In all, about 20,000 square feet of plaza and sidewalk will be updated at an estimated total cost of $1.5 million.

The renovation project was originally proposed and partially funded by the Class of 1994 as their class gift. Campaign organizers hope to reach their fundraising target within 12 months. The plan is for construction to begin immediately after Commencement 1999 so the new plaza can be dedicated at Homecoming in the fall of 1999, the 50th anniversary of the plaza's original dedication.