Departments





| | |
| --- | --- |
| 28 August 1998 | Vol. II, No. 4 |

Feature Article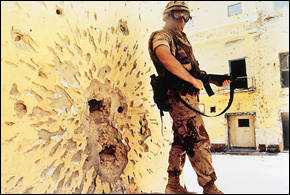 Recent BU film graduate Amy Eldon remembers her brother, the late photojournalist Dan Eldon, in a television documentary she made that will be screened nationally in September. Above, in one of Dan Eldon's images of war-torn Somalia, U.S. Marine Lance Corporal Harold Clawson, from Kentucky, stands guard beside a shell-ravaged mosque in the area that used to be Mogadishu's business district.
---
BU to get sneak preview before nationwide airing
Brother's brutal killing key to COM grad's TV documentary
By Brian Fitzgerald
Every day in some part of the world journalists risk death to bring us the stories of war. Some of them never return. In 1993, Dan Eldon, a 22-year-old Reuters photographer and the brother of Amy Eldon (COM'97), was stoned to death in Somalia, a country torn by famine and war. In a two-hour television special, his sister, attempting to understand what happened, takes a journey to Mogadishu to the very spot where Dan was killed.
Dying to Tell the Story, a TBS original production, will premiere on national television on Sunday, September 13. However, the Boston University community will be able to view a sneak preview of the absorbing and sometimes disturbing documentary on Tuesday, September 8, at 7 p.m. in the Tsai Performance Center. Eldon, the associate producer and narrator, will return to her alma mater for the special screening.
Amy Eldon (COM'97) (left) and Kathy Eldon, sister and mother of slain photographer Dan Eldon. Amy is associate producer of Dying to Tell the Story. Kathy is executive producer. Photo by Antonin Kratochvil

In a phone interview, Eldon explains how her brother's death affected her outlook on life, how the idea for the film project germinated in a Boston University classroom, and what she believes motivates war photographers to keep shooting pictures and video footage in the world's most dangerous places.

First of all, she points out, Dan wasn't one of those camera cowboys we hear about, the adrenaline junkies who pride themselves on being daredevils. "Dan was in Somalia not only because he had a job to do, but also because he cared about the people there," she says. "We were raised in Kenya, and Somalians were our neighbors." Indeed, their family had moved from London to this country in northeast Africa when Dan was seven and his sister was three. Eldon says that Dan "was always interested in helping others." When he was 14, for example, he started a fundraising campaign for a young Kenyan girl who needed open-heart surgery. Together with Amy and his friends, he raised $5,000. The following year, he helped support a Masai family by buying their homemade jewelry.

Dan graduated from the International School of Kenya (ISK) in 1988, winning the International Relations and Community Service Awards. He was also voted most outstanding student by his classmates. At an early age he joined his journalist mother on assignments for the Nation newspaper, and soon was taking pictures that appeared in the local newspapers. Dan was used to being in dangerous places: in 1979 his family narrowly missed being caught up in the coup in Kenya, but he was around to experience the aftermath of that political upheaval.

"But I needed to understand what motivated Dan to do the work that he did," says Eldon. She recalls her brother being chased by a buffalo when he was 17. "Afterwards, he said that he never felt so alive. I think that's how he felt in a war zone."

To be sure, Dan wasn't averse to taking risks. The summer after his graduation from ISK and after he had enrolled in Pasadena Community College, he returned to Africa and drove his Land Rover across five African countries with a friend, fending off thieves and border guards on the way. They found that staying in jails was the safest solution to security problems &emdash; to the amusement of jail wardens, they sometimes chose to sleep in locked cells. The following year, on a jeep trip to Marrakech, he was attacked by Moroccan bandits.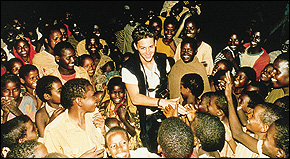 Dan Eldon, brother of Amy Eldon (COM'97), greets a crowd of Somalian youngsters in December 1992. The following summer he was stoned to death by an angry mob in Mogadishu. Photo by Yannis Bechrakis
---
"But Dan didn't do rash things when he shot photos for Reuters," says Eldon of her brother's work with the international news agency. Interviews with her brother's colleagues in Dying to Tell the Story reiterate her assertion. Dan was simply in the wrong place at the wrong time. On July 12, 1993, Dan and three other photographers raced across Mogadishu to cover the U.S. bombing of what was thought to be General Aidid's headquarters. But American helicopter pilots picked the wrong target: the Somalian warlord was safely hidden in another location. In the ensuing confusion, three of the four journalists were beaten, clubbed, and stoned to death by an angry mob, furious over the death of more than 50 friends and family members.

"He took pictures in Somalia because he felt that the world needed to know what was happening there," says Eldon. During the summer of 1992, when the famine in Somalia was raging, Dan flew from Kenya to the southern Somali town of Baidoa, where he shot some of the first pictures that touched the conscience of millions around the world. Reuters spotted his work, and by Christmas he had a job. The following summer, one of her brother's photos was published in a double-page spread in Newsweek, as well as the front pages of papers across the world.

In Dying to Tell the Story, Eldon interviews Time photographer Peter Magubane, who spent 680 days in solitary confinement in South Africa for his work documenting apartheid atrocities in the 1970s. "A struggle without documentation is not a struggle," he explains in the film. Magubane recalls photographing a sign at the entrance of a park that read, "No blacks or dogs." The sign was taken down after the photo's publication. Carlos Mavroleon, an ABC News cameraman, points out that the world witnessed the strife in Somalia not because the U.S. Marines were in the country &emdash; "It was because we were there."

Eldon mentions photojournalist Margaret Bourke-White's pictures of the opening of the Nazi concentration camps in 1945. "Because of those photos, the horror and suffering somehow seemed more real," she says.

After her brother's death, Eldon left Lafayette College and moved to New York, where she struggled to regain her equilibrium. Following a variety of jobs, she transferred to BU, changing her major from political science to broadcasting. "When I first met Amy in my TV Revolution class, she definitely stood out among the 70 students," says Jeremy Murray-Brown, an associate professor in COM's department of television and film. "She had a certain poise about her."

When Murray-Brown attended an exhibit of Dan Eldon's photomontages at Boston College, he and Eldon talked about her brother. "The idea for Dying to Tell the Story originated in Jeremy Murray-Brown's Documentary Studies class," she says. "I sent the treatment to TBS, and the network was very excited. And then I was asked, 'Would you mind hosting it?' " After graduating, she moved to Los Angeles and continued working on the documentary.

"It's not easy for someone who isn't a professional actress or speaker to do such a great job," says Murray-Brown. "But she is the ideal narrator for this story. She pulls it off with grace and style. It's a very moving documentary that says a lot about the hazards of being a photojournalist covering a war." He notes that each year more than 50 photojournalists lose their lives reporting on war and conflicts. "The public needs to be reminded of that," he says.