Departments
Arts





| | |
| --- | --- |
| 28 August 1998 | Vol. II, No. 4 |

Arts

Permanent collection mirroring ascendancy of University is goal of new BU Art Gallery director
by Marion Sawey
Boston University is taking its first steps toward acquiring a permanent art collection, under the leadership of John Stomberg, the new director of the BU Art Gallery. Stomberg, formerly the Gallery's assistant director, plans a major collection of American 20th-century and international contemporary art.
"My idea is for the collection to mirror the ascendancy of the University," he says. "Like the University, the collection will be predominantly 20th-century American but will have its roots in the 19th century. It will also emphasize contemporary art, which became truly international in the 60s and 70s, reflecting again the University's mushrooming reputation and growth during that period. The influence of art and the influence of the University seem to me to go hand in hand."
Stomberg has already hired a curator, Karen Haas, to provide the professional expertise needed to start building a collection. A former employee of the Gardner Museum, the Museum of Fine Arts, and the Addison Gallery, Haas has extensive knowledge of 19th- and 20-century art and photography.
His initial goal, says Stomberg, is to raise a multimillion-dollar Collection Fund and to attract a collector who would be interested in having the collection bear his or her name. "We can't go too fast because we don't have enough space in our current premises, at 855 Commonwealth Ave., but eventually I would like to see us expand greatly," he says. "There is certainly room in Boston for a major collection of 20th-century art that branches into contemporary art, and I think we would receive a lot of support. We have an excellent location, the right reputation, a known name, and access to a fine tradition in arts."
Another objective of the Gallery will be to entice more of the University's student population to view the exhibitions. "Unusual for a university gallery, we have been much more successful in attracting the general public than our own students," admits Stomberg. "All our recent exhibitions have been reviewed in the local media, and sometimes in the national and international media as well, helping us draw a very good public attendance. And yet I can stop a freshman on Commonwealth Ave., ask where the Gallery is, and he or she won't know. So we will be working harder and harder to bring in students. They are missing a great opportunity if they don't realize that they can come in here and see really amazing shows for free."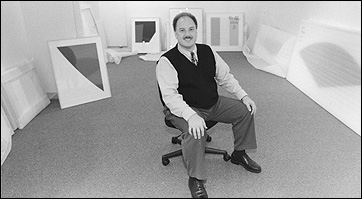 John Stomberg plans a permanent collection of American 20th-century and contemporary art for the BU Art Gallery. Photo by Vernon Doucette
---
While starting a permanent collection, the Gallery will continue its mission of presenting scholarly, museum-quality exhibitions, Stomberg stresses. "We think of ourselves as a research institution, and the exhibitions as the results of our research," he points out. "That is what distinguishes us from a museum or a commerical art gallery -- we work on scholarly themes and give an artist's work a broader, deeper context than would be offered elsewhere. Not that we are foregrounding scholarship; we are not a gallery that hangs a lot of labels and where the art doesn't count. It is just a matter of helping to put the art in its place, partly through events such as lecture series, where the artists or guest curators talk about their work, or through more informal gallery talks."

One of the Gallery's recurring scholarly themes, for example, has been the intersection of poetry and art, Stomberg notes, pointing to recent exhibitions such as Michael Mazur's illustrations for CAS English Professor and U.S. Poet Laureate Robert Pinsky's translation of Dante's Inferno, the late SFA Professor Philip Guston and his poem paintings, and SFA Professor John Walker's World War I paintings, with their references to British war poets. Another signature theme has been mapping, and plans are under way for an exhibition of prephotography maps of major cities such as Rome, Paris, New York, and Jerusalem, and later, of an exhibition that focuses on mapping as an abstract feature of contemporary art practice.

Aside from organizing exhibitions, Stomberg hopes to continue the Gallery's role as a training ground for SFA and CAS graduate students, giving them the opportunity to learn installation and handling skills, art preparation, and grant-writing techniques. He also intends to continue curatorial seminar classes -- in which a group of graduate students create an exhibition together -- and to have a student undertake a catalogue raisonné of a major artist's work. "We are very much a learning institution here," he says. "I feel very strongly about placing emphasis on the professional training development of graduate students."

On a broader level, Stomberg plans to link the Gallery to activities and departments throughout the University. "We are, after all, the University Art Gallery and we want to represent and work with all the University, not just the visual arts and art history departments," he says. "For example, one of the more unusual shows we plan to do over the next few years will be an exhibition of photographs of the planet Earth taken from space. Many of the photographs were taken using technology developed at BU, so the exhibition could feature the University's physics department, its digital-imaging experts, and its TERRIERS satellite project."

Stomberg, assistant director since 1995, graduated with a degree in art history from Georgetown University and ran a commercial gallery in Washington, D.C., before coming to Boston University as a graduate student in 1988. He received his master's degree in art history from the University in 1990, and hopes to complete a dissertation for his doctorate in January. Stomberg succeeds Kim Sichel, who has returned to teaching art history full-time at CAS, as Gallery director.

The Gallery is presenting four exhibitions in the coming season, kicking off with Ellsworth Kelly: Recent Prints, planned to coincide with the opening of the new federal courthouse in Boston, which includes a major new commission by Kelly as a centerpiece. The exhibition, curated by Mary McInnes, with Kelly's active participation in the selection and presentation of the work, will include a series of prints that illustrate Mallarmé's poem Un coup de des jamais n'abolira le hasard ("A Throw of the Dice Never Will Abolish Chance"). The exhibition runs from September 11 through October 25.

The other shows are Before the Lens: Images of the Imagemakers, a survey of the history of photography illustrated by portraits of celebrated photographers (October 30 to December 13); David Smith: Medals of Dishonor, a series of 15 cast bronze medals depicting the devastation of war, created by the sculptor in the years leading up to World War II (January 15 to February 28, 1999); and Dorothea Tanning: Another Language of Flowers and Other Paintings, a recent series of paintings of flowers by the major American surrealist artist (March 5 to April 11, 1999).