Departments





| | |
| --- | --- |
| 7 August 1998 | Vol. II, No. 3 |

Feature Article

Economic and Social Impact report
BU contributes $2 billion to thriving Mass. economy
Boston University contributed $2.2 billion to the Massachusetts economy during the last fiscal year, according to a report prepared by BU. The University also accounted for a total of 38,965 jobs in the state.
In fiscal year 1997, Boston University directly employed 22,053 Massachusetts citizens, and an additional 16,912 jobs resulted from University spending. Overall, BU is among the 25 largest employers in the state.
Those figures come from the Economic and Social Impact Sourcebook, Fiscal Year 1997. Boston University's direct expenditures of $1.1 billion -- for employee salaries and benefits and the purchase of goods and services, along with direct spending by students and their out-of-state visitors -- stimulated an additional $1.1 billion of spending in Massachusetts. University spending in the city of Boston alone was $649 million.
Among the stated purposes of the Economic and Social Impact Sourcebook is documenting how local economies and citizens benefit from a combination of all Boston University spending, "the employment opportunities that result from University spending, and the many cultural, educational, and social services that are offered by University faculty, staff, and students," the report states.
In addition, Boston University has paid nearly $20.5 million in real estate property taxes to the city of Boston since fiscal year 1981 -- despite the fact that most property owned or leased by BU is legally exempt from real estate taxes. The Boston University Police Department provides 24-hour-a-day coverage of both the Charles River and Medical Center campuses and provides backup assistance to the Boston, Brookline, Cambridge, and State Police. BU also provides daily care of sidewalks and streets and cleans MBTA streetcar track areas at an annual cost of over $900,000. BU's trash removal is done by private contractors at the University's expense, greatly reducing the institution's demand on municipal services.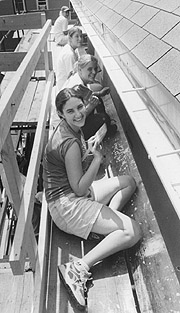 According to Boston University's Economic and Social Impact Sourcebook, in addition to the monetary impact BU has on the area, numerous community programs are funded by the University. These include the First Year Student Outreach Program (FYSOP), a community service orientation program for freshmen. Above, FYSOP volunteers paint a home that is being renovated to provide affordable housing in Cambridge. Photo by Vernon Doucette
---
According to the report, BU also annually awards 58 four-year, full-tuition scholarships to Boston public high school graduates: since fiscal year 1981 this Boston Scholars Program has offered more than $48 million in scholarships. "Through Medeiros Scholarships," the report continues, "the University has offered more than $7.3 million since 1987 in scholarships to graduates of archdiocesan schools in greater Boston."
BU also awards four-year scholarships to the children of firefighters killed in the line of duty and to outstanding graduates of Chelsea High School, Brookline High School, Bunker Hill Comm