Departments




| | |
| --- | --- |
| 17 July 1998 | Vol. II, No. 2 |

Feature Article

High Performance Computing in the Arts
A 16th-century Martian toy story
by Eric McHenry
Seen through stereoscopic goggles, a shiny silver approximation of the Starship Enterprise suggests that cyberspace might be the true final frontier. High-performance computing experts and artists from throughout New England gave a tour of that new territory on Thursday, July 9, in the BU Computer Graphics Laboratory.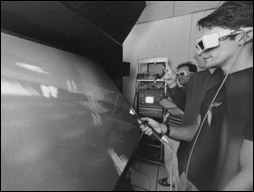 Louis Calisi (right), manager of the CAS computing laboratory, and Takis Metaxas of Wellesley College (left) tour a three-dimensional "16th-century Martian toy store" during the recent HiPArt exhibition. Photo by Kalman Zabarsky
---
The Enterprise look-alike was one of over a dozen virtual gizmos on three-dimensional display at ArtWorld, the first exhibition organized by BU's High Performance Computing in the Arts (HiPArt). Created in the Office of Information Technology by its Scientific Computing and Visualization Group (SCV), the HiPArt collective unites computer and graphic arts specialists from area colleges, universities, and businesses in creative endeavors.

At the ArtWorld opening, guests explored a "16th-century Martian toy store." The giant screen at SCV's ImmersaDesk, housed in a small blacklit room lined with speakers, makes for a convincing virtual setting. Navigating with an electronic "wand" and a special pair of 3-D goggles that communicate the wearer's position to the computer, visitors move through a cavernous environment activating various graphics models -- wind-up toys, hobbyhorses, and dancing dolls -- each with a particular action and sound: one of the toy store's curious-looking denizens, a winged creature resembling a dragonfly, begins flapping around the room when visitors indicate it with the wand. The flapping sound effect follows it through the surround speakers as it completes its circuit.

Erik Brisson, manager of graphics programming for SCV, says organizers of the exhibition chose its unusual theme to give contributors creative freedom while ensuring a modicum of cohesion.

"First of all, it's whimsical," says Brisson, "and we wanted the exhibition to be fun. But we also wanted an idea that would not have preconceived stereotypes attached to it. With the 16th-century Martian toy store, we could basically do anything we wanted, but it was still a unified theme."

"We wanted to give the people some kind of context in which to work," adds Glenn Bresnahan, director of scientific computing and visualization, "but a context so strange that it wouldn't really limit them in any way: a Martian toy store, and let's say it's 16th-century, because who knows what that means? Something to take a little bit of the science-fiction edge off it."

In addition to BU, the exhibition's participating artists and developers represent such schools as the Rhode Island School of Design, the Massachusetts College of Art, and the School of the Museum of Fine Arts. The opportunity to utilize BU's high-performance equipment, Bresnahan says, is a rare and important one for the artists involved.

"When these new technologies arrive, they're typically only in the high-end research labs, available only to small groups of engineers and scientists," he says. "We're trying to bring those technologies out to other communities that are underrepresented -- specifically, the artistic community."

Such interaction pays dividends for both sides. Brisson says that putting their work in the service of an artistic goal helps the computer experts realize, and test, the limits of their technology.

"We get real users of what we've created, instead of just working in a vacuum," says Brisson. "We get input and fresh ideas that make our work more interesting. We have the artists' needs and demands driving our work. We get to interact with them -- cross-boundary communication. And it forces us to deal with computing environments that we wouldn't otherwise, like graphics on PCs and Macs. That's what people are using out in the real world."

The virtual world created by Brisson and his colleagues extends beyond the toy-populated cave into two other settings: the planet's surface, re-created from photos of Mars taken by the Sojourner Rover, and a room containing a large, abstract painting. Produced by Deborah Cornell, SFA assistant professor of visual arts, the painting contains several regions that emit music when indicated with the wand. Cornell's husband, Richard, SFA associate professor of music, contributed the compositions.

The exhibition was linked via the Internet to a remote site at the National Center for Supercomputing Applications at the University of Illinois, Champaign-Urbana. Although the Martian toy store and everything in it were developed by HiPArt, the NCSA facility's simulation dwarfs the SCV's.

"They have four walls, all rear-projection screens, and a ceiling projection that simulates a floor," says Laura Giannitrapani, manager of graphics consulting for SCV. "So you could actually be standing in midair and get a little vertigo. And they have a program that's calibrated very well, so the corners are seamless. You wear your stereo goggles and you interact with the wand. The figures are full-size, five or six feet tall, and they're right there in your face. It's a little creepy."

A person wearing the goggles at SCV's ImmersaDesk appears as an avatar -- a computer-graphics incarnation -- in the NCSA facility's environment, and vice-versa. Thus, two participants can activate and observe the same 16th-century Martian toys, and interact with each other, while physically occupying different time zones. On July 29 and 30, when the Martian toy store opens again at the Seventh International Symposium on High Performance Distributed Computing in Chicago, Senior Systems and Applications Engineer Robert Putnam hopes to make this remote interaction even more complex by introducing some new sound-manipulation techniques.

"What I wanted to do for today -- and this is something that we will actually have running within two weeks -- is localized telephony," says Putnam, who arranged the ArtWorld exhibition's audio component. "Using the Internet to send vocal signals: a person in Illinois, talking into a microphone, would be heard by us here, but it would be heard from the location of the avatar. I think that would really enhance your sense that you're talking to someone in the room. The first thing I wanted to do was sneak up on somebody, say 'Boo!', and watch them jump."